Yoodo Gank clinches Malaysian Record – Cementing Status as the Nation's Most Iconic PUBG Mobile eSports Team
Yoodo – Malaysia's first truly customisable and 100% digital mobile service, together with Yoodo Gank – the company's Player Unknown's Battlegrounds (PUBG) MOBILE Esports team, have etched their names in gaming history by clinching the official national record title of "First Team to Win PUBG MOBILE Tournament at Southeast Asia Level".
Yoodo Gank now enter the Malaysia E-sports National Records after being conferred the prestigious award by the Malaysia Book of Records. The record was set following the team's epic performance at the recently concluded PUBG MOBILE Pro League (PMPL) 2020: Southeast Asia.
"We are extremely proud of the boys for their incredible achievement," said Chow Tuck Mun, Head of Yoodo. "To have their phenomenal performance acknowledged by the Malaysia Book of Records is truly an honour and just what the boys deserve after all their hard work."
"Yoodo is passionate about esports and we have dedicated significant time and resources to growing the grassroots talents in the country with the aim of solidifying Malaysia's name in the global arena. Receiving this award shows that we are heading in the right direction and will drive us to dig deeper in supporting local gaming talent," added Tuck Mun.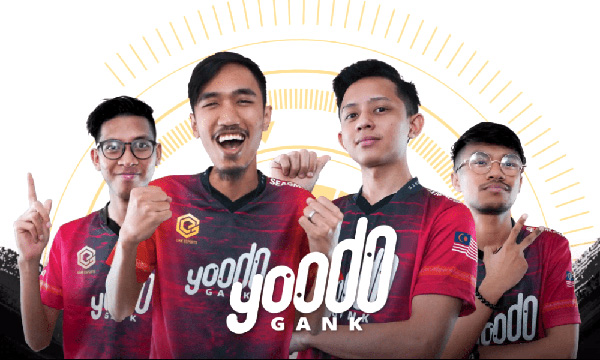 Yoodo Gank is made up of four young Malaysian gamers, ManParang (Aiman Amirul Bin Mohd Sahid) – Team Captain, Draxx (Abdul Azim Ikromi Abdul Rashid) – Fragger, Fredo (Ahmad Fuad Razali) – Rusher and Jumper (Muhamad Izzrudin Hashim) – Scout.
Speaking about the achievement, Yoodo Gank Team Captain, ManParang (Aiman Amirul Bin Mohd Sahid) said, "Receiving this award and being named as the "First Team to Win PUBG MOBILE Tournament at Southeast Asia Level" is truly the biggest highlight of our careers. Sure we have won many titles locally and now regionally but to have our names go down in the book of records is a whole other level of awesome!"
On the way to their record setting performance, the team beat out 15 of the region's best teams – including teams from Thailand, Indonesia, Vietnam, Cambodia, The Philippines and Malaysia. By the end of the competition, they had racked up a total of 284 points from 126 kills and 5 chicken dinners.
"We extend our heartiest congratulations to Yoodo and the Yoodo Gank team on their national record entry and the terrific performance that led to it," said Jwan Heah, Director of Marketing Solutions. "Towards our mission of inspiring excellence, we are proud to recognise the amazing achievement of these talented young Malaysians. We see great potential for Malaysia to make a name for ourselves in the burgeoning esports sector and we look forward to more extraordinary performances from gamers across the country."
Gaming and esports is one of Yoodo's key lifestyle segments, as the local brand looks to disrupt the Telco industry with a unique approach to match its equally innovative product offerings. Gamers can enjoy non-stop gaming with Yoodo's dedicated data add-ons for PUBG MOBILE, Arena of Valor and Call of Duty: Mobile today.
For more information on Yoodo visit: www.yoodo.com.my. You can also stay up to date by following @yoodoMY on Facebook, Instagram and Twitter.
dataesportsgaminggankmalaysiapubg mobilerecordtelcotournament teamyoodo