The HUAWEI nova 7 Series debuts in Malaysia soon with these 7 Fantastic Features
Aesthetic appeal, value-for-money and powerful chip performance; these are pivotal elements that has become synonymous with the new HUAWEI nova 7 Series; HUAWEI nova 7 5G and HUAWEI nova 7 SE 5G. Set to make its debut in Malaysia, here are seven features that makes the new HUAWEI nova 7 Series a must-buy this month: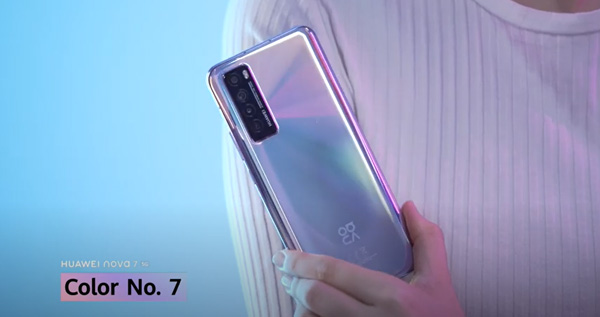 Stylish Colours for Your Unique Personality
For all aesthetic-driven people out there looking to ramp up their social media game, the new HUAWEI nova 7 Series is coming in a variety of colours. Equipped with coloured lamination, the Space Silver model features a unique three-colour gradient design created with an industry leading advanced process, giving the new HUAWEI nova 7 Series a unique finish that allows light to radiate differently from different perspectives. Other colours in this series include Crush Green and Midsummer Purple. Now you don't have to worry about getting phone cases to beautify your phone!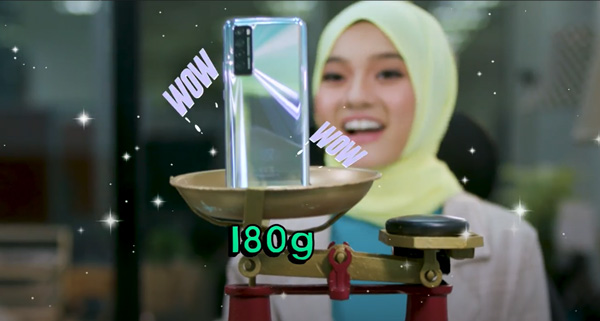 It Weighs Lighter Than Your Makeup
We have always been concerned about the weight of our smartphone – it is quite heavy and a nuisance to carry at times. But if we develop a smaller phone, does it will mean our phone would have lesser capabilities? HUAWEI has got it figured out.
To pack strong performance and photography capabilities within a slim phone body – that is the main goal for the new HUAWEI nova 7 Series. To execute this, the new HUAWEI nova 7 Series features a minimalist-centric design for both software and hardware, allowing not only a strong performance but also reduces the space the processor occupies, resulting in a smaller motherboard size, as well as a lighter and thinner smartphone body. Now, the new HUAWEI nova 7 Series weighs lighter than your make-up!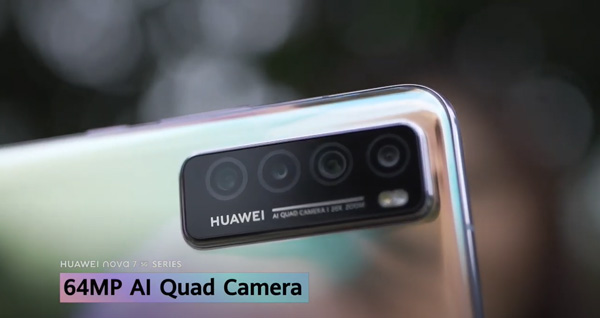 Capture the Details with its 64MP AI Quad Camera
Camera. A necessity for smartphones today. Whether it's to take family pictures or your outfit of the day, having the best camera is important for anyone looking to buy a smartphone. Supported by Kirin 820's powerful processor and strong AI capabilities, expect top quality high-definition photography, stunning night shots and outstanding 4K video quality, delivered to you specially by the 64MP AI Quad Camera. Not only that, the new HUAWEI nova 7 Series will be able to satisfy all photography enthusiasts' need, thanks to its ultra wide-angle lens, macro lens and bokeh lens.
Selfies have always been popular among HUAWEI's young consumers. And the HUAWEI nova 7 SE 5G is the perfect device for them. Its 16MP front camera adopts a big f/2.0 aperture with a pixel size of 1.0 um, making it able to capture more light and details in selfies. The front camera also supports Super Night Selfie 2.0 for low-light selfie captures. Noise is controlled with BM3D algorithms, while detail is boosted by stacking multiple RAW frames together. It takes just two seconds for the cameras to produce a truly breath-taking self-portrait.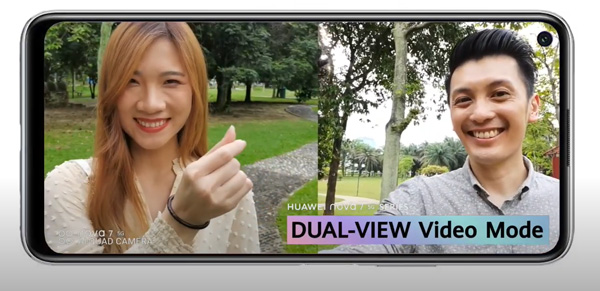 Never Miss a Moment with Dual-View
Walking down the streets of a historical city or recording a surprise party for your best friend, you want to make sure that you capture everything on camera. But how do you do that? Continuously stopping your recording to flip the camera and editing it after seems like it will take a longer time.
Don't you worry, we've got you covered!
The HUAWEI new nova 7 Series supports Dual-View Video Mode that fully leverages on the front and rear camera to capture moments on both sides. The rear camera includes a macro lens for close-up shooting, allowing consumers film the beautiful moments of everyday life, whether it is filming a video of your child playing with his favourite toy or the beautiful sunset at the beach.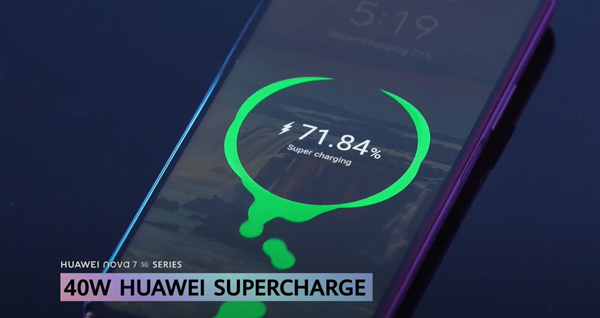 Stash Your Powerbank Aside with nova 7 Series' 40W SuperCharge
Attending concerts. Hanging out with friends at the mall. With so many things we want to do (and only 24 hours a day to do it), it's important to make sure that our phone has enough battery to last the day. But what happens when you're in a rush and you need your phone to have enough battery life?
Equipped with a large 4000mAh battery and 40W HUAWEI SuperCharge, the new HUAWEI nova 7 Series allows your phone to be charged at 70% within half an hour. This is great news for everyone out there – now you can fulfil your entertainment needs without ever having your battery compromised!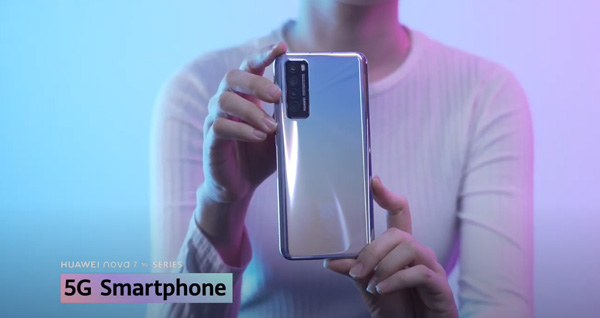 Set for the Future: Malaysia's Most Affordable 5G Smartphone
Set to become the first mid-range smartphone in Malaysia equipped with 5G technology, one must wonder on how much this will burn a hole in their pocket. Fret not! Even with a visually enticing finish, premium-quality photography and video experience and outstanding performance, the new HUAWEI nova 7 Series is set to debut at above RM1,000. Isn't that amazing? You'll be getting the best of everything for an affordable price!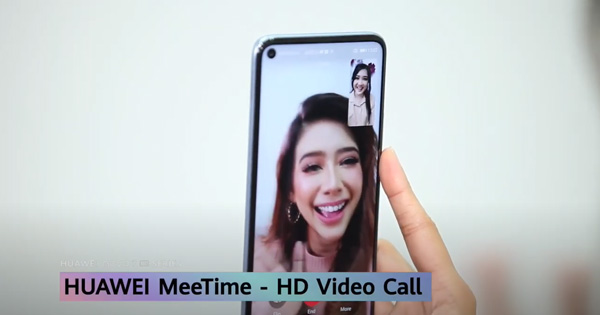 Sharing Has Never Been Easier with HUAWEI Share and MEETime
At times, we may face the challenge of needing to share documents or presentation slides during a meeting or during a class. How can we do so at the convenience of our fingertips?
The all-new HUAWEI nova 7 Series is pre-installed with MEETime to support 1080p FHD video calling between HUAWEI devices. It leverages on HUAWEI's facial recognition technology to optimise picture quality for improved low light performance, ensuring clarity on the subject. Alongside HUAWEI Share, a file sharing feature, consumers can experience a seamless method of dragging files between devices ensuring optimum convenience.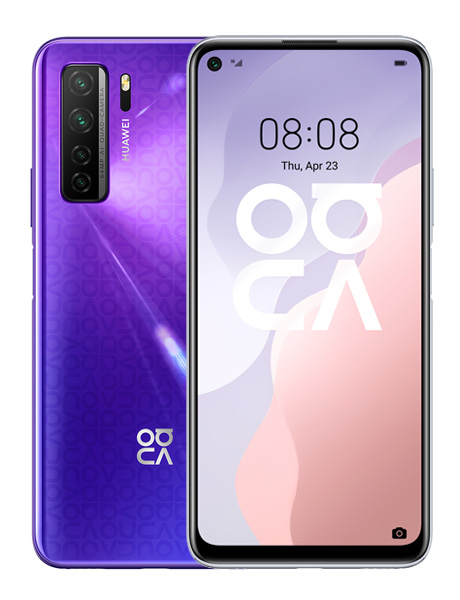 With all these amazing features in place to provide you with a modern, entertaining and fulfilling experience, stay tuned to HUAWEI's Facebook page for more information on the new HUAWEI nova 7 Series at www.facebook.com/HUAWEIMobileMY.
If you are concerned as to whether your HUAWEI smartphone would be equipped with the usual apps, check out HUAWEI AppGallery to kickstart an elevated smartphone experience just for you: AppGallery
For more information about the new HUAWEI nova 7 SE: HUAWEInova7SE
For more information about the other new HUAWEI products: link
5g64mpaiandroidcolourdual viewHuaweimeetimenovanova 7quad camerasmartphonestylishsuper novasupercharge