Sime Darby Motors launches its Corporate Programme in Malaysia
In conjunction with Sime Darby Motors' "Unbelievable Deals" campaign, its retail and distribution arm in Malaysia today has launched a corporate programme, providing special privileges to its corporate clients to own their dream cars at very attractive cost of ownership with exceptional benefits. This campaign is applicable across all the brands presented under Sime Darby Motors' retail umbrella in Malaysia namely BMW, MINI, Motorrad, Volvo, Jaguar, Land Rover, Ford, and Hyundai, as well as Sime Darby Auto Selection which retails quality pre-owned cars.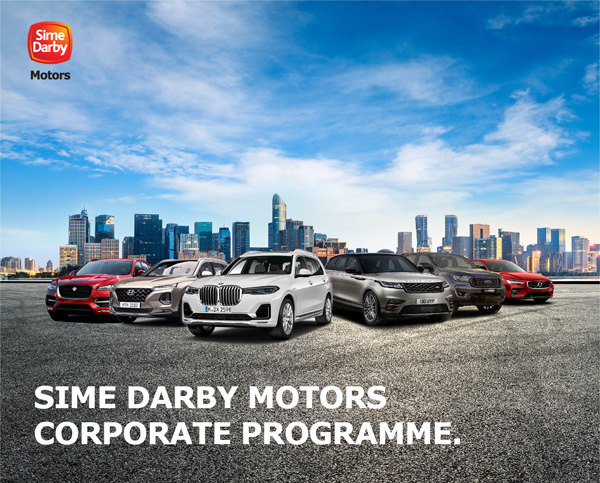 Jeffrey Gan, the Managing Director of Retail & Distribution Malaysia said, "This programme is specially curated to reward our loyal customers across Sime Darby Motors Malaysia. As exhilarating as it is rewarding, we aim to offer our customers with irresistible deals whilst ensuring their sales and after-sales needs are cared for by our passionate professionals who are dedicated in providing world-class services that exceed expectations."
"At Sime Darby Motors Malaysia, our goal is to be your preferred mobility partner." When asked about the impact of Covid-19 pandemic, Mr. Gan responded, "We take the current situation very seriously and stand guided by the government's policy. The safety and health of our employees, customers and business partners remain our utmost priority."
"The automotive industry is moving towards a more digital environment to fit with the needs of our consumers. Our operating units are continuously innovating to find new ways of digitalising the car buying process; from digital showrooms and door-step test drives to contactless servicing and eventually delivering customers' cars to their doorsteps. The digital transformation in the automotive industry is certainly opening up new opportunities for us".
For more information, visit our dealerships at Auto Bavaria, Auto ConneXion, Auto Hyundai, Auto Selection and Swedish Auto or you can email your queries to sdm.corporatesales@simedarby.com.
automotivecampaigncarCorporatedealdistributorprogrammeretailsime darby