Participate in the Fan Wars Match with MissRose and Win 4 OPPO Enco W31
Mobile gaming has taken the world by storm, and interest in participating in online tournaments are rising, even here in Malaysia. OPPO, the global leading smart device brand, opens the opportunity for players in Malaysia to play alongside their favourite PUBG key players and win four OPPO Enco W31 in the OPPO Fan Wars Match.
Joining the friendly match is MissRose, a popular online gamer with character. She will be forming the Miss Rose Team, and play with 19 other fan teams throughout Malaysia. Fan players will have the opportunity to experience the playing field with Miss Rose and her teammates, and any player who managed to take down any players from Miss Rose Team will win themselves an OPPO Enco W31!
Happening 28 June 2020 at 8pm, fan players are now able to sign up for the once in a lifetime opportunity by following the steps below:
Like OPPO Official Facebook Page.
Share this post with hashtag #OPPOFanWarsMatch #OPPOxPUBG and let us know the reason why you want to join this!
Set your profile to public so you are eligible to participate.
Log on to https://espl.gg/tournament/806179 to register team.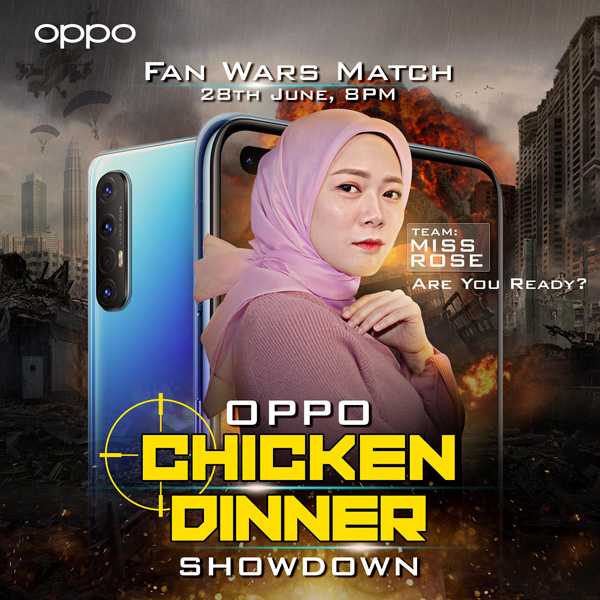 As mobile gaming evolves and penetrating into the Malaysian lives deeply, OPPO wants to deliver the best gaming experience with high-quality and well curated competition to players in Malaysia. There is much opportunity in the mobile gaming world, and OPPO wants to open opportunities to amateur players in Malaysia to take the first step towards experiencing eSports.
For more information on the event, visit here.