JJ Lin's Team SMG Community Cup brings together over 400 Gamers through GamelinG
With sports leagues currently on hold, esports has been on an upward trend during this pandemic. In fact, according to a Business Insider report, the industry is slated to surpass a whopping US$1.5b by 2023. Even renowned superstar JJ Lin is in on a slice of the pie as the founder of Team SMG, which just this past weekend held its first Community Cup in partnership with #SGPlaysTogether, an initiative by the Singapore Esports Association (SGEA). In just two days, the grassroots tournament garnered more than 400 sign-ups, and over 25,000 estimated views.
However, the real superstar was the one behind the scenes ensuring everything fell into place: GamelinG, the official platform for the SMG Community Cup, and also Southeast Asia's most advanced online gaming platform. As a platform that prioritises the use of technology to create a safe, convenient and empowering gaming ecosystem, GamelinG is constantly fine tuning and improving on its various features for its users. It hopes that doing so continues to bring people together to play in the same space, regardless of country, language or expertise, across 12 of SEA's most popular games such as PUBG, Mobile Legends and Clash Royale.
Doing away with traditional and typically manual processes in the industry, GamelinG's platform provides players with a seamless onboarding, profile-building and team management experience. Known for its weekly and quarterly tournaments that encourage frequent and healthy competition, GamelinG also displays leaderboards and live results, and actively spotlights finalists through interviews on its website and even YouTube features. The icing on the cake: not commonly seen in the industry, GamelinG has consolidated all its features into one handy mobile app, to make the experience even more convenient for all users.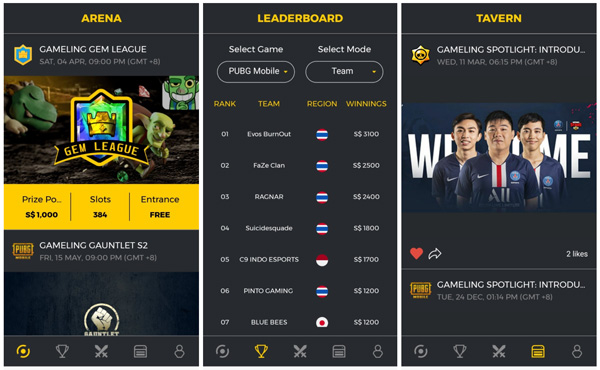 "We're happy to see the response we've gotten for our Team SMG Community Cup this weekend. GamelinG has been a key partner in this," says Orrin Xu, Co-General Manager of Team SMG. "Through its platform, we were able to easily engage users and create awareness for our Community Cup. We look forward to hosting more Community Cups like this in the future with GamelinG."
In just one year since its founding, GamelinG has brought together 30,000 SEA gamers, through close to 200 events, with over 1m viewers per major tournament, and awarding cash prizes of up to $10,000. GamelinG is looking to further grow the SEA gaming community by adding multilingual features to its app, and partnering with brands to launch a loyalty and rewards programme for its users. Ultimately, it hopes to further strengthen its user base and act as the platform of choice for all things related to gaming.
About GamelinG
Founded in February 2019, GamelinG is the premium esports ecosystem with one of SEA's fastest growing gaming communities. It seeks to use technology to create a one-stop solution for the industry. Its core focus is to organise high quality tournaments for a wide range of games, build competitiveness across the region and connect brands and gamers through a seamless digital experience. With over 30,000 players, close to 200 events and over 1m viewers, it allows gamers of all skills to come together and compete, bridging gaps within the community. To begin your gaming journey, please visit www.gameling.net.
clash royaleesportsgamelinggamingjj linmobile legendspubgseateam smg