Have you ever wondered what it would feel like if you could meet the celebrity of your dreams? Would this be something you checked off your bucket list? What would you say to him or her? Would your idol inspire you to greater heights?
Well, stop wondering because now you can! TikTok, the leading destination for short-form mobile video, has launched TikTok Celebrity Leaderboard, the latest product update that would enable regular TikTok users like you and me to engage with bonafide celebrities on the platform. Not only that, ardent fans would be able to pit their celebrity of choice against each other via a weekly friendly competition that would list the top 30 most voted for celebrities in Malaysia.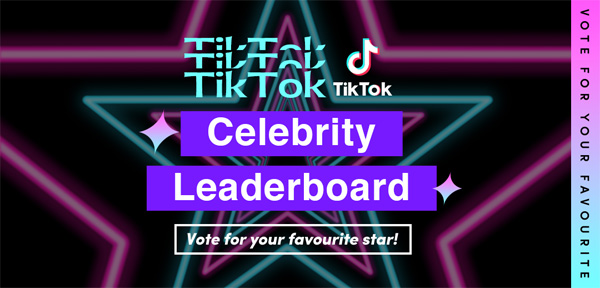 The final weekly score of each celebrity would then be calculated through a multi-dimensional algorithm, taking into account total video views, total number of postings, total number of votes, engagement rate, and other contributing factors. This would be largely driven by TikTok users as they are allowed:-
five (5) votes per day, with each user allowed to vote for the top ten (10) celebrities on the leaderboard of your choice
three (3) additional votes by sharing this Leadership board on their TikTok accounts
fourteen (14) maximum votes a day
The total daily points for each celebrity would then be tabulated and posted on the leaderboard on a weekly basis, with the weekly celebrity champion being featured on TikTok's in-app banner.
Cheah Sheau Mei, User and Content Operations Manager, TikTok Malaysia elaborates, "TikTok is a safe and positive environment which offers a vibrant buzzing atmosphere that celebrates trends and embraces diversity. It is through such an environment that we're able to bring together people from all walks of life, celebrities and regular folks alike. TikTok Celebrity Leaderboard is a testament to this inclusivity, breaking down boundaries, allowing creative interaction between users that would otherwise seldom happen in real life. With this product update, you can now connect with Malaysian celebrities such as Dato' Sri Siti Nurhaliza, Fattah Amin, Alvin Chong and Aeril Zafrel."
So what are you waiting for? Download TikTok now and follow your favorite celebrity on TikTok!
TikTok is available in over 150 countries and regions in 75 languages. Download the TikTok app via iOS or Google Play.