TM R&D launches One-Stop Data Exchange Centre to boost Research Efforts towards Combating Covid-19 Pandemic
Telekom Malaysia Berhad (TM), through its innovation arm, TM Research & Development (TM R&D), recently launched a Data Exchange Platform, with the primary role of being a one-stop data exchange centre that will facilitate and accelerate data sharing in order to bolster research efforts in combating the COVID-19 pandemic.
Fully supported by the Malaysia Digital Economy Corporation (MDEC), this initiative shall expedite the access to data for developers, students, scientists and medical practitioners as well as government agencies to gather new insights on the pandemic and eventually pave the way for major breakthroughs.
Dr. Sharlene Thiagarajah, Chief Executive Officer, TM R&D said: "We are delighted to launch this Data Exchange Platform as a one-stop centre for open data sharing related to the COVID-19 pandemic. This platform is open to everyone, both locally and globally, to access data, share data analyse and utilise data for the benefit of all."
When the World Health Organisation (WHO) declared COVID-19 as a global pandemic, businesses and enterprises around the world were racing against time to find solutions not only to mitigate its exponential spread but also eradicate it once and for all.
"COVID-19 presents a unique and significant challenge and we believe that data plays a critical role in helping experts find solutions to fight this global outbreak. For researchers, data scientists, developers or any of us to work efficiently, access to data is key. TM R&D is a strong advocate of sharing 'open data' in order to harness the power of the community to work towards providing better overall insights on this current pandemic. These insights shall not be limited to health and medical areas only where a lot of tracking and information are already emerging, but also on the socioeconomic front with changes in lifestyle and impact to families, businesses as well as the local and global economy," she added.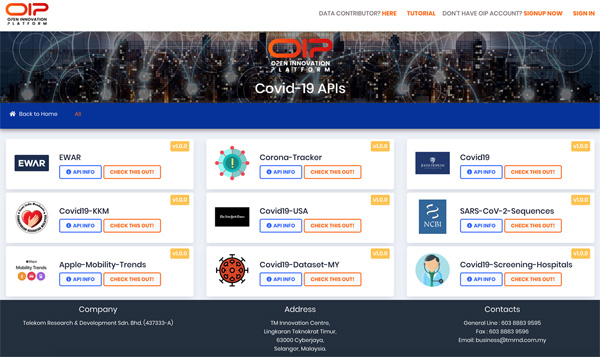 The platform is tailored to be easily navigated even for those with little to zero programming background. With just a few clicks, individuals can simply upload data files in various formats. It then converts those files into Application Programming Interfaces (APIs) and will publish them on the data store. Anyone who has the access can use the data for further analyses and derive useful insights.
For advanced users, the platform enables them to fine tune the data APIs by setting different access permission levels, managing sandboxing capabilities, generating detailed analytics of data usage and a lot more. The most sustainable feature of the platform is the ability for data owners to monetise their data through this platform.
This one-stop data exchange centre will also allow industries to better understand consumer behavioural changes, movement patterns and impact on businesses, hence enabling governments and economists to view the effects on certain sectors that may not have been obvious in the initial stage. Data on changes of purchasing habits or whether people are collectively spending more or less on food against beauty products, travelling patterns, transportation use, movement of people and many more can be made accessible. To explore the Data Exchange Platform, simply go to here.
"On behalf of TM R&D, we would like to express our sincere gratitude to the Ministry of Health (MoH), The New York Times, CoronaTracker, GenBank Help, just to name a few, who have made their data publicly sharable – thus allowing us to enable it for others to utilise via the Data Exchange Platform. We hope more public and private organisations, as well as individuals, will contribute, thus intensifying the efforts to stop COVID-19's progression and its economic impact," Dr. Sharlene further elaborated.
This Data Exchange Platform is built on TM R&D's Open Innovation Platform (OIP), Malaysia's first Open Software Development Platform. It consists of a data brokerage platform, an API store-front and an end-to-end (e2e) ecosystem for the rapid development of smarter Industrial Revolution 4.0 (IR4.0) services that enable the creation of new revenue opportunities.
The development of Data Exchange Platform is among the initiatives under MDEC's Data Technology Partnership Programme where MDEC has appointed TM R&D to be its Data Technology Partner for the programme. As an MDEC Data Technology partner, TM R&D is set to accelerate data technology adoption and develop Data-Driven Decision (DDD) Enterprises. TM R&D will also be facilitating talent development and industry-academic collaboration in addition to building a vibrant data technology ecosystem.
Commenting on the move, Ir. Dr Karl Ng Kah Hou, Director of Data Ecosystem Development, MDEC said, "We are excited with the launch of the Data Exchange Platform. This is the end-result of a successful synergy between TM R&D and MDEC. Designed to collect and disseminate data about the pandemic, it will pool all data into one focal point and empower researchers, data scientists, and analysts to accelerate their efforts in finding solutions for COVID-19."
TM R&D has been growing from strength to strength since 2016, winning seven (7) globally recognised awards over the last two (2) years. Its innovations cut across multiple verticals such as the Smart Retail Analytics and Smart Safety Helmet, all developed internally by local talents in TM R&D. As the organisation continues to expand beyond connectivity and into new value-added digital and smarter platforms, its role in TM has become more prominent and exciting.
For more information about TM R&D and its products and services, please log on to www.tmrnd.com.my. Follow us on LinkedIn (TM Research & Development) for more news and updates.
cov id-19dataexchangeinformationplatformr&dresearchtelekomTM