TikTok Malaysia kicks-off Inaugural TikTok Rewards Campaign
TikTok, the leading destination for short-form mobile video is collaborating with brands across various industries including telecommunications, retail, e-commerce, and F&B to kick-off TikTok Rewards throughout the Ramadan and Raya period. TikTok Rewards, a first for TikTok Malaysia, partners with household names like Colgate-Palmolive, foodpanda, Shopee, Yoodo, dimsum and more to enable TikTok users to participate in fun and engaging activities, and be rewarded with points which they can then use to redeem exclusive gifts and promotions respectively.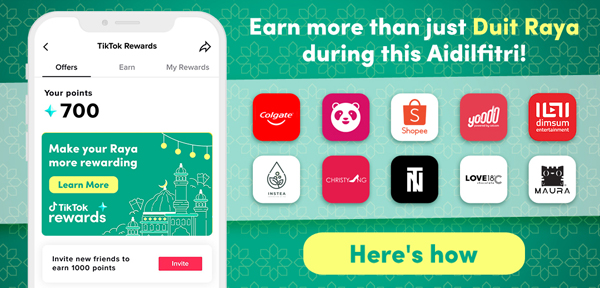 Cheah Sheau Mei, User and Content Operations Manager, TikTok Malaysia elaborates, "Ramadan and Hari Raya is usually when we see communities, friends, and families coming together, which may be different for a lot of people this year due to the pandemic. Given the current situation, we wanted to make this period a little more exciting for everyone. The brands we have worked with have put together exclusive promotions and offers as rewards in exchange for fun activities to do. It's a great way to stay engaged and connected with family and friends in a time when social distancing is taking precedence."
TikTok Rewards is ongoing and will continue throughout the Raya period till 7 June 2020. Seamlessly incorporated, TikTok users simply need to access one of these areas within the app itself:-
Keyword Search "Rewards" in the search bar, or
Banner in "Discovery" tab
Once on the campaign page, there would be a slew of daily activities that TikTok users can engage in, in exchange for reward points. Users would then be able to redeem exclusive gifts or promotions with the accumulated points under the "My Rewards" section within the campaign page itself.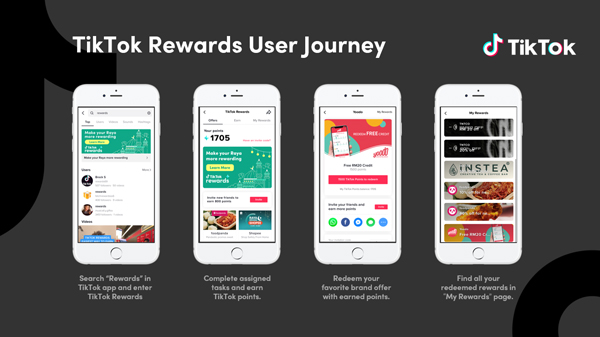 So what are you waiting for? Download TikTok now and start earning those reward points today!
TikTok is available in over 150 countries and regions in 75 languages. Download the TikTok app via iOS or Google Play.
campaigne-commercef&bRamadanrayaretailrewardtelecommunicationtiktokuser