More Apps being added to Huawei's AppGallery
Huawei has been single-minded in growing the number of useful apps that Malaysians use on a daily basis. This commitment is reflected in the growth of the number apps on AppGallery from 27,449 apps just a month ago to 33,342 apps now (including overseas apps that are available in AppGallery Malaysia).
With the growing number of apps, users will find many social, communication, shopping, and work-related apps on the platform that are helpful in everyday life.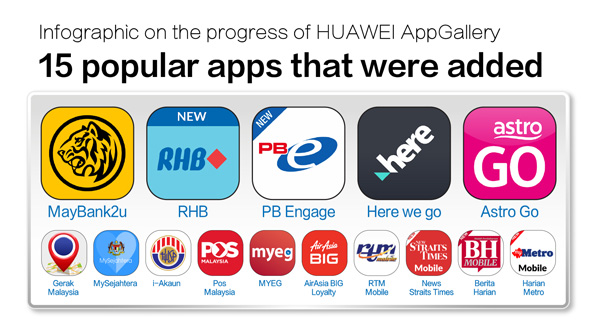 One of the largest banks in Malaysia's app, Maybank2U is now available on the Huawei AppGallery, adding more convenience for users. It joins other existing finance-related apps such as RHB, PB Engage and i-Akaun. Now the AppGallery has a majority of the daily apps that Malaysians use,such as Touch N' Go eWallet, Astro Go, Shopee, Lazada, HERE WeGo, Gerak Malaysia and many more.
While Huawei continues to rapidly populate the AppGallery with more apps, sometimes users want a particular app that is yet to be available on the platform. This is why Huawei has recently added a unique app called FindApps on AppGallery. It serves as a hub to help users find the apps they need and direct them to the available sources to download the apps.
FindApps will be able to search for the popular apps like Facebook, Telegram, WhatsApp, Instagram, Grab and others. It will assist users in finding the apps by consolidating multiple third-party download sources such as official websites of the app or within AppGallery. With a four-layer detection mechanism to ensure that the apps are vetted thoroughly to prevent malware, users can rest assured of the safety and security of apps downloaded from AppGallery.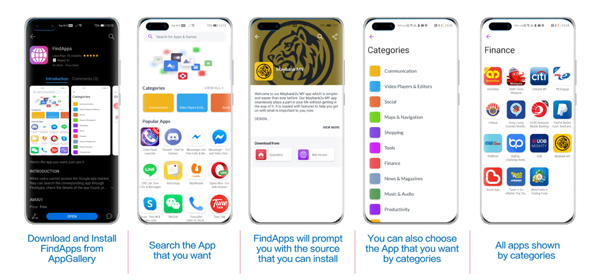 Adding to this, Huawei also strives to provide a rewarding experience for users, including in-app purchase discounts where users can find something exciting waiting for them when using AppGallery. For starters, all Huawei AppGallery users can enjoy complimentary lifetime 5GB cloud storage and up to 50GB cloud storage for free for up to one year*.
*Subject to terms and conditions
In conjunction with the Ramadhan month, Huawei will have special deals on new arrival products on 16 May 2020. All of Huawei's new arrivals will be part of a big promo campaign, ranging from Huawei smartphones, tablets, to laptops and speakers. Customer who purchases the selected Huawei product is also eligible for free gifts. For more about the promo deals, please visit here.
For more information on Huawei AppGallery please visit here or www.huawei.com/my.