Mobile Legends: Bang Bang 515 eParty Charity Showmatch provides Donation to fight Covid-19 Pandemic
Moonton has recently announced its 515 eParty event for its mobile gaming title, Mobile Legends: Bang Bang (MLBB). As a climax to the month-long event for Malaysia, the 515 eParty Charity Showmatch was held on 16 May 2020 – an All-Stars tournament live-streamed on Facebook, featuring MLBB influencers (Soloz, Master Ramen, Sync, Ly4ly4ly4 and many more) entertaining viewers in an effort to raise donations to help with the ongoing Covid-19 health crisis.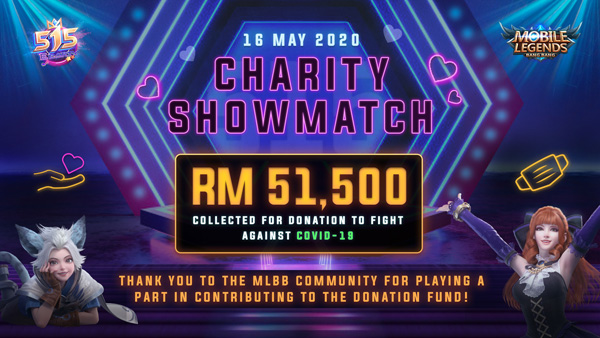 Through the Charity Showmatch, Moonton has announced that a total of RM51,500 will be donated to the Ministry of Health Malaysia (KKM) to provide support to the frontliners who are combating Covid-19 in Malaysia. The MLBB community contributed to the fund by watching the showmatch together with their friends. It was noted that with more viewers watching the live stream, the higher the donation amount would be by Moonton.
"On behalf of Moonton, we would like to thank the community for playing a huge part in contributing to the Covid-19 donation by watching the 515 eParty Charity Showmatch, along with their overall support for Mobile Legends: Bang Bang. Apart from the ongoing 515 events, we have also prepared a series of 515 in-game rewards to give back to the community to show our appreciation", said Snow Leng, Marketing Manager of Shanghai Moonton Technology Co., Ltd.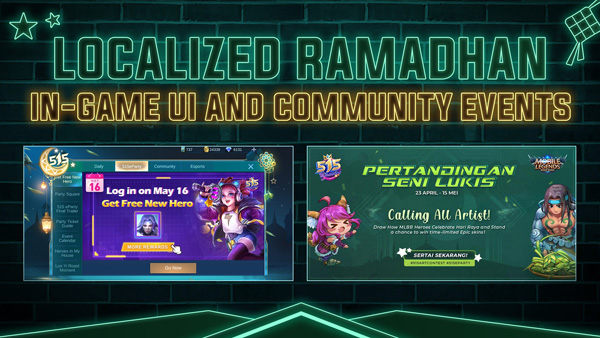 The 515 event is an annual global celebration for MLBB, which saw its inaugural launch back in 2019 with the theme "515 United" and slogan "United We Win". For Malaysia, on top of MLBB in-game events, it consisted of several offline events where fans were able to participate in tournaments, cosplay competitions, lucky draws, and other fun activities.
This year, in order to contain the Covid-19 outbreak and by being in line with the Movement Control Order announced by the Government, the 515 event was held purely online so that everyone could still enjoy the celebration by staying at home.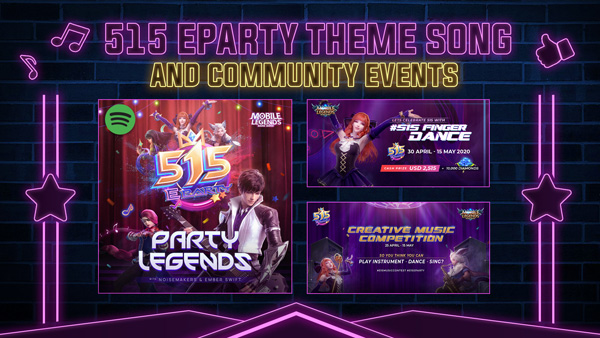 With this year's theme "515 eParty" and slogan "Game On! Party On!", fans were able to enjoy a series of exciting events, contests, cash prizes, and giveaways!
There were in-game events and missions with exclusive prizes, including receiving a free hero Luo Yi by logging into the game on 16 May. To follow suit with last year, there was the release of the new 515 theme song, titled "Party Legends". To celebrate the Ramadan and Raya season, a Raya-themed Fan Art Contest (draw how MLBB heroes celebrate Hari Raya Aidilfitri) was held and a Ramadan-themed in-game interface has been updated to give a refreshing look to the MLBB community. Additionally, there were many other contests filled with tons of prizes, such as 515 Photo Challenge (submit a comparison photo that depicts your life before and during 515 eParty), Creative Music Competition (create a song/dance/musical instrument cover of the "Party Legends" song), and 515 Finger Dance Challenge with total cash prizes of USD 2,515 (show off your version of the 515 Finger Dance). Aside from that, there was also the 515 eParty Facebook Profile Frame and exclusive 515 eParty WhatsApp stickers made available to get everybody to celebrate 515!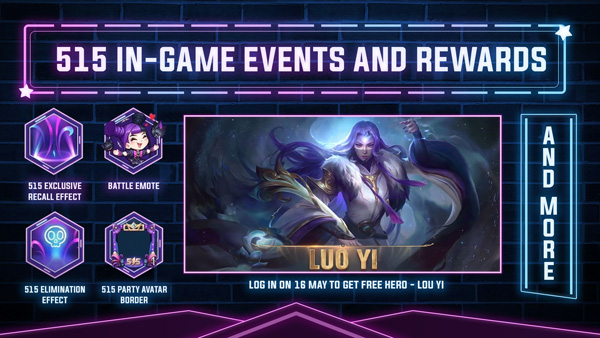 Apart from the MLBB influencers in the 515 eParty Charity Showmatch, many other notable influencers from Malaysia and Singapore were also taking part and supporting the celebrations such as Cody Hong, Lizz Chloe, Danny Ah Boy, Elizabeth Tan, Jian Hao Tan, NOC, and Dee Kosh.
With the success of this year's 515 eParty bringing everyone together to play Mobile Legends: Bang Bang, we certainly look forward to seeing what 515 will bring in 2021!
Stay tuned on our Facebook page here for more Mobile Legends: Bang Bang news and updates!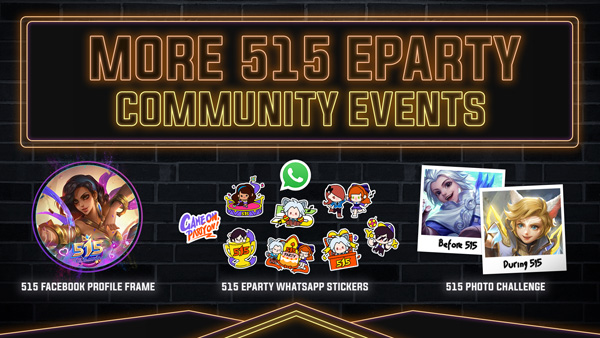 515celebrationcharitycovid-19mlbbmobile legendsmoontonshowmatch