Facebook Gaming Booming
People are already sharing meaningful experiences around games across our family of apps, and it's something we want to foster more of. In fact, every month, more than 700 million people engage with gaming content on Facebook.
Facebook Gaming in Malaysia is also growing significantly in less than 2 years.
The Top 5 most-streamed games from Facebook Gaming creators in Malaysia in April 2020, in order of popularity, are PUBG Mobile, Mobile Legends, Grand Theft Auto V, PUBG LITE, Dota 2
7M stars were sent out in April 2020 by gaming video content viewers in Malaysia
Over the last year, viewership of live gaming video in Malaysia has grown by 87%
Gaming creators are an integral part of Facebook Gaming and they have made the gaming community on Facebook getting even bigger than ever. We provide a platform for them to connect and share meaningful experience of gaming with their fans and provide opportunity to build their own business.
"Southeast Asia has grown into one of the most popular markets for Facebook Gaming, driven in large part by the popularity of gaming video and our gaming creators in Malaysia. Facebook is here in Malaysia to support Malaysian streamer gamers to build strong communities and create meaningful interaction with their fans, while at the same time, providing multiple ways for these creators to build the business that best suits their content and audience," said Michael Rose, Head of Southeast Asia, APAC Games Partnership.
The games industry is one of the largest (and still growing) entertainment industries in the world. Games have grown alongside technology and are playable across mobile, PC, dedicated consoles, and web browsers. Gaming is not new to Facebook. We believe gaming is an unrivaled catalyst for building community, which at the end of the day, is the heart of what we do here at Facebook.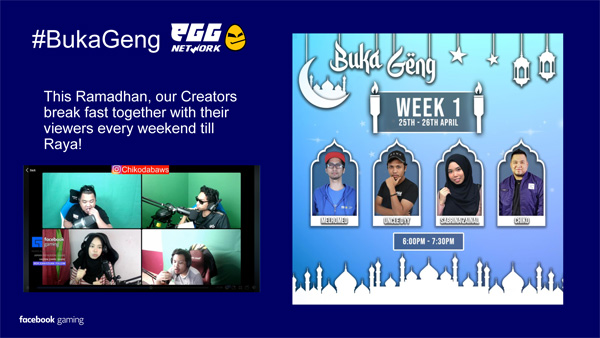 About Facebook Gaming App
With more than 700M people engaged with games on Facebook each month, we know gaming is a popular activity on Facebook. We want to give people a dedicated place to play, watch and share games they love both on and off Facebook.
The Facebook Gaming app provides a way for people to discover, watch, play and share personalized gaming content all in one place. It's designed to offer a deeper experience around Facebook Gaming content and new features specifically made for gamers.The Gaming tab will continue to exist, and we view both the tab and app as complementary experiences.
The app's Go Live feature allows people to stream mobile games on their phones directly to Facebook in a matter of seconds. For Gaming creators streaming from their desktop, content from their gaming video creator Pages and Groups are available for fans to find in the app. So, no additional steps are needed to stream if creators currently have a following built up on Facebook.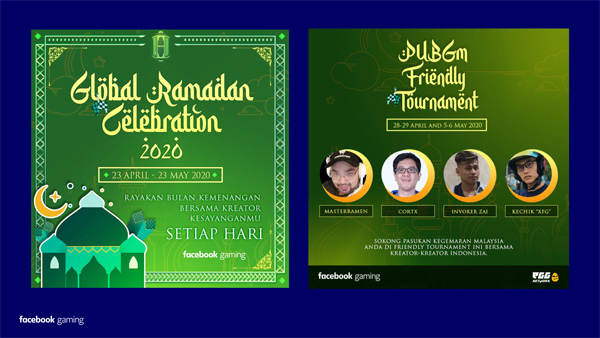 About Facebook Gaming Global Ramadan Campaign
Global Ramadan Campaign
Ramadan this year is different from the previous years as most of us need to stay at home to restrain the spread of Coronavirus. Social distancing means we have to be apart, but games can still bring us all together. So during Ramadan, Facebook Gaming introduces several programs for Indonesian streamer gamer community to stay connected and have meaningful interactions with their fans and other gamers.
Gaming is all about friendly competition, and Facebook Gaming tournaments brings that experience to you wherever you are, whatever game you're playing. The new feature will allow your favorite creators to host tournaments while streaming, You can create, play and watch the competition in one spot. Facebook Gaming tournaments is one way we can all #PlayApartTogether.
Your favorite gamer streamer will do the livestream from Iftar to Suhoor everyday to enhance your mobile experience during Ramadan. You can interact, get tips and tricks of the game they play and share stars and gifts to them!
During Ramadan, we bring more fun in Facebook Gaming for creators and the viewers by giving them Ramadan overlay, virtual gifts and notifications.