Discover your Hidden Talents with Snapchat while staying at home
Snapchat has a series of shows on Discover, where you can be inspired to  pick up a new skill or explore a new interest. Whether it is taking up a hobby or tips on leading a healthier lifestyle, there is truly no better time than the present to begin. As a bonus, you can share what you've learned with your close friends and impress them!
For Snapchatters who want to tap into their creativity, from making something with your own hands to mastering visual arts, here are some channels to check out:
Craft It Yourself

Get crafty and learn how to zhoosh up your everyday life with creative DIY life hacks that will add some sparkle to your home. Whether it is trying out easy sewing ideas, cool painting tricks, or even kitchen hacks, there's something for everyone!

Get Creative

Snap to impress with the creative selfies on Snapchat! Norwegian artist, illustrator and Snap Star GeeOhSnap will teach you how to get creative with your snaps with neat art tricks using Snapchat's creative tools. Why settle for boring when you can bring out your inner Picasso?
Looking good is a big part of feeling good. Plan your beauty and health routines with tips and hacks, and while you're working on your appetite, why not roll up your sleeves and learn the art of becoming a true gourmet? Check out these shows if you want to get your style on-point, or add a few dishes to your repertoire:
Beauty Insider

Get those eyebrows on fleek, or experiment with holographic nail art bound to wow your friends! Learn tips and tricks to make the most out of your daily self care routine, and express your own unique style even when social distancing.

Tasty

Whether you are vying for the spot of 'Top Home Cook' or just a fan of satisfying food moments, every foodie will enjoy the quick and simple recipes on Tasty. Find out how to make classic favourites and peek behind the curtains on how Tasty producers tackle challenging recipes for their videos.
A touch of humor and wit won't hurt after a long day of work or study. Join comedy master Trevor Noah in his now socially distanced but equally funny show, and find the cure to boredom with the hilarious Will Smith as he catches up with your favourite celebrities:
The Daily (Social Distancing) Show with Trevor Noah

Keep yourself in the know with The Daily Show, now straight from home! Keep your spirits up and enjoy a satirical take of the news as comedic host Trevor Noah breaks down the daily news and speaks to experts and popular personalities while socially distanced.

Will From Home

Join Will Smith in this stay-at-home quarantine series as he hangs out with celebrity friends and family members. Spot cameos from well-known actors and entertainers as they try fun challenges with the Fresh Prince himself, all from the comfort of their respective homes.
If you feel like you're missing out on the spotlight, bring out your inner superstar in your own TV show on Bitmoji TV, which is also available on the Discover page:
Bitmoji TV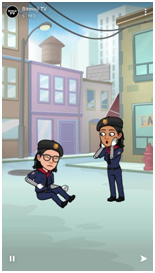 Enter the world of cartoons featuring YOU! Catch the wacky episodic cartoons starring your friends and your Bitmoji as they traverse the realms of television genres. You can be a detective in an action thriller, or even get the audience laughing with classic moments on a sitcom!
appartbitmojibitmoji tvcreativityentertainmentsnapchatsnapchattertrevor noahwill smith