The Revolutionary Digital Contact Cards for the Mobile Generation
After centuries of conventional business cards, along comes Betacard, a revolution in contact and calling cards. This game-changing innovation makes it easy to exchange contact information in a seamless, precise way – made possible by the digital age and mobile technology.
It checks off many boxes in a post-Covid-19 landscape, being cost-effective, green and easily catalogued and searchable, ensuring access to all your contacts wherever you are. It is immediately updated in both information and design, helping you eliminate legacy issues of office bureaucracy, minimum order quantity or even printing errors.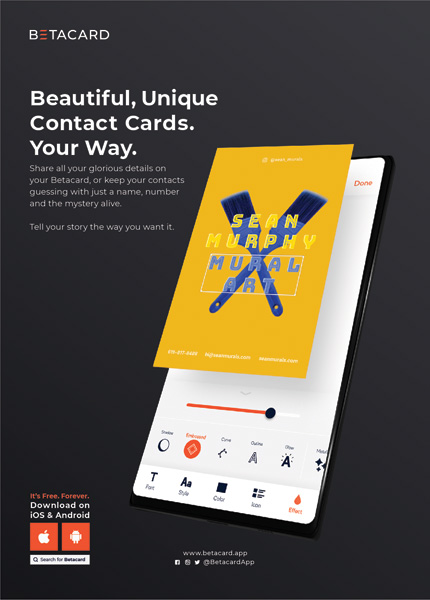 Betacard tells people who you are in a glance, with custom design to represent your personal identity and company profile. Completely digital and perfectly customisable, Betacard offers thousands of ready design themes in its app, and also the freedom to create from a blank canvas. Its easy functionality means you can load your profile with as much – or little – information, set privacy tags, and exchange your virtual card with a single swipe, even over a video conferencing call.
Many other details and features await, making Betacard the only contact app you will ever need. This removes the need for OCR scanners, digitally stored physical cards and basic digital cards with limited features. Now, with Betacard's superb and easy functionality, you will be coasting on the new digital wave of being green, having complete control and the most up-to-date contact information in a rapidly digital world.
Betacard will forever be free to download for individuals on Google Play and Apple App Store. If you are a tech-oriented company and involved in the digital economy, contact Betacard for a limited time offer to be boarded for free.
For more information, visit www.betacard.app.
appbetacardBusinesscardcontactcustomizedigitalnetworkocrtheme