Sime Darby Auto Hyundai resumes Service Centre Operations
Hyundai-Sime Darby Motors (HSDM) has obtained the Ministry of International Trade and Industry's approval to resume service centre operations in stages starting 20 April 2020. To date, all Sime Darby Auto Hyundai (SDAH) service centres have resumed operations.
During the Movement Control Order (MCO) period, only a minimal number of service personnel and customers are allowed at the service centres, therefore SDAH service centres are only accepting customers with service appointments and no walk-in will be allowed. In adherence to health and safety guidelines, all SDAH service centres will implement social distancing measures, disinfect regularly, run temperature checks for staff and customers upon entry, and provide hand sanitisers at all customer touch points.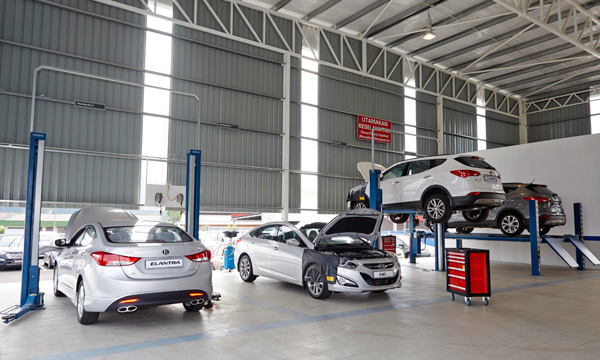 To book a service appointment, customers will need to contact a SDAH service outlet of their choice or a service advisor directly. SDAH service centres are located at Ara Damansara, Petaling Jaya; Old Klang Road, Kuala Lumpur; Ipoh, Perak; Georgetown and Prai, Penang; as well as at Skudai, Johor. Operational hours will be limited to 9am to 4pm on weekdays and 9am to 12noon on Saturdays for most SDAH service centres except for outlets in Georgetown and Prai, which will operate from 8am to 5pm and 9am to 2pm respectively.
HSDM has also launched the Hyundai C A R E Warranty Extension Programme, allowing for the extension of original warranties that expired in March and April. This initiative is in tandem with Hyundai Motor Company's launch of its warranty extension policy for Hyundai vehicles worldwide.
Hyundai C A R E aims to offer peace of mind for Hyundai customers with regards to their warranty eligibility for repairs and other related services, delayed due to the temporary shutdown of all service centres in adherence of the Movement Control Order (MCO) imposed by the government.
"We understand our customers' predicament of not having access to our service centres during this period, and they are probably worried about their warranty," said Mr Low Yuan Lung, Managing Director of HSDM. "With Hyundai C A R E, we wish to set their minds at ease with regards to their warranty eligibility. Not only do we care about our customers' health and safety, we care about the 'health' and safety of their vehicles as well."
Hyundai C A R E ensures that all Hyundai vehicles with original warranties that expire between 18 March and 28 April 2020, will benefit from warranty extensions until 31 May 2020. Nevertheless, should the MCO period is further extend, a 30 days warranties extension will be given from the last day of MCO. *The Hyundai C A R E covers the following:
Vehicles which have not fulfilled the service maintenance based on the Periodic Maintenance Service Schedule due to the MCO
Warranty for vehicles expiring during the MCO period (18 March until 28 April 2020) will be extended until 31 May 2020.
Warranty for vehicles expiring during the MCO period (28 April 2020 onwards) will be extended for 30 days from the last day of MCO.
Vehicles with service overdue due to MCO – the vehicle will need to be sent in for service within 30 days from the last day of MCO to ensure the validity of the warranty
All approved warranty that are pending part replacement during MCO
*All of the above are subject to warranty terms and conditions. For more information, customers can log on to www.hyundai.com.my or contact the Customer Care Line at 1300-13-2000.
Contact Number for SDAH Service Centres:
Ara Damansara, Petaling Jaya (03-7628 2500)
Old Klang Road, Kuala Lumpur (03-7984 5388)
Skudai, Johor (07-2340 714)
Ipoh, Perak (05-2533 399)
Prai, Penang (04-3997 788)
Georgetown, Penang (04-2811 210)