Predator invites Malaysians to join Charity Challenge
As frontliners in Malaysia battle to bring the number of COVID-19 cases further down in this third phase of the Movement Control Order (MCO), a number of organisations are battling to help feed the marginalized communities, whose situations have become even more dire. Thus, Acer Malaysia today announces the Predator Charity Challenge where up to RM15,000 total cash prize pool which will be donated to Pit Stop Community Cafe, a social enterprise that feeds the marginalized while giving a sense of dignity and respect at the same time. Located in the heart of Kuala Lumpur, Pit Stop Community Cafe reaches out to marginalized communities through food and services with the ultimate aim of reintegrating them back into society. They also rescue and repurpose food that would have otherwise gone to waste, and provide a platform for voluntarism.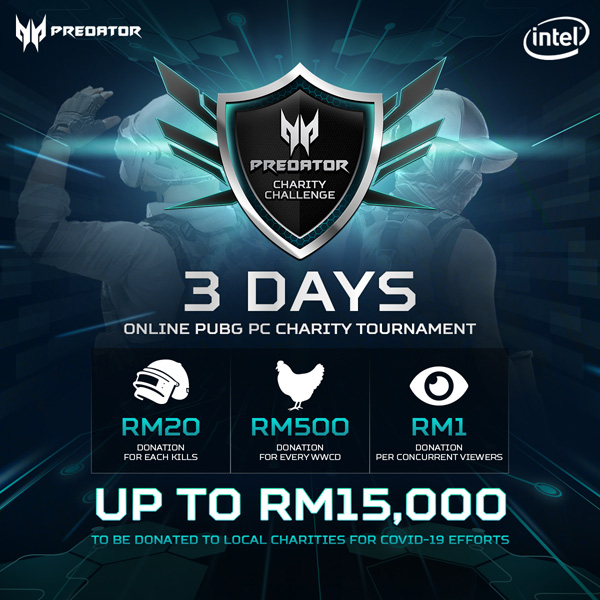 The 3-day Predator Charity Challenge runs from 24 April until 26 April and Acer Malaysia has invited well-known live streamers Master Ramen, Chiko and Daddyhood to challenge themselves in PlayerUnknown's Battlegrounds throughout the competition to raise funds for the underprivileged. Acer Malaysia will donate RM20 for every kill they get and RM500 for every "Chicken Dinner" they achieve.
Acer Malaysia also invites the public to join the challenge and help the underprivileged, by simply tuning in to support the live streamers. RM1 will be donated for every viewer tuned in during peak live views, capped at a maximum of RM2,000 per day. This Predator Charity Challenge amplifies Acer's other previous efforts which focused on supporting frontliners in healthcare.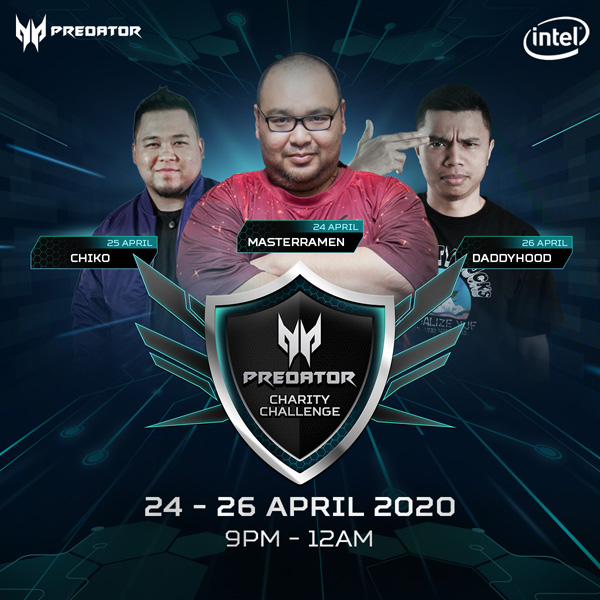 In conjunction with this Predator Charity Challenge, Acer Malaysia is also offering up to 20% discount on the Acer official online store and official store on Lazada. The promotion items include Swift series laptops, Acer Nitro 5, Predator Helios 300, gaming desktops, monitors and projectors. On top of the promotion, Lazada users will be able to enjoy additional discount vouchers provided on Lazada based on the minimum spend.
For more information, please visit Acer Malaysia's Facebook or call Acer's Product Infoline at 1800-88-1288 (9am – 6pm, Mondays to Fridays), WhatsApp to +6011-1062 8865, or email [email protected].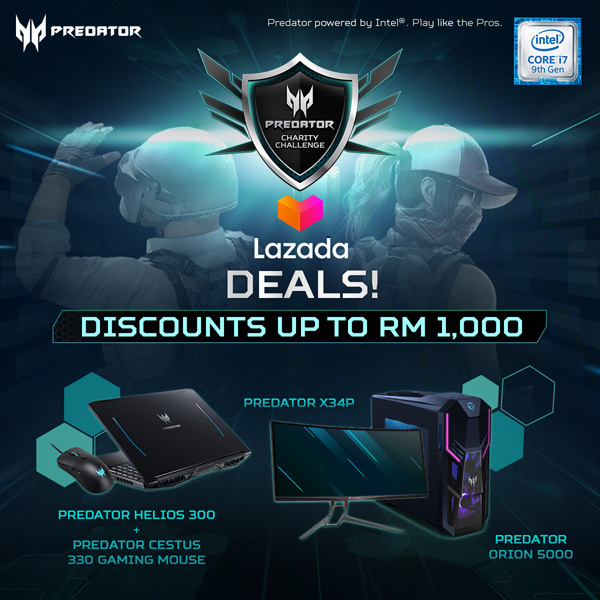 Acerchallengecharitycovid-19donationfrontlinergaminglazadalivepredator