JOOX introduces JOOX Family Plan for Malaysian music lovers to enjoy high-quality music, uninterrupted entertainment services from as low as 20 sen per day
During these tough times, people from all walks of life are in search of activities that can help them and their loved ones get through the days of social distancing, such as working or learning from home, engaging in indoor exercises and listening to their favourite music and artists as well as watching various local or global online concerts. With this in mind, Asia's most dedicated music streaming platform JOOX introduces the JOOX Family Plan for Malaysians who are avid users of streaming services, offering three family members to share its VIP service. Now, you and your loved ones can enjoy savings and have your choice of music ready for your hearts and minds anytime and groove to the hottest music tracks together, as you stay at home and stay safe!
The JOOX Family Plan, now available on mobile and desktop interfaces, can be enjoyed for a really competitive price of RM18.90 per month, giving you access to 30 million songs of various genres.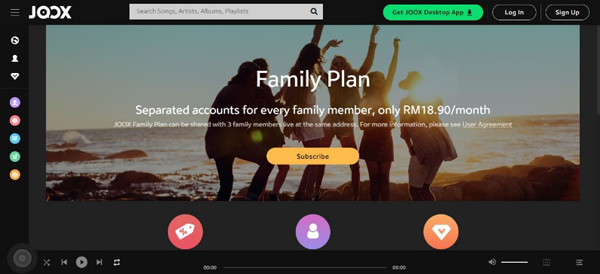 Malaysians love music as the total streaming time by JOOX users in Malaysia in 2019 is equivalent to flying around the world on a plane for 19 million times. The new three-person sharing plan will definitely be a treat for music-loving families. One person could foot the bill and the other two enjoy the same VIP services as low as RM6.30 each per month, which is equivalent to 20 sen each per day.
The plan includes access to JOOX's defining feature and differentiator, its exciting K Plus feature, which includes listening to Karaoke songs, singing alongside favourite artists and joining fun Karaoke battles; in addition to a seamless entertainment experience with no ads and interruptions; playing on-demand music; building your personal music library; downloads for offline listening; unlimited skips and Hi-Fi quality music. JOOX is also home to a growing list of online concerts, having recently hosted "Stay Home, Stay Tuned" live sessions in the past three weeks, from showcasing performances and interactive chats with local artists such as Alvin Chong, SonaOne, YonnyBoii and Bella Astillah to a special session live from Los Angeles featuring James Lee. Users can stay tuned to more exciting line-ups in the future.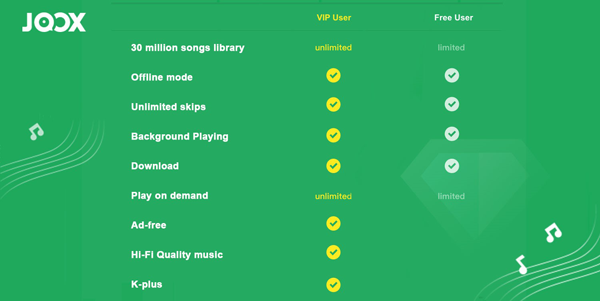 Angie Tan, Head of JOOX Malaysia, said, "JOOX is excited to debut the JOOX Family Plan in Malaysia, bringing excitement to fans, users and families to connect over their shared passion for music. Malaysia is a core market for JOOX in Asia and the introduction of this new plan reiterates our commitment to continually listen to the needs of users and innovate our services in order to provide a seamless and dynamic music experience with the best offerings under one platform."
Enjoy your favourite artists and their music anytime, anywhere by downloading JOOX mobile or desktop app on both the Apple App Store and Google Play Store, or access the JOOX website.