Isobar Malaysia collaborates with U Mobile on the GoPayz Sama-Sama Savvy Raya Campaign
U Mobile and Isobar have collaborated to launch Sama-Sama Savvy – an online campaign featuring tips for Malaysians to be more financially savvy, made possible with GoPayz. Conceptualised towards the end of 2019, it is in line with national efforts to raise the financial literacy of Malaysians from different levels of society.
GoPayz, an app by U Mobile, represents the Telco's foray into the innovative world of Fintech where the Brand's vision is to serve the underbanked population of our country. The Sama-sama Savvy campaign utilised engaging animated financial tips through 40 planned comic strips and 15 short videos to help bring the message of inclusive financial literacy to all.
The video features Bawang Boy, the lead character that represents the typical GoPayz user, sporting the "OK" hand gesture that symbolises the GoPayz tagline "All Also Ok", pointing to the key GoPayz benefit of providing affordable digital financial services anytime, anywhere.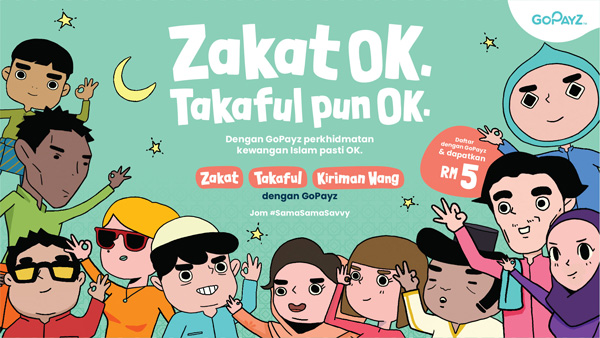 A Raya greeting video with a catchy tune featuring lively dikir barat beats together with the full cast of the GoPayz Sama-Sama Savvy campaign also encouraged people to fulfil their Zakat Fitrah obligations through the app, and was shared online in conjunction with Ramadan.
The video's lyrics reminded the audience of the importance of Zakat Fitrah obligations, and encouraged viewers to fulfil it while staying safe at home. The zakat fulfilment service is in line with GoPayz's goal to be a platform that provides its customers with accessible digital financial and lifestyle services.
The zakat platform is the first Islamic service by GoPayz, where customers will be able to fulfil their zakat obligations such as Zakat Pendapatan, Zakat Perniagaan, Zakat Simpanan, Zakat Saham, Zakat KWSP, Zakat Emas, Zakat Perak, Qadha Zakat, Zakat Fitrah and Zakat Harta (lump sum payment) to official zakat collection bodies conveniently via app.
Working in partnership with Isobar, the digital creative and experience agency of Dentsu Aegis Network, Jasmine Lee, Chief Marketing Officer of U Mobile said, "We want to empower Malaysians, especially the underserved, to make smarter decisions and improve their financial well-being and literacy with GoPayz. This is also why we are giving every new user RM5 in free credit, and we are dedicating up to RM1 million to help Malaysians get through this challenging time. GoPayz users can use it to pay zakat or perform mobile top ups, among other things, while staying at home."
San Yen Liew, Executive Creative Director of Isobar further adds, "Financial topics can be daunting and complicated to some. In Sama-Sama Savvy, we wanted to change this perception by approaching the topic differently. The idea is to convey useful financial tips to Malaysians in short, simple and entertaining animated videos, making it easy to understand and relatable to everyone. With close collaboration with clients, we distilled several useful tips to be animated and launched throughout the year, each with its own interesting video and comic strip. Stay tuned for more to come! Despite the challenges of working remotely during the MCO, we were committed to pushing out this piece of work for online zakat payment service in time for Raya. The clients and all of our partners came together like never before to make the piece possible, and we are truly grateful for this partnership and proud of the outcome."
GoPayz is committed to expanding its digital services to bring unlimited innovation and potential to all its customers.
In conjunction with the Raya Campaign launch, GoPayz is rewarding customers with RM5 credit for every new in-app GoPayz sign up from 2nd April 2020, and the campaign is currently ongoing.
The GoPayz Raya Campaign Video can be viewed at here.
The GoPayz app is available to download on both Apple App Store and Google Play Store at here.