HP Malaysia and Teach for Malaysia collaborate to bring Malaysians together to support learning from home
HP Inc. Malaysia today announced the #iMovewithHP campaign – designed to inspire Malaysians to stay positive and create meaningful connections during these unprecedented times. In this new normal, the freedom to go on with our usual daily routines has been a privilege that many Malaysians no longer have. The #iMovewithHP campaign seeks to bring Malaysians together to give back to the community and help students who are unable to continue learning from home. To kick things off, HP Malaysia has pledged to donate 50  units of their HP 14 laptops in support of Teach For Malaysia's (TFM) efforts to make learning from home possible for everyone
"#iMovewithHP was brought to life to support communities who lack access to the technology that is vital in continuing our education and work. As consumers keep working, keep learning and keep going from home, we want Malaysians to play a part in reaching out to help our local community by improving access to education in our new normal. As one nation, we can support the future of Malaysia together," said Fayza Mohamed Amin, Malaysia Managing Director, HP Inc.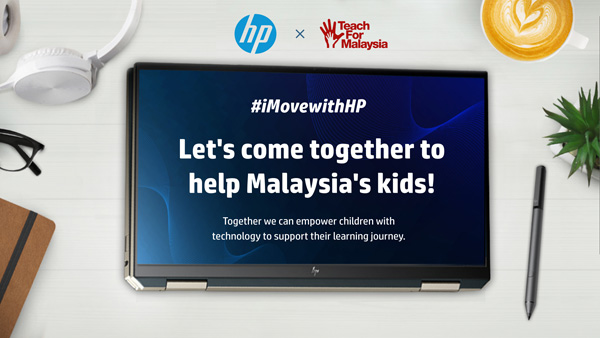 In collaboration with popular Malaysian personalities, Jestinna Kuan, Zamaera, Nurin Afiqah and Sean Lee, this Instagram-based campaign aims to inspire fellow Malaysians to come together to be creative with technology while supporting the local community in learning and working from home.
As an independent, non-profit organization, Teach For Malaysia (TFM) is on a mission to give all Malaysian children the opportunity to attain an excellent education. TFM will identify schools in the Klang Valley that have a high population of underprivileged students and work with the school management to nominate families to receive the HP 14 laptops. The collaboration between HP Malaysia and TFM was born from the combined drive to ensure vulnerable communities are able to adapt to the changing education landscape.
"As we see extended school closures due to the movement control order, TFM's goal is to ensure that all children in Malaysia will be able to continue learning, no matter their background. According to Education Minister Radzi Jidin, a recent survey of students from 670,000 households found that only 6% have access to a personal computer, and as many as 40% of students don't own a device for e-learning. As such, TFM will ramp up our work to ensure that students with the least resources are not left behind," says Chan Soon Seng, Chief Executive Officer of TFM.
The #iMovewithHP campaign will see each content creator launch their own social media challenges in line with their passions. These challenges will encourage their followers to learn a skill set and to share their newly acquired skill on social media tagging #iMovewithHP. This combined community effort will go on to help the less fortunate, with HP Malaysia donating one extra HP laptop to TFM for every 50 submissions received. The HP laptops will then be distributed to underprivileged students in the B40 community.
Our star Instagram influencers will post their challenges to the public on their individual Instagram pages, so check them out and play a part in giving back to Malaysia with HP and TFM. To find out more about this campaign, visit HP Malaysia's Instagram page at @hp_malaysia, and get started on your creative interpretation of the #iMovewithHP challenges!
HP 14
With lightning-fast speeds for day-to-day tasks and lessons, the HP 14 laptop is a perfect companion for any student. Equipped with Windows 10, a high-definition display and pre-installed Microsoft Office, the HP 14 will take you on a learning journey of a lifetime. Find out more about HP 14 and other HP devices at hp.com.my, or authorized partners and resellers including Lazada and Shopee.
campaigncollaborationeducationhphp 14imovewithhpnotebookteach for malaysia