Coway Malaysia donates RM300,000 to Ministry of Health
In addition to its recent donation of 300 air purifiers to over 38 public hospitals across Malaysia treating COVID-19 patients, Coway Malaysia also made a RM300,000 monetary contribution to the Ministry of Health Malaysia (MOH), in a simple ceremony held yesterday.
This Life-Changing CSR initiative, in conjunction with World Health Day held in April, is in line with the company's commitment to life-changing air and help support the vulnerable COVID-19 patients treated at hospitals as well as the frontline healthcare personnel attending to them.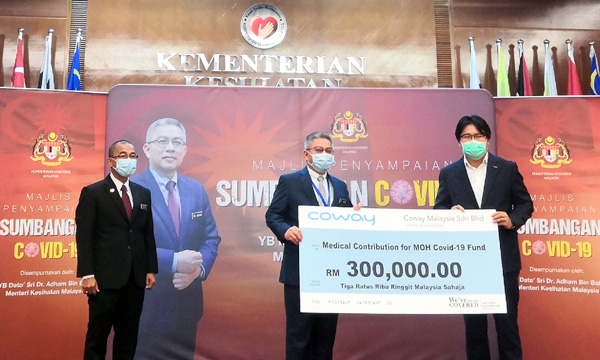 "Coway is strongly aware of how important it is to boost the country's efforts during this critical time and we are pleased to donate RM300,000 as a medical contribution for the MOH Covid-19 Fund. We want to do our part as a corporate citizen of Malaysia and provide the Health Ministry with the timely aid in the battle to contain and combat Covid-19," said Kyle Choi Ki Ryong, Managing Director of Coway Malaysia.
Leading up to World Health Day, Coway Malaysia carried out a CSR campaign from January to April 2020. Coway donated RM10 for every unit of Coway air purifier sold or rented during that period, towards the RM300,000 fund to help MOH fight COVID-19.
"We recognise the growing concerns caused by this pandemic, especially with the escalating number of cases, particularly in recent weeks within the Malaysian society. We also empathise with those being treated at hospitals and salute the healthcare frontliners who have been working overtime in the fight against the disease," Choi emphasised.
Expressing his gratitude, Dato' Sri Dr. Adham bin Baba, Minister of Health said, "We are grateful for the generosity of Coway Malaysia, who have come forward as a caring corporate citizen to support the nation in our struggle to fight this contagion COVID-19. It is encouraging to see your solidarity, supporting the government's effort."
"MCO Phase 3 is Not a Choice, it is a Must," he added while highlighting the hashtags of #STRONGERTOGETHER and #KITAMESTIMENANG.
In view of the encouraging response, Coway Malaysia will carry on with the Coway Air Purifier CSR campaign in the coming months. The company will continue donating RM10 per unit of air purifier purchased or rented, towards assisting more Malaysians affected by the pandemic.
As a global leader in the home appliance industry, carrying the vision of being The Life Care Company, Coway strongly advocates the importance for personal, family and home hygiene as these are the basic fundamentals for a healthy home.
For more information on Coway please visit www.coway.com.my.