Casio released new G-SHOCK Watches in MT-G Series with Durable and Stylish Carbon Fiber Multilayered Bezels
Casio Malaysia has released new additions to its G-SHOCK line of shock-resistant watches. The new MTG-B1000XBD and MTG-B1000XB are part of the MT-G series of watches, which are known for construction that makes the most of the properties of both metal and resin. Both models feature a carbon fiber bezel that is lightweight and strong.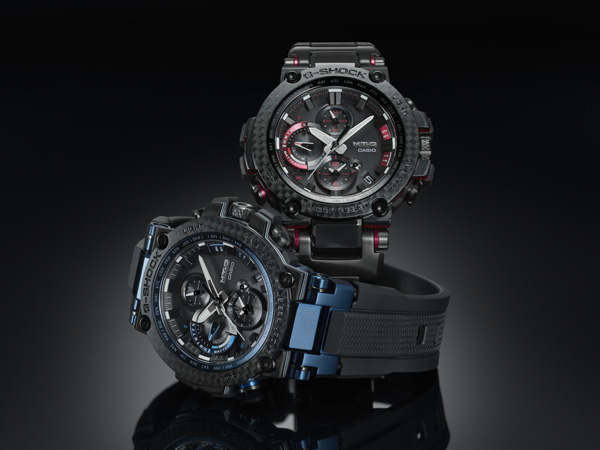 The MTG-B1000XBD and MTG-B1000XB are based on the MTG-B1000, which has a mid-sized case for enhanced wearability while delivering advanced functionality, including smartphone connectivity and solar-powered radio control. The new models feature a bezel made from carbon fiber, considered the "third material" after metal and plastics, for an evolution in design in keeping with the 20th anniversary of the MT-G series. Carbon fiber is similar to plastic in terms of its light weight, yet comparable to or exceeding metal in durability, although its hardness makes it more difficult to process. Casio, however, further refined its multilayer three-dimensional molding technology and cutting techniques to enable the use of carbon fiber to construct the complex bezel parts. The elegant look of these models is further enhanced by high-transparency sapphire crystals.
The bezel is three-dimensionally molded from two layers of sheets made from carbon fiber and colored glass fiber-reinforced plastic, which are combined with resin. The MTG-B1000XBD incorporates red accent layers and the MTG-B1000XB incorporates white accent layers. These colored layers create a contrast with the black carbon fiber layers when viewing the bezel from the side, while the distinctive carbon fiber weave gives the bezel face an attractive design accent. This use of materials and construction gives a varying appearance to the bezel depending upon the angle of view.
The red-accented MTG-B1000XBD comes with a layered composite band made with durable fine resin parts, while the blue-accented MTG-B1000XB comes with a soft urethane band for enhanced wearability. The band attaches to the case using a combination of fine resin and metal parts for optimum strength.
For more information, visit here.