Mah Sing donates Heavy Duty Critical-Care Ventilators to NADMA in support of the Fight against Covid-19 Pandemic
Property developer, Mah Sing Group Berhad together with its corporate responsibility arm, Mah Sing Foundation (MSF) are donating 20 units of heavy duty critical-care ventilators worth RM3.9million to the National Disaster Management Agency (NADMA), to be distributed to front line hospitals in need.
Mah Sing's Founder and Group Managing Director, Tan Sri' Dato' Sri Leong Hoy Kum said, "We learnt that our public hospitals are facing acute shortage of ventilators, especially heavy-duty ventilators which are suitable for use in critical care units.  Therefore, we sourced for suitable equipment and are contributing these 20 units to NADMA.  Our front liners are keeping us safe by putting their lives on the line on a daily basis and working tirelessly to contain the pandemic.  They need equipment like ventilators, personal protection equipment (PPE) and masks to help them do their work.  As a responsible corporate citizen, Mah Sing will continue to work hand-in-hand with the government and other relevant bodies to weather through this storm together. We urge that all corporates join to play a part to limit Covid-19's spread and impact."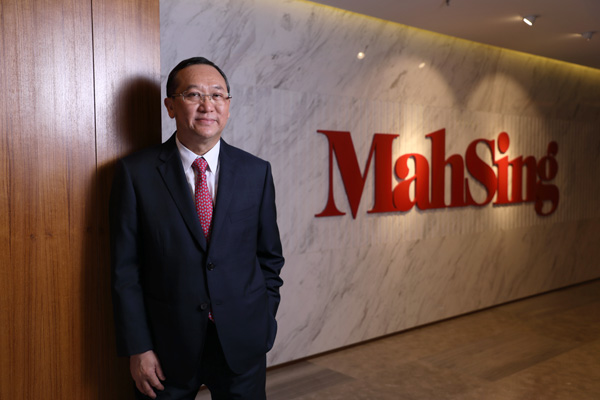 "In fact, we can learn from other countries which have gone through this pandemic. To manage potential imported cases of Covid-19 perhaps we can learn from places like Hong Kong which mandates the use of an electronic tag, or Singapore which requires location reporting via smartphones for returnees from high-risk countries who are observing their 14-day stay-home period. Singapore is also placing residents returning from the U/S and the U.K in hotels to prevent them from potentially spreading the virus to their families, a measure that's tighter than one that earlier allowed them to serve the 14-day quarantine at home, " he commented.
"Many people who have been infected with the virus may not show symptoms, especially in the earlier days, while continuing to be a carrier. We hope that more people will be civic-minded and wear masks in public places; it is good that the government is making masks duty free – this will encourage even more corporations to donate masks to help front liners," Tan Sri Dato' Sri Leong added.
He commented, "We also hope that unregistered foreign workers and their families can come forward to get themselves tested for Covid-19 without fear. Perhaps the government could encourage employers to send their foreign workers that show symptoms for testing without penalizing the employers for unregistered foreign workers.  This will help to flatten the curve."
Earlier in the year, Mah Sing Foundation had also contributed RM100,000 worth of medical supplies to medical institutions in the city of Wuhan located in China's Hubei Province which was the epicentre of the pandemic. This was in collaboration with Malaysian relief organisation #OpsHarapan which had direct access to hospitals there.
"MSF has always placed our upmost priority to enhance the lives of the surrounding community. Our support in the war against the COVID-19 pandemic is in line with the Foundation's aim, which is to create long-term and sustainable impacts in the community. We believe that our contribution will provide great assistance to our front-line medical hospitals in their efforts to combat this outbreak and will take us closer to tackling the COVID-19 pandemic, which has caused disruptions in our daily routines and lives," elaborated Tan Sri Dato' Sri Leong.
Founded in 2005, MSF strives to make lasting changes in the lives of the underserved community with key focus in Malaysia by forging sustainable strategic collaborations with various stakeholders to make this change a reality. In 2019 alone, MSF has supported over 40 schools and NGOs, whilst impacting over 23,000 individuals.
Mah Sing has over 50 projects in Greater Kuala Lumpur, Klang Valley, Penang, Johor, and Sabah and is one of Malaysia's fully integrated developers with residential, commercial, hospitality and industrial developments. The Group is best known for crafting homes and finding innovative ways to deliver products and services that are of high quality and excellence.