Earn Cashback with Credit Card Top-Up on Setel
Malaysian motorists can minimise contact while safely refuelling at PETRONAS stations with Setel and get up to 10% cashback on fuel when they top-up on the app through qualified credit cards. The launch of the new feature is timely as Setel crossed its one million users' mark, doubling its 2019 record.
This feature is applicable effective immediately on qualified fuel cashback credit cards issued by Ambank, CIMB, Citi, Hong Leong Bank, RHB Bank and UOB; with more coming.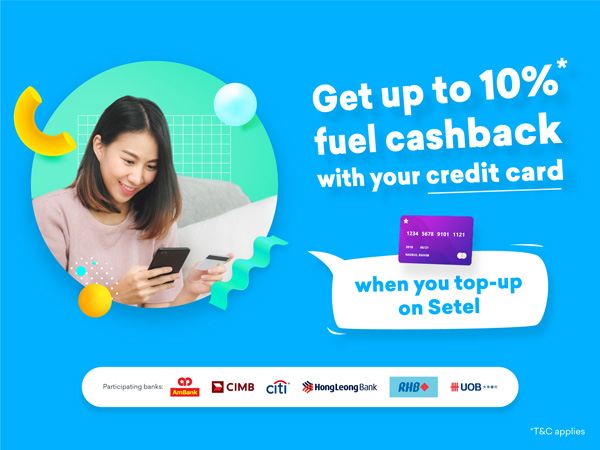 "Customers that currently benefit from credit card fuel cashbacks have been wanting to get on Setel and they can now enjoy the seamless experience without losing existing privileges. Setel has crossed the one million users' mark just one month after our nationwide expansion early February 2020, making us one of the fastest growing mobile application in Malaysia. Our daily order in February alone showed a significant increase of 85% from the previous month, a positive indication of Setel's appeal to customers as a new retail-on-the-go convenience in Malaysia," said Iskandar Ezzahuddin, Chief Executive Officer of Setel.
Available exclusively at PETRONAS stations nationwide, Setel's safe fuel payment method helps minimise physical touch points at the station and smoothens the refuelling process. Our customer's safety is assured as refuelling can be done with no contact of high-touch surface points when using physical cards like credit, debit and loyalty cards. Setel also avoids the need to queue in line for cash payments, especially when social distancing is encouraged.
Setel is available for free on iOS and Android via the Apple Store and Google Play Store. For more information on Setel, please visit www.setel.my. For more information on the cashback terms and the updated list of qualifying credit cards, please visit here.