3 Tips to increase Productivity while Working from Home
During this Movement Control Order (MCO), many of us are working from home. As we enter Week 2 of what is now an extended MCO, working from home is the new norm and we need to keep productivity up. But for many, the home does not have office-like seating with proper tables and chairs for working long periods of time. In fact, perhaps even the power outlets are nowhere near your most comfortable seats to be working from.
Thus, we would like to recommend a few tips on buying a device that will allow you to activate your best performance from anywhere in your house – from the porch to the kitchen table – with few or no constraints at all.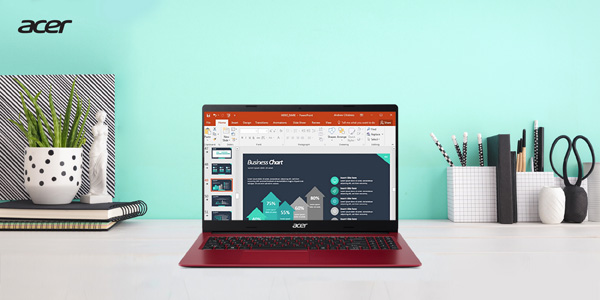 1. Look for long battery life
To keep you in the most comfortable seat that might not be near power outlets, a laptop with longer battery life helps you maintain the productivity without pulling cable from one end to another of your house.
Laptops like the 10th Gen Intel CPU, Acer Aspire 3 comes with up to 7.5 hours battery life from a single full charge. This means you can have a better work from home experience, no more tripping over cables at home! The fast SSD that it comes with also does not hurt, as it provides quick Windows startup, loading of documents and applications.
At 7.5 hours, it is not longest battery life laptop from Acer. That honour falls to the best-selling Acer Swift 5 offering all the performance you need on-the-go comes with up to 11 hours battery life while weighing only a feathery 0.99kg light. We were informed that currently there are very limited stocks available to ship to customers' home during this MCO.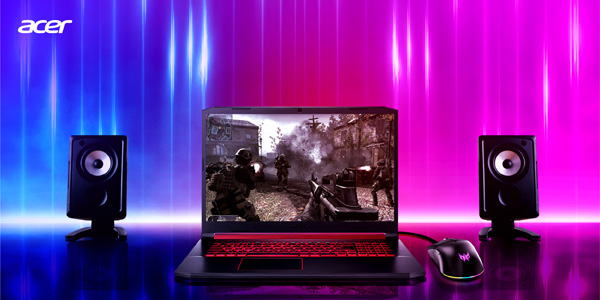 2. Look for right performance that meets your need
You might feel that the laptop you usually use to watch Netflix works perfectly. However, when it comes to executing tasks during the work from home period, it does not cut it. This might be due to it having a normal HDD hard disk, a lower RAM and a processor that is not capable of multitasking.
In order to support your multiple browsing tabs, large spreadsheet and heavy programs that require performance and RAM, we recommend getting a device with at least an Intel® Core™ i7, dedicated graphics card, 512GB SSD and 8GB RAM to enable uncompromised productivity.
The new 15.6-inch Acer Nitro 5 ticks all boxes mentioned above. With an NVIDIA® GeForce® GTX 1660Ti with IPS display that supports up to 120Hz refresh rate, you even can use it to play some games after your work is done. In addition, you may upgrade the laptop after this MCO if you require larger storage or bigger RAM. If you seek a bigger screen, the Acer Nitro 5 comes with a 17.3-inch option that supports up to 144Hz refresh rate.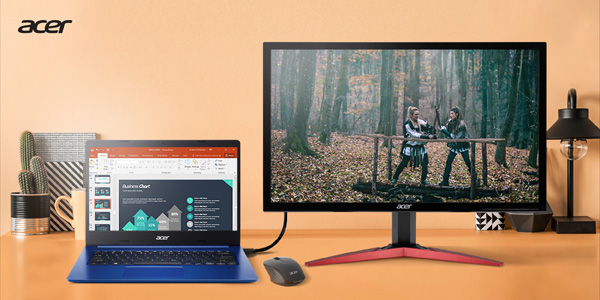 3. Look for bigger or secondary display to maximize productivity and entertainment
Some of you might be used to a bigger monitor in your office, and even a 15.6 inch display simply is not enough for you to work on complicated spreadsheets or refer to multiple sources at the same time.
You may consider adding a secondary display for more real estate for your work. As a reminder, please choose a monitor that can fit on your table as you may not be able to get a new table right now! Otherwise monitors with VESA mount support may help you solve the issue if you have a bracket.
The 24-inch Acer KG241QA monitor would be just nice to fit on most table, and you can mount it to the wall via VESA mount with VESA bracket (the monitor does not come with bracket though). With an FHD display that supports up to 144Hz refresh rate and minimum 0.6ms respond time, it is more than adequate as a secondary display when you work, and is perfectly ready for gaming after working hours. Of course there are more options for the size and usage. Feel free to visit the Acer official online store on Shopee to choose one that meets your needs here.
Stay at home also means you look for more entertainment (you can't be working or cooking/eating all the time…). So, if you are looking for a projector for content sharing or video calls from a smartphone with your family members, the Acer C250i multi-angle projector comes with a unique twisted roll design that enables projecting the screen onto a wall, ceiling or any flat surface wirelessly. is the world's 1st auto portrait We were told that only 10 units currently available.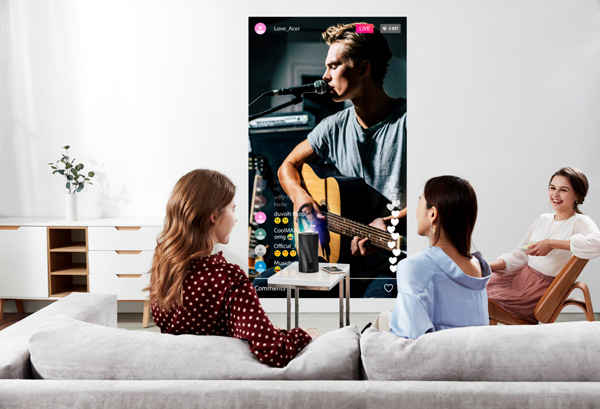 The devices are available from the Acer official online store with limited stock availability during MCO:
Product
Simplify Specification
Price (RM)
Stock Available
Acer Aspire 3
(A315-55G-541R)
15.6-inch FHD
Intel® Core™ i5-10210u
NVIDIA® GeForce® MX230
512GB SSD
4GB RAM
2,399
https://bit.ly/MCO-Aspire3
Acer Swift 5
(SF514-54T-52AS)
14-inch FHD with multi touch
Intel® Core™ i5-1035G1
512GB SSD
8GB RAM
Pre-install Microsoft Office 2019
3,699
https://bit.ly/MCO-Swift5-i5
Acer Swift 5
(SF514-54T-70AA)
14-inch FHD with multi touch
Intel® Core™ i7-1065G7
Intel® Iris® Plus Graphics
512GB SSD
16GB RAM
Pre-install Microsoft Office 2019
4,699
https://bit.ly/MCO-Swift5-i7
Acer Nitro 5
(AN515-54-76ZC)
15.6-inch FHD
Intel® Core™ i7-9750H
NVIDIA® GeForce® GTX 1660Ti
512GB SSD
8GB RAM
4,499
https://bit.ly/MCO-Nitro5-156-L
&
https://bit.ly/MCO-Nitro5-156-S
Acer Nitro 5
(AN517-51-73JS)
17.3-inch FHD
Intel® Core™ i7-9750H
NVIDIA® GeForce® GTX 1660Ti
512GB SSD
8GB RAM
5,299
https://bit.ly/MCO-Nitro5-173-S
Acer KG241QA
23.6-inch FHD
Up to 144Hz refresh rate
minimum 0.6ms respond time
AMD FreeSync
HDMI(2.0) x2 + DP (1.4) x1
599
https://bit.ly/MCO-KG241QA
Acer C250i
Full HD
5000 : 1 Contrast ratio
300 Lumens brightness
Up to 30,000 hours lamp life
9000mAh Li-ion battery
1,699
https://bit.ly/MCO-C250i
In conjunction with Lazada's birthday sales, there are additional promotion for Acer Aspire 3(A315-55G-541R) and Acer Nitro 5 (AN517-51-73JS) on 27 March. Customers who purchase select Acer models from 1 February to 31 March 2020 will be entitled to redeem Acer Malaysia's 30th Anniversary's free gifts at here.
For more information, please visit Acer's Malaysia Facebook or call Acer's Product Infoline at 1800-88-1288 (9am – 6pm, Mondays to Fridays), WhatsApp to +6011-1062 8865, or email [email protected].
Acercomputerdesktophomelaptopnotebookprojectorwork from homeworkstation