For those embracing a car-free lifestyle, driving to our hometown or going on a road trip can sometimes be a challenge. Now, thanks to SOCAR, road-tripping and intercity trips are much more accessible for car-free drivers with the exciting One-Way Intercity service. Book your perfect car from an ever-growing fleet of over 2,000 cars in 27 different models.
The One-Way Intercity service allows users to book one-way reservations to / from Kuala Lumpur, Penang and Johor Bahru without any additional one-way fees. To book, just open your SOCAR app to see the locations of the available pick-up and drop-off zones, indicated by the 'Intercity' pins. Select your preferred pick-up and drop-off zones for your trip to secure your booking, and you're ready to roll. The intercity zones include Bangsar in Kuala Lumpur, Bayan Lepas in Penang and Ah Yit in Johor Bahru.
To find out more about SOCAR's intercity feature and available locations, please log on to here.
SOCAR At Airports Near You
No worries if you need to catch a flight, SOCAR vehicles are also available at airports. Pick up or drop off your SOCAR at the Kuala Lumpur International Airport 1 & 2, Penang International Airport and Senai International Airport to ease your transportation needs. The convenience of SOCAR will certainly come in handy if you are planning to carpool to the airport. No more hiring a vehicle plus driver to pick everyone up, and save a seat by driving yourself to catch your flight!
SOCAR Expands To Ipoh
To meet the growing demand from Malaysians, SOCAR Malaysia has now expanded to Ipoh as of Friday, 17 January 2020. If you're in Ipoh, you can choose from models like Honda City, Perodua Axia, Perodua Myvi and Toyota Altis.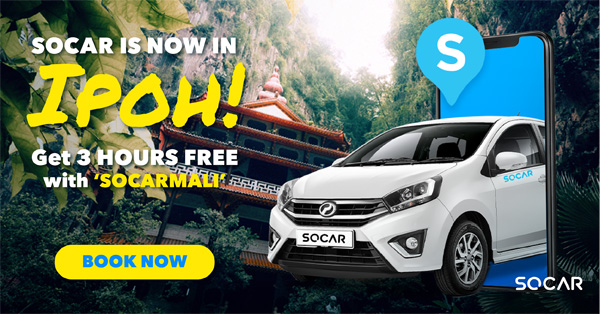 "We are continuously working on growing our service offerings to make using a SOCAR more convenient for our members. Users can pick up their vehicles at locations such as KTM Ipoh, Tesco Ipoh Garden, Caltex Jalan Kampar, Caltex Canning Garden and Caltex Jalan Pasir Puteh. We will also be deploying additional cars to Ipoh Parade in the weeks to come as we continue to encourage more Malaysians to embrace the concept of car-sharing," said Leon Foong, CEO of SOCAR Malaysia. In the introductory stage, new users in Ipoh can enjoy the first 3 hours off on each of the first 2 SOCAR bookings they make – from now until 31 January 2020.
*Please note that the One-Way Intercity feature is not available in Ipoh at the moment.
To find out more on SOCAR's expansion to Ipoh, please log on to here.
Download the app on the Google Play Store or Apple App Store and follow SOCAR's Facebook page for the latest promotions and deals.