Sharp thanks Customers for 35 Years of Loyalty
Sharp Electronics (Malaysia) Sdn Bhd (SHARP) has built a legacy as a household name in Malaysia for close to 35 years. To celebrate its 35th anniversary celebration, the leading consumer electronics brand has launched a super-giveaway campaign in appreciation of its loyal customers.
"We are extremely grateful to our customers for their longstanding trust and support for the SHARP brand for close to 35 years. The longevity SHARP enjoys here in Malaysia speaks volumes of the reliability that comes from understanding the needs of our customers. This campaign aims to express our appreciation to consumers across Malaysia. We look forward to continue evolving and bringing innovative solutions that transform the way we do things, especially by leveraging on 8K technology, AIoT and 5G connectivity," said SHARP Deputy Chief Executive Officer of ASEAN and Managing Director, Robert Wu.
The campaign which runs from 4 December 2019 to 16 February 2020, is giving out instant rewards and free gifts* to customers on selected SHARP purchases. These include standing mixers, glass lock food canisters, vacuum cleaners and refrigerators. With a minimum purchase of RM500, customers will also be entitled to a lucky draw entry for monthly draws or the grand prize draw at the end of the 10-week campaign period.
Monthly draws will see 70 lucky customers win up to RM1,500 in SHARP products and cash prizes. Lucky draw winners of the month stand a chance to take home prizes ranging from a SHARP sound partner, microwave over, air purifier, refrigerator or top load washing machine, on top of RM800 in cash.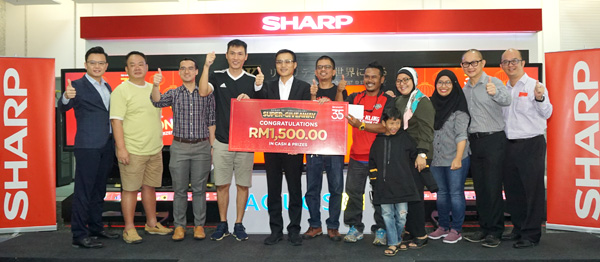 In time for the festivities, SHARP is also running special promotions on home and kitchen appliances including its signature SHARP AQUOS Televisions. Throughout SHARP's 35th anniversary super-giveaway campaign, a nationwide roadshow will offer fans of the brand a chance to participate in cash grabs at selected locations revealed via Facebook.
Fans of SHARP products, Nor Erwan Sazli Nor Zahid and his wife, Rusmiawati Sufanie Mohamed Idrus decided to upgrade their home with a 70inch 4K Ultra High Definition (UHD) SHARP television recently. Little did they know this decision would be further rewarded with an RM800 cash prize and a 165Litre SHARP MyFridge refrigerator in conjunction with SHARP's 35th Anniversary Super-giveaway Campaign. "I had been admiring the design of the 70inch 4K Ultra High Definition (UHD) SHARP television and the sharpness of the images and finally decided to get it. When paired with the SHARP sound bar, it feels like I'm at the cinema. My wife and I were shocked and so happy to be selected as winners. I thank my wife for the green light to upgrade our home TV. Now she can watch television without her glasses!," Nor Erwan said.
Organised by SHARP as an appreciation for contributing to the brand's legacy and longevity in Malaysia, the campaign will culminate with the grand draws which will offer three lucky customers the opportunity to take home a combination of prizes totalling over RM100,000**. The second prize winner will take home SHARP products and a cash prize with a combined total of over RM17,000, while the first prize winner will take home SHARP products including a 60inch SHARP AQUOS 4K Television among other SHARP products and a cash prize with a combined total of over RM29,000. The ultimate grand prize winner will win SHARP products including a 60inch SHARP AQUOS 8K Television and other SHARP products, plus a cash prize with an overall total of RM63,000.
The SHARP brand began its legacy in Malaysia in 1985 with the establishment of its first manufacturing plant in Sungai Petani, Kedah which was officiated by Tun Dr Mahathir Mohamad. Today, SHARP is represented through a network of dealers throughout Malaysia. Aspiring to progress beyond consumer products, SHARP continues to be at the forefront of innovation by championing discussions and efforts to build an ecosystem leveraging on 8K technology, AIoT and 5G connectivity.
The first monthly draw, announced on 25 December 2019, rewarded six lucky winners from the northern, east coast, central, southern region and East Malaysia. Further details about the lucky draws and more are available on the Sharp Malaysia Facebook page.
*Free gifts valid while stocks last
**Terms and conditions apply
appliancescampaigncustomerelectronicshomeloyaltyproductssharp