MDEC and Weibo announce Collaboration to pilot "Virtual City" Social Media Platform; To boost Cross-Border E-commerce Trade
The Malaysia Digital Economy Corporation (MDEC) and Weibo inked a Memorandum of Understanding (MoU) to collaborate on the development and implementation of a pilot for the Virtual City portal. Running on the Weibo social media platform, it will enable China consumers to obtain information of the products and services offered by any Malaysian city. It will also provide shared experiences, recommendations, and other useful tips with each other.
This collaboration between MDEC and Weibo is aimed at raising awareness and expanding the cross-border relationship with Malaysian brands and products. This will be done by leveraging on the power of China's social media capabilities. The goal is to drive demand for Malaysian brands and catalyse cross-border eCommerce activities between Malaysia and China. It will also see the cultivation of Malaysian talents who can specifically use the Weibo social-commerce platform.
This signing ceremony was held in conjunction with Weibo for Business event that Weibo co-organised with MDEC. MDEC Chief Operating Officer, Dato' Ng Wan Peng, signed the MoU on behalf of MDEC while Weibo was represented by Jennie So, Weibo International General Manager. At the event, local business owners were able to discover and explore Weibo's marketing features and tools through various coaching workshops and showcase.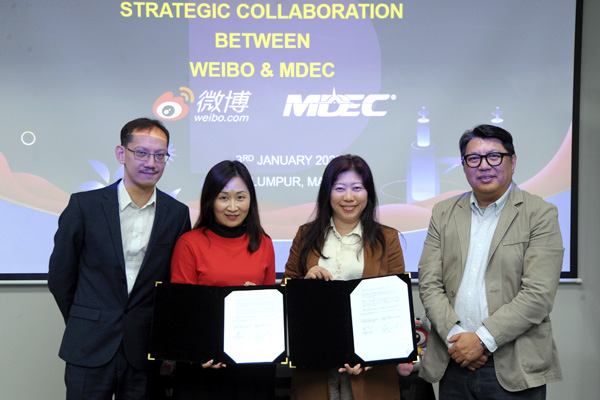 Weibo is among the most popular social media platforms in China, with over 497 million monthly active users and 216 million daily active users. 94% of the dailies are below 30 years old. As a result, Weibo has become an essential component of any digital engagement strategy in China. This includes leveraging on its highly engaged ecosystem and features, comprising short messaging as well as photos and videos sharing.
At the signing ceremony, Dato' Ng Wan Peng commented, "We are excited to embark on this Virtual City collaboration with Weibo. With its extensive user-base and comprehensive content channels, the pilot will raise the awareness levels and engagement rates with the people in China; specifically, on Malaysian brands and products. It can also be used to promote tourism and draw visitors from China to Malaysia."
"Our ultimate aim is to motivate local business owners to embrace digital technology, enabling them to access global markets. Malaysia's presence on the Virtual City portal will open new opportunities for local businesses. This will ensure they can be a part of China's booming eCommerce industry and provide them with unparalleled business growth," she added.
MDEC will engage with key government agencies and private sectors to participate in the development and implementation of the Virtual City portal. With its launch tentatively set for some time in 2020, it will be the 1st Virtual City in Southeast Asia and the 3rd to launch outside China, after Virtual City London and Tokyo.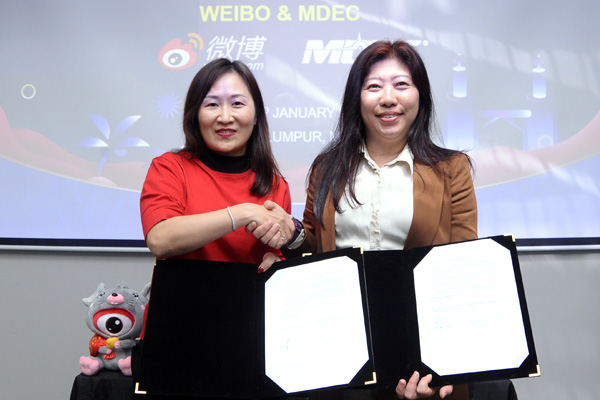 Commenting on the collaboration, Jennie So said, "We are pleased to embark on this partnership with MDEC. Virtual City will be a key digital bridge linking Malaysia with China via Weibo to promote greater exchange of economic, cultural and business interaction between both countries. It also enables seamless connectivity among Weibo users in both nations, that encourages deeper understanding of Malaysia by the people of China."
Expressing confidence on the collaboration, she added, "Weibo commands a massive global user-base, especially in Southeast Asia – where digital adoption is accelerating. Virtual City aggregates a city's key government bodies, enterprises, and social influencers through multiple Weibo-powered digital products and content features. With these advanced features, this system can create holistic city-wide brand impacts and influence uplifts."
Jennie So also gave high marks to Malaysian Weibo users, "Weibo's overseas user community represents a new generation of digital content consumers. As Weibo is one of the most popular social networks globally,  we noticed how digital- and social media savvy Malaysians have that natural advantage when they interact on the Weibo platform. This will lead to even greater opportunities for Malaysia."
The Virtual City portal pilot is timely, given the tremendous success of Malaysia Week 2019 and #MYCYBERSALE 2019.
This year will see eCommerce becoming the key driver of the nation's digital economy. Building on the success of Malaysia Week 2019, #MYCYBERSALE 2019 and eCommerce Day 2019, MDEC is gearing up to elevate and expand Malaysia's cross border eCommerce trade and enhance growth of the digital economy.
Businesscollaborationcybersaleecommercemdecmouplatformvirtual cityweibo