Advanced, refined: Volkswagen launches the New Passat Elegance
Volkswagen Passenger Cars Malaysia (VPCM) today launched of the new Passat 2.0TSI Elegance in Malaysia, four months after its German market launch in September. The new Passat features a complete redesign of the exterior and interior, improved connectivity and updated lighting signatures.
The new Passat was unveiled at the Geneva Motor Show last year, and like its predecessors, quickly gained a strong fanbase in the family/executive model segment, thanks to its refined, elegant lines and unbeatable functionality.
A benchmark within its class, the new Passat boasts an updated 2.0TSI engine and is the first front-wheel drive Volkswagen model in Malaysia to come with a new 7-speed wet clutch dual-speed gearbox (DSG). Other new highlights include new front and rear lights and a completely updated infotainment system complete with wireless App-Connect.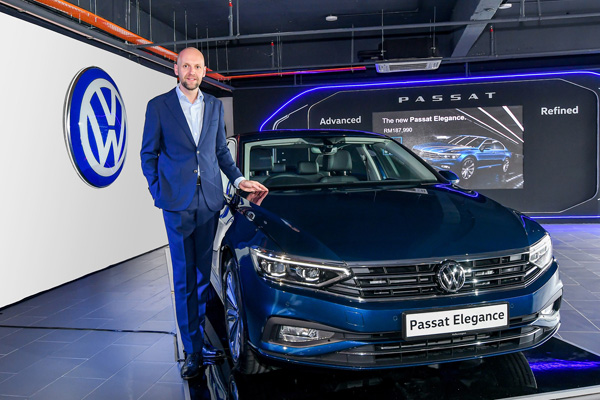 Erik Winter, Managing Director of VPCM said that the Passat is an icon in its own right, and a staple choice for executives around the world. "With more than 30 million units sold to-date, it ranks second next to the iconic Golf as one of Volkswagen's most successful models."
"The new Passat features not only a technical update, but a complete redesign of the exterior and interior, improved connectivity and updated lighting signatures. These advanced enhancements are executed, without any compromise on performance. This is what we believe today's discerning customers are looking for," he added.
Currently in its eight generation, the Passat was first introduced in Malaysia in 2006. Local assembly began in 2011 at Pekan, made possible through a collaboration between Volkswagen AG and DRB-Hicom. Today, the Passat is one of Volkswagen's most successful models.
KEY USP
Engine and Performance
Under the hood, the new Passat is powered by a new 2.0TSI turbocharged engine paired with a new and improved 7-speed wet clutch direct shift gearbox (DSG) that produces an impressive output of 190PS and a torque of 320Nm
The perfect combination of performance and efficiency, the new Passat offers a fuel consumption of approximately 6.5l/100 km, based on real-life driving data as defined by the WLTP (Worldwide Harmonised Light Vehicle Test Procedure).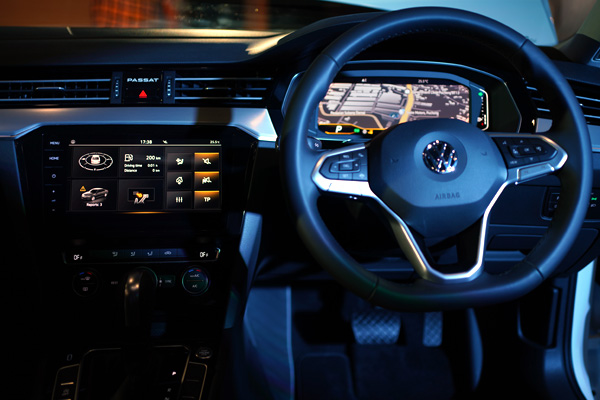 Connectivity
The new Passat offers intelligent connectivity at your fingertips. A new and improved 11.7" Digital Cockpit offers absolute clarity, thanks to a high-resolution display colour thin-film transistor (TFT) similar to that of a premium smartphone and incorporates functions and features in 2D and 3D graphic display for navigation and media. A six-view customizable screen offers a new level of personalization with over 30 combinations options.
Its infotainment system is no less impressive – a 9.2" touchscreen is made easier to navigate with voice control, gesture control and a customizable three-view split screen. Wireless AppConnect with Apple Car Play is also available in the new Passat for the very first time in Malaysia. Other features include a wide range of connectivity options through a capacitive touch display, three illuminated USB-C ports and Bluetooth connectivity for mobile and audio streaming.
Exterior
With a sharper and more dynamic appearance, the new Passat is a result of targeted enhancements on a proven design concept.
A refreshed front and rear profile distinguish the new Passat from its previous iteration, while other distinctions include the "Passat" lettering stretched across its rear and bold 18-inch "Liverpool" alloy wheels. Adding to its character is a redesigned lighting signature – an all-LED headlight system, front and rear sequential turn signals and a three-wing tail light design – completing the overall look of this global bestseller.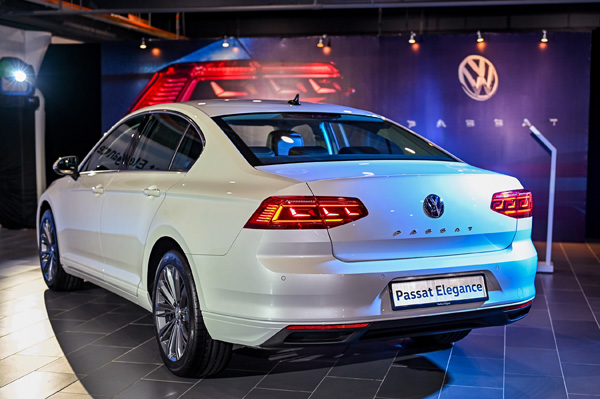 Interior
The interior of the new Passat is as pleasing to the eye, with an assortment of new materials and decorative design elements that provide the cabin with a luxurious and stylish ambience. Updates include newly-designed door trims, 30-colour ambient lighting, and a new leather multi-function steering wheel with new ergonomic multifunction button for convenience and connectivity at the touch of a button.
Comfort is a priority, and the new Passat is decked in supple leather seats and 12-way driver electric seat with 3-zone Climatronic air-conditioning system for all passengers. New to the list is a power-operated roll up rear sunshades.
Boot space is an impressive 586-litres, giving the driver and passengers plenty of room for luggage.
Safety
Safety is at the core of all Volkswagen vehicles, and a new feature for the new Passat is Side Assist with Rear Cross Traffic Alert, complete with 180-degree detection range of up to 50 metres. While on the road, the new Passat's Blind Spot Monitoring System keeps the car secure in its lane with a detection range of up to 70 metres. An added convenience is the new Tyre Pressure Monitoring System, with integrated sensors on all four tyres to monitor individual pressure readings based on user preference.
Other safety features include Electronic Stability Control (ESC), Anti-lock Braking System (ABS) and Brake Assist (BA), Intelligent Crash Response System (ICRS) as well as Hill-hold Control, Automatic Post-Collision Braking System and Proactive Passenger Protection System.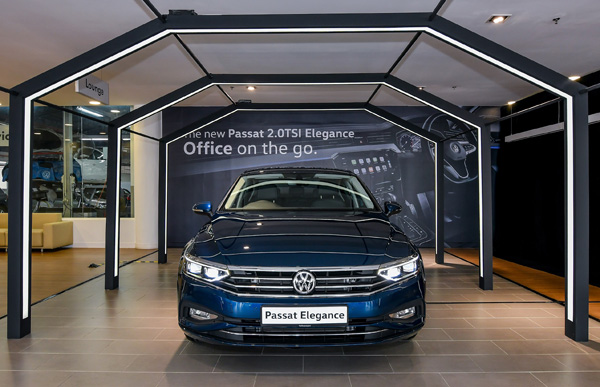 Colours and variant
The new Passat Elegance is available in six colours and two finishes. Metallic colours are Aquamarine Blue, Manganese Grey, Reflex Silver and Tamarind Brown, while pearl-effect colours are Deep Black and a new Oryx White. Pearl-effect colours are available without any additional surcharge to the overall price of the new Passat.
Price
The new Passat Elegance is priced at RM187,990, and for a limited time only is offered with free 1-year insurance. The first 50 owners of the new Passat Elegance will also receive a complimentary pair of TVR (Total Vintage Revival) sunglasses worth RM1,890.
Bookings and test drive arrangements can be made at all authorized Volkswagen dealerships nationwide. For more information, please visit www.volkswagen.com.my.