TikTok's Best of 2019: The Faces and Places that Defined Pop Culture in Malaysia
2019 marks the end of another decade and a year full of creative expression. To celebrate, TikTok, the leading destination for short-form mobile video, today unveiled the celebrities, creators, challenges, music hits and more that made 2019 a truly unforgettable year. TikTok's Best of 2019 honors all the faces, tunes and special moments that made TikTok the standout platform to find wildly entertaining and genuine content.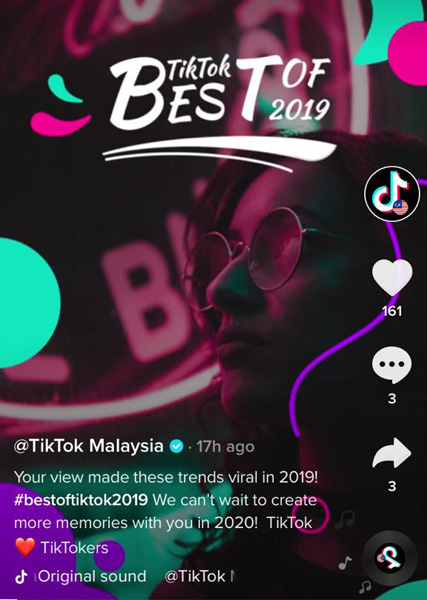 In 2019, TikTok has truly solidified itself as a platform that encourages users to showcase their unique skills and talent while creating a safe environment for creativity to flourish. From traveling to fitness and even education, TikTok has made it more accessible and diversified for users to share and discover their passion.
This year, TikTok launched several first-of-its-kind campaigns that challenged users to grow culturally, mentally and physically. Embracing the spirit of TikTok, the #TikTokTravel campaign transcended geographical boundaries and celebrated cultural diversity like no other. In Malaysia, users highlighted #ExperiencePenang, a collaboration with Penang Global Tourism to uncover the many wonders that the Pearl of The Orient has to offer. To inspire users to adopt a healthy lifestyle, TikTok partnered with Celebrity Fitness Malaysia to launch the #EverydayIGetBetter challenge. Fitness buffs and newbies alike were encouraged to complete five workout tasks while showcasing their own unique moves. Recognizing the importance of motivating and mentoring today's youth, TikTok launched #TikTokClassroom in Malaysia, featuring TikTok Educators who lend their expertise on subject matters they're proficient at including language, life hacks, and photography.
Some of the most trending videos in 2019 come from TikTok challenges. In Malaysia, the viral challenges that filled everyone's feed include:
Most Popular Hashtag Challenges in Malaysia
TikTok broke down many barriers in 2019, but it wouldn't have been possible without the diversity of its users and content. Creators from various backgrounds have increasingly turned to the platform to express and exchange their interests, whether that's cooking, comedy, or simply just showing the world what their adorably cute pets can do.
Some of those creators include A-list celebrities from around the world who used TikTok to create just-for-laugh videos, launch music hits and give fans a sneak peek into their day-to-day lives. While some videos have turned into viral TikTok memes, others are just equally funny and definitely worth all the hearts and shares. In Malaysia, local celebrities have also jumped on the TikTok train and found themselves in the center of attention amongst the fun, loving TikTok community. The standout Malaysian celebrities on TikTok in 2019 include: Peter Davis, Alvin Chong, and Faizal Tahir.
Most Popular Celebrity Creators in Malaysia
Local creators are also emerging as the breakout stars of 2019 on TikTok, as they leveraged the platform to grow their fan bases and engage the global audience. This year, TikTok launched its inaugural TikTok All-Star Southeast Asia competition, which cultivated creators from across the region to share their talents on a global stage. The region-wide competition received over 300K submissions and 650 million views. Beyond the All-Star competition itself, Khairul Andryan for example, successfully won the #ilovesinging challenge and got to meet his idol Faizal Tahir during his studio recording at Faithful Music's studio.  Yap Jun Meng on the other hand, made waves locally and globally with his catchy Tamil dance videos and songs. He quickly gained popularity amongst the Tamil community and is known as "Chinepaiyen", which literally means little boy in Tamil, because of his size.
From hip-hop hits, power ballads, to pop anthems, there is a song for everyone and every moment on TikTok. More professional artists are leveraging TikTok to launch or promote their latest music hits. Lil Nas X, who first uploaded 'Old Town Road' to the platform, generated millions of video responses and billions of views while redefining hip hop. BTS, the South Korean K-Pop sensation, claimed a Guinness World Record for the fastest time to reach one million followers on TikTok, while leading member J-Hope released the hit single 'Chicken Noodle Soup' on the platform. The single quickly claimed a top spot on the U.S. charts with TikTok users joining the #CNSChallenge to celebrate the hit. Here in Malaysia, the most trending hits on TikTok in 2019 are:
In addition to cultivating talent across Southeast Asia, and launching record breaking hits on a global stage, TikTok has further expanded its commitment to corporate responsibility. With its TikTok for Good campaigns and Trust and Safety initiatives, TikTok has cooperated with various NGOs across Asia to drive real social impact. Some of the most notable challenges from 2019 include #SaveOurOceans, #ForClimate, and #ZeroWaster which generated monetary donations and awareness amongst a growing user base.
With its easy-to-use video capturing and editing tools, TikTok makes it possible for everyone and anyone to express their creativity. From the budding creators to established brands, there is a place for all on TikTok to showcase new ideas, celebrate unique yet quirky talent, or just simply to create videos for fun.
TikTok is available in over 150 countries and regions in 75 languages. Download the TikTok app via iOS or Google Play.
appartistebestentertainmentperformanceplatformservicetalenttiktokvideo