Sharp previews Solutions of Tomorrow at Sharp Smart Connected 2020 Conference
Sharp Electronics (Malaysia) Sdn Bhd (SHARP) provided a preview of the future at the recent SHARP Smart Connected 2020 Conference. The electrical and electronic pioneer hosted the Ministry of International Trade and Industry (MITI) and Malaysian Communications and Multimedia Commission (MCMC) as it showcased a complete ecosystem of solutions applying Artificial Intelligence of Things (AIoT), 8K resolution displays and 5G network technology to address modern day challenges and enhance quality of life.
"'Changing the World with 8K + 5G + AIoT' is a philosophy we share at SHARP. Rooted with experience spanning 35 years, we are driven to innovate and transform homes and businesses and help them thrive. Our approach at the SHARP Smart Connected 2020 Conference is to showcase the application of technology in a complete ecosystem. This will greatly help industry gain a wider perspective of the benefits these innovations bring," said SHARP Deputy Chief Executive Officer of ASEAN, Managing Director, Robert Wu.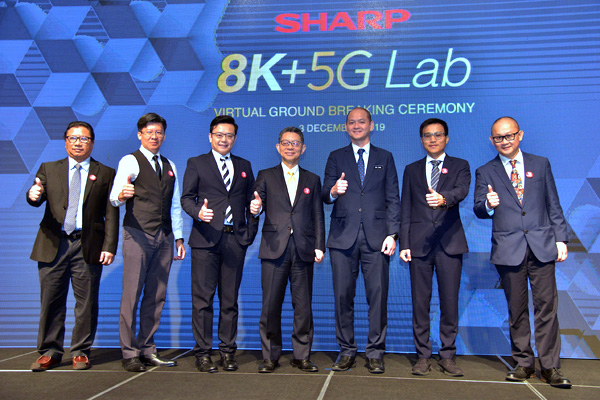 "Digital transformation is taking the world by storm with the adoption of Industry 4.0, the dawn of cashless societies and Artificial Intelligence. Malaysia too is hard at work with concerted efforts in enhancing our digital infrastructure to accommodate higher speeds of connectivity and efficiency. The success of Malaysia's digital transformation is dependent on the collaborative effort by both the public and private sector. We commend SHARP on its efforts as a frontrunner with 108 years of innovations, and to this day driving the conversation about out-of-the box applications utilising different technologies to solve various challenges. We hope more brands continue to push the envelope in innovating solutions for the benefit of industry and society as a whole," said Deputy Minister of International Trade and Industry, Yang Berhormat Dr Ong Kian Ming.
A highlight of the conference was the preview of Malaysia's first 8K + 5G lab by SHARP. The lab, once built, will serve as an education hub for the industry and institutions of education, immersing visitors in a complete 8K technology ecosystem. This ecosystem is made up of 8K multi-screens, an 8K mini cinema, and an 8K micro studio to develop 8K live streams. Facilitating R&D, the lab will be the test bed for case studies for 8K technology in enabling big data transfer and high-resolution displays to benefit the business, entertainment, education, medical, security and tourism industry.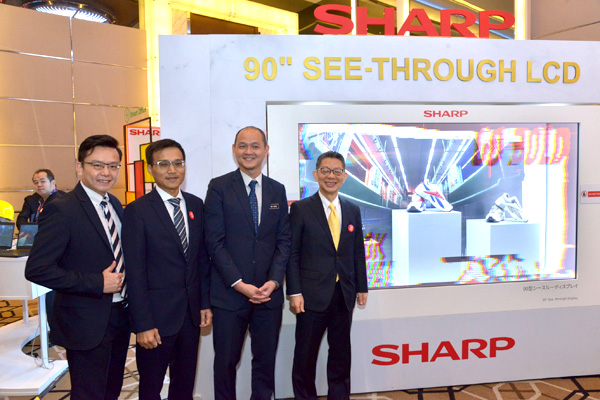 A pioneer in 8K technology, SHARP is currently the only consumer electronics brand with the widest 8K ecosystem. Its expertise in the field has resulted in a collaboration with the Malaysia Tourism Promotional Board to produce an 8K Visit Malaysia 2020 promotional video due to be launched soon. The video will highlight popular destinations around Malaysia in 8K resolution to the world.
SHARP showcased highly anticipated solutions at the SHARP Smart Connected 2020 Conference which were brought in directly from CEATEC this year, a globally renowned Japanese annual trade show. These comprised of the world's first 90inch See Through LCD Retail Panel; an 8K 120inch Video Wall, as well as an 8K 150inch Mini cinema.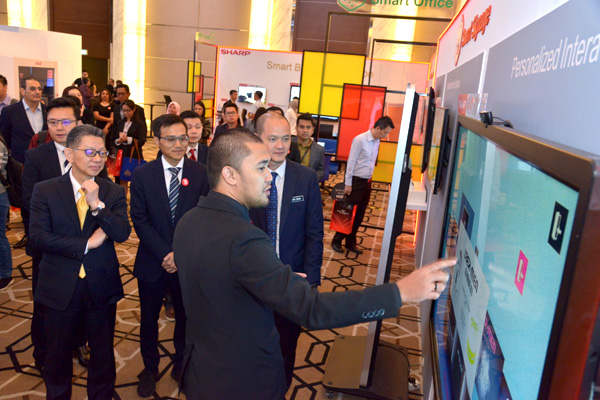 Attuned to the needs of growing businesses today and tomorrow, Sharp also introduced new smart solution ecosystems for offices and classrooms in Malaysia. Other highlights included the Smart Technologies Interactive Board which is actively being used in over 3million classrooms globally, the C-Cube Multifunction Printer with flexible connectivity, Sharp Interactive Whiteboards; the world's first Certified Sharp Windows Collaboration Display that makes offices and meetings smarter; and Sharp Smart Signages with personalised applications to match different retail needs.
Experiential and connectivity were running themes at the conference particularly with the introduction of AIoT, which refers to artificial intelligence and the internet of things working together. At the conference, SHARP showcased the full capabilities of its Smart AIoT Home powered by devices with the ability to communicate with other smart appliances and help homeowners efficiently run the household. For example, SHARP's AIoT Kitchen demonstrated the capability of a smart fridge in managing the groceries of the home, and even in proposing recipes for the homeowner to cook based on the available contents of the fridge. Another example was a smart washer prompting its owner of the appropriate time to do the laundry according to the current weather.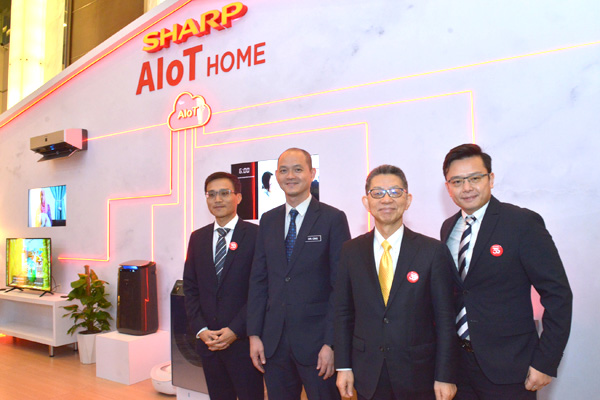 The SHARP Smart Connected 2020 Conference was launched by Deputy Minister of International Trade and Industry, Yang Berhormat Dr Ong Kian Ming and attended by representatives from the Malaysia Communications and Multimedia Commission and SHARP's nationwide dealer network.
For more information, visit my.sharp.
8kaiotappliancescommercialconferenceconnecteddisplayelectronicshomeindustryprintersharpsmarttechnologytvwhiteboard