Int'l Music Video Awards Festival 2020 launches to promote World Peace and Positive Messages
The International Music Video Awards Festival 2020 (IMVAF 2020), organized by Excella Chong, Founder of TOC Production and IMVAF, was officially launch by Guest of Honor, Prof Dato' Dr Jayles Yeoh, President of ASEAN Retail-Chains & Franchise Federation (ARFF) and celebrities, Lee Pei Ling (Singer-Songwriter), Masya Masyitah (Singer) and Ruby Faye (Actress) at Menara PGRM, Kuala Lumpur. IMVAF 2020 is schedule to take place on 7th March 2020 at Mega Star Arena, Kuala Lumpur. IMVAF 2020 is a dedicated platform to showcasing culture and arts through entertainment and education (edutainment) and will also showcase artistes from Malaysia and China to celebrate their achievements in filming, music creation and performing arts.
IMVAF 2020 will be the first of its kind in Malaysia which honors artistes in the music, film and fashion industries that encourages World Peace and promotes Positive Messages through their works. Artistes works that will be nominated should promote the 3P's which are "we Protect humanity"; "we give Positive approach"; and "we Provide edutainment". With this approach, IMVAF 2020 hopes to educate the people through the music videos. IMVAF 2020's Music Video official language is English, Bahasa Melayu and Mandarin (with English or Mandarin subtitles when necessary).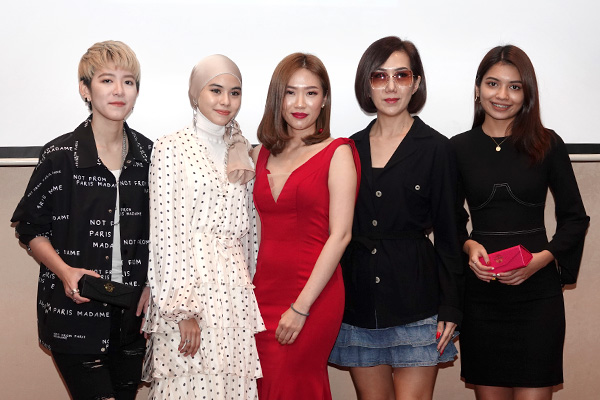 Excella Chong, Founder of TOC Production & IMVAF, coming from the entertainment industry said, "As a Malaysian of Chinese origin, I have cherished the fact that the diaspora Chinese in Malaysia have evolved peacefully amongst the diverse society that we find ourselves in. Chinese culture has merged so well into the Malaysian society that we do not find ourselves different in any way whatsoever. To highlight our diplomatic relationship with China over the years, a music video was produced and shown at a recent commemoration dinner held in Kuala Lumpur. The music video captured the essence of our friendship over the years, that we stood for peace, love and harmony despite our many differences. We certainly felt it would be a good start to show the region and the world that our relationship has promoted positive change through positive values that both our countries share."
Music Video entries must be revolving the theme of Peace in the world with focus either on the relationship between Malaysia and China (in terms of history, culture, social, economy and many other subjects that enhances the "bilateral" relationship between the countries); or create awareness for Social Causes (such as child abduction, sexual exploitation, modern day slavery, forced marriages and etc.); or promote other Positive Moral Values (such as filial piety, patriotism, ecocentrism and many other).
As global change requires voices from every level, the IMVAF 2020 platform is also dedicated to making sure everyone has a voice. Therefore, the content entries for IMVAF 2020 will range across 3 categories, which are Youth & Students Category, Open Category – Hobbyist & Semi-professionals and Professional Corporate Category. The Youth & Students Category is dedicated to young minds and students who wish to create a Music Video to share their voice for a cause. They will be judged less on their production capabilities but more on their creativity, honesty and authenticity delivered in their music and videos. This allows for these internet and tech savvy youngsters to make use of their smartphones and digital skills to create meaningful entries regardless of what equipment or resources they may or may not have.
The Open Category – Hobbyist & Semi-professionals is an open category for anyone that wants to participate. Participants will mainly be those with some video production and music background who want to gain more recognition and awareness for their work, as well as share their positive message for Change. However, the Professional Corporate Category is dedicated for IMVAF partner corporations. The focus will be on creating music videos that promote Corporate Social Responsibility (CSR). It is important that corporations also share in the need to affect positive change and these videos will allow our corporate partners to do so.
Besides the Music Video Awards, IMVAF 2020 will also organize a fashion show during the festival as an additional feature to showcase Malaysian and international cultural collections. The fashion show will provide a platform for international western designers such as Jackie Holliday to penetrate the Asian Market while also providing an avenue for local Asian designers such as The Mod House to showcase their talents to the international community. The theme of the fashion show will be comprising of "Fashion for Love", "Fashion for Green" and "Fashion for Charity".
Mr. Ho Kok Loong, Fashion Designer of The Mod House, said, "We truly believe that fashion is an instant language and therefore, it is a great way to encourage World Peace and promote Positive Messages. IMVAF is a great platform for local and international fashion designers to express their culture to the rest of the world."
Prof Dato' Dr Jayles Yeoh, President of ASEAN Retail-Chains & Franchise Federation (ARFF) said, "The International Music Video Awards Festival 2020 aims to create a platform that encourages Small Medium-sized Enterprises (SME) to promote their business, services and products through music videos as today we live in a digital world. Many countries such as Korea, United States of America and Japan has already implemented this kind of marketing strategy to boost the sales and revenue." Thus, IMVAF 2020 is endorsed and supported by Recording Industry Association of Malaysia (RIM), Malaysia Retail Chain Association (MRCA), Asean Retail-Chains & Franchise Federation (ARFF), Malaysia Entrepreneurs' Development Association (PUMM), The Confederation of Lau Clan Associations Malaysia, Professional Film Workers Association Of Malaysia (PROFIMA), and Ministry of Tourism, Arts and Culture Malaysia (MOTAC) as this innovative marketing strategy has a huge potential to grow and develop Malaysian SMEs and Artistes.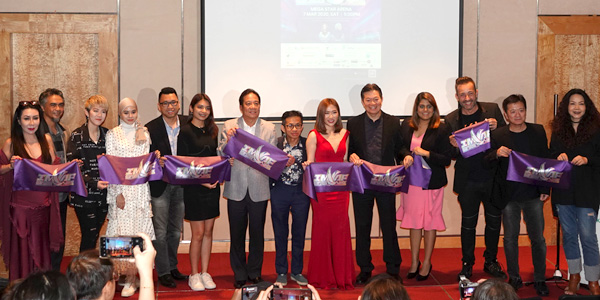 IMVAF 2020, through their CSR arm PEACE Movement, will be supporting and providing financial aids to charity organizations, which includes The Giving Bank, Zy Movement Foundation Malaysia and Malaysia TCM & Western Treatment Cancer Charity Association. The Giving Bank is fully dedicated to working with children, adults and families to overcome extreme poverty and injustice. They work to promote human transformation, seek justice for the oppressed and assist in pos-disaster recovery for people across all religions, races, ethnicities and genders. Zy Movement Foundation is an NGO focusing on specifically improving the general quality of life of the children with physical disabilities in the areas of locomotion and their families. In general, Zy Movement Foundation creates awareness and better understanding to the public, hence moving towards a more barrier-free society, physically, environmentally, mentally and spiritually in Southeast Asia.
For more information about the International Music Video Awards Festival 2020, please visit www.imvaf.com.
aseanfashionfestivalimvafmalaysiamovementmusicmusic videopeacepositivepromotevoice