Hotlink lets Malaysians experience non-stop entertainment, their way on YouTube and Facebook
Connected consumers in Malaysia are hungry for the latest entertainment, with eight out of ten people watching videos online every day. Malaysians are also consuming a wider variety of content more than ever before – from catch-up videos or on-demand services, to free videos on YouTube and via social content that appears in their social media feeds1.
With Hotlink Prepaid, customers have the freedom to access a world of non-stop entertainment, however they like! For YouTube lovers, Hotlink SUPERRR gives free 10GB on YouTube every month, while fans of Facebook can enjoy socialising and chatting non-stop with free 10GB for Facebook every month on Hotlink RED.
"The explosion in the consumption of entertainment content shows that power lies in the consumer's freedom of choice. Everyone wants to have things their way – well, now you can have non-stop entertainment your way with free Internet on Hotlink SUPERRR and Hotlink RED. Knowing what customers love, we are making it easier for them to watch any kind of content on their phones. We will continue to bring highly personalised and relevant offers to our customers because they deserve to have it their way," said Arjun Varma, Head of Product Marketing, Maxis.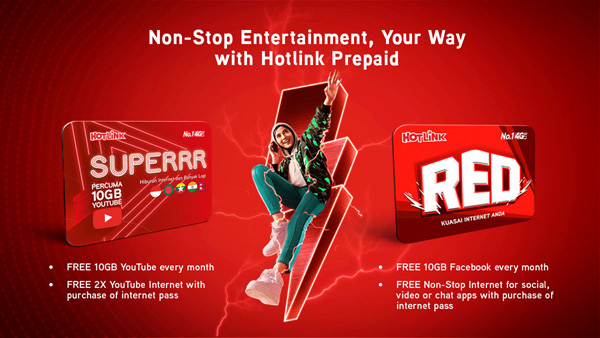 More entertainment and experiences to love
Hotlink is championing non-stop, local Internet entertainment and making it accessible for everyone on their favourite social media channels – be it on YouTube, Facebook and Instagram. Collaborating with local artistes and content creators, Hotlink is amplifying their entertainment journey, whilst at the same time, giving fans more content and a better experience. Check out some of the upcoming activities:
Get a sneak peek here: https://www.youtube.com/watch?v=9_pq317EmWI&feature=youtu.be
Hotlink x Maharaja Lawak Mega: Tak Hahahabis-Habis (Musim 2)
Stay tuned to Hotlink's Facebook page and YouTube channel for exclusive comedy videos
Stay tuned to Hotlink's Facebook page and YouTube channel for exclusive music, comedy and edu-tainment videos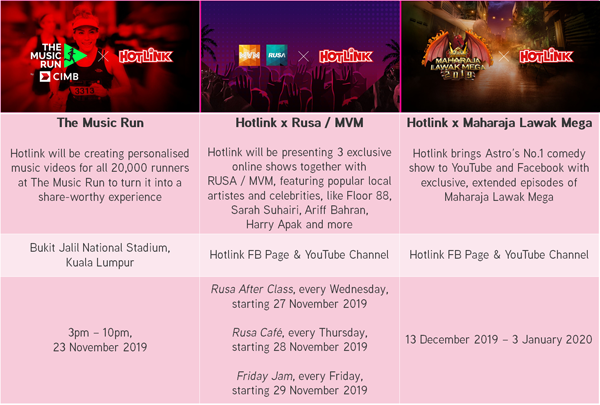 To find out more about Hotlink RED and Hotlink SUPERRR, please visit here.
#hotlinkentertainmentfacebookmaxisprepaidservicesocial networktelcotelecommunicationyoutube