Alpha IVF & Women's Specialists launches New Fertility Centre in Malaysia
Her Majesty Seri Paduka Baginda The Raja Permaisuri Agong Tunku Hajah Azizah Aminah Maimunah Iskandariah Binti Almarhum Al-Mutawakkil Alallah Sultan Iskandar Al-Haj officially lauched Alpha IVF & Women's Specialists (KL), one of the largest In Vitro Fertilisation (IVF) facility centres in the region last Friday afternoon. Alpha IVF, with world-class success rates and expertise, is strengthening its presence in Malaysia with the opening of their new fertility centre in Kota Damansara (Alpha IVF – KL).
Her Majesty has long supported couples with fertility issues through the Tunku Azizah Fertility Foundation (TAFF). In conjunction with the opening of the new centre, Alpha IVF‒KL is sponsoring 15 (fifteen) IVF treatments in support of TAFF. The sponsorship gift was presented to Her Majesty by Dato' Dr. Colin Lee, Founder and Managing Director of Alpha IVF‒KL along with several children who were conceived through Alpha IVF‒KL's collaboration with TAFF.
Renowned Malaysian vocalist, Dato' Sri Siti Nurhaliza Tarudin, was also present during the launch. She paid tribute to Her Majesty with a rendition of her signature song Comel Pipi Merah, which was composed in celebration of her child's birth.
Occupying 30,000 sq. ft. of space, Alpha IVF‒KL is designed to be a one-stop fertility hub that provides arguably the most comprehensive and wide-ranging fertility-related treatments available worldwide. It is fully equipped with revolutionary medical technologies, including 4 units of EmbryoScope+ time-lapse embryo monitoring facilities, and Cryotec® Cryopreservation system which has consistently achieved 100% survival rate for embryos and blastocysts during the freeze-thaw process.
Since its inception in 2011, Alpha IVF‒KL's cutting-edge technologies coupled with innovative IVF treatments have been validated by its high IVF Clinical Pregnancy Rate of 82.9%. This is comparable to top IVF centres in the world, solidifying Alpha IVF‒KL's position as leaders in the field. Alpha IVF‒KL was also recently awarded the Fertility Service Provider of the Year in Asia Pacific 2019 by Global Health and Travel, as well as Malaysia Fertility Centre of the Year for Best Practices in 2018 by Frost and Sullivan.
"We treat every couple with the mission of helping them fully realise their potential for parenthood. With our wealth of expertise and innovative technology, we are able to offer optimal solutions to couples for their fertility needs and be a dedicated partner in making their fertility journey a successful one," said Dato' Dr. Colin Lee.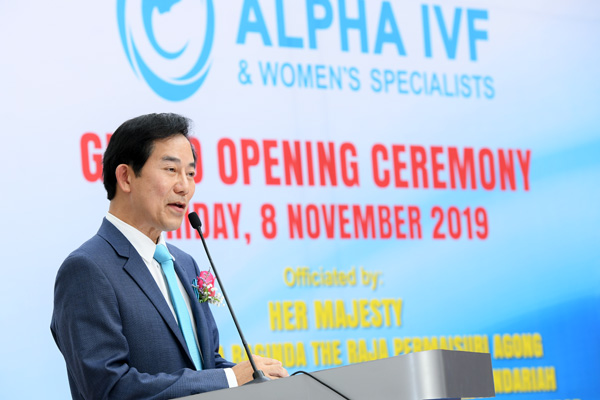 Alpha IVF‒KL is manned by 5 fertility specialists and 19 embryologists, geneticists, andrologists and scientists that produced more than 150 scientific works on fertility treatments, and had achieved numerous world 1sts in IVF including :
World's 1st Saviour Sibling Programme for monogenic disorders with definitive high-resolution HLA typing on the embryos from the same biopsy samples used for PGT testing.
World's 1st to demonstrate that blastocysts arising from Day 1 – MII oocytes have the same euploidy rate as Day 0 – MII oocytes from the same cycle and therefore should not be discarded. This will increase the number of euploid blastocysts available for embryo transfer.
World's 1st successful pregnancy and delivery in a woman born without a vagina (Mullerian Dysgenesis).
The government's initiative to position Malaysia as Asia's fertility hub by the year 2020, along with Alpha IVF‒KL's stellar IVF success rates, will help to place Malaysia as a key destination for fertility treatment. "With our world-leading pregnancy success rates, we aim to play a vital role in opening up more opportunities for married couples to experience the joy of parenthood," added Dato' Dr. Colin Lee.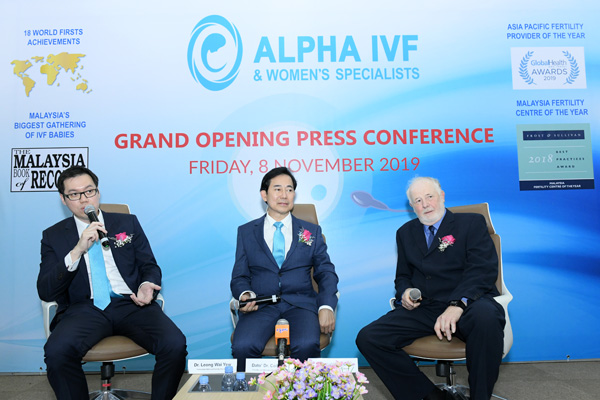 About Alpha IVF & Women's Specialists
Alpha IVF & Women's Specialists ("Alpha IVF-KL") is set up and run by leading doctors and embryologists responsible for numerous fertility achievements both in the region and worldwide. This purpose built advance fertility centre located in Selangor, Malaysia is equipped with modern full range of fertility treatment options including PGD/PGS, egg donation, egg banking and embryo freezing using revolutionary freezing technology. 
As the name Alpha suggests, doctors and staff at Alpha IVF – KL have successfully innovated numerous fertility treatment procedures that have led us to achieve many world firsts. In the tradition of firsts, we at Alpha IVF – KL are committed to put our patients and their fertility needs our 1st priority. We treat every couple individually and tailor make a treatment programme that caters for their specific needs, enabling our patients to fully realise their potential for parenthood. 
alpha ivffertilityhubmedicalspecialisttreatmentvitro fertilisationwomen