The World's First ZOTAC GAMING Esports Cafe opens in Malaysia
ZOTAC GAMING, a global computer gaming brand founded under ZOTAC for enthusiasts who live to game, today announces the grand opening of the brand's first esports café in the world – the ZOTAC GAMING Esports Café. The Esports Café features two new branches located in Selangor, Malaysia, the SUNWAY Branch and the SG LONG Branch.
The ZOTAC GAMING Esports Café provides professional esports equipment, including MEK1 Gaming PCs from ZOTAC GAMING. MEK1 advances ZOTAC's 10 years of engineering mini know-how and design to be one of the slimmest desktop gaming PC while still utilizing industry standard components for powerful gaming performance in an ultra-slim and compact chassis.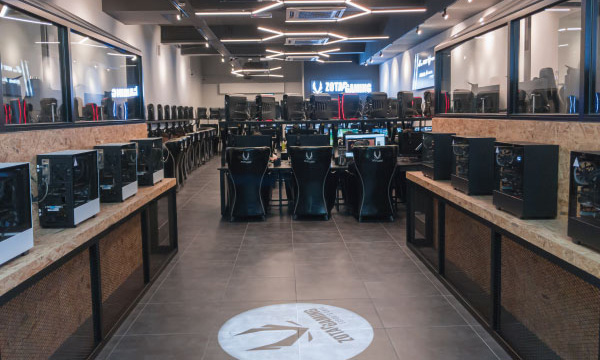 The "Battle Room" of the SUNWAY Branch are powered by the flagship graphics cards from the brand – ZOTAC GAMING GeForce RTX 2080 AMP Extreme. Based on the new NVIDIA Turing architecture with all-new GDDR6 ultra-fast memory and SPECTRA 2.0 ARGB lighting, the graphics card delivers the fastest speeds out of the box for gamers to get fast and game strong quickly and easily.
The venue also features a food and beverage corner offering gamers drinks and snacks to relax in between games. And for those who join the ZOTAC GAMING Esports Café as a premium AMP EXTREME member can enjoy exclusive benefits.
"The opening of the ZOTAC GAMING Esports Café plays a pivotal role in catering to the dedicated esports community and PC gamers worldwide. We are excited to collaborate with local communities and colleges to promote the growth of the gaming industry. There will be many things that our esports cafés are looking forward to providing, such as hosting LAN parties, live streaming, or workshops for professional players and general public alike," states James Liu, Director of Sales (APAC) of ZOTAC Technology.
ZOTAC GAMING Esports Café 
Address: ZOTAC GAMING Esports Café, No. 3A-A (Ground Floor Shoplot), Nadayu 28 Dagang, Jalan PJS 11/7, Bandar Sunway Photo Journalist
Gadgets, Photography, Automobile, Lifestyle