Shopee's Largest-Ever 11.11 Big Sale
The much-anticipated 11.11 Big Sale by Malaysia's no.1 e-commerce platform Shopee returns for another round of attractive discounts and exclusive privileges for avid online shoppers. The shopping event is the platform's biggest one yet, kicking off with much to give – free shipping with a minimum spend of RM11, daily cashback up to 111% and a chance to purchase a Toyota Vios for only RM1 – all from 24 October to 11 November 2019.
Shoppers are in for a treat as brands from various categories such as Carlo Rino, P&G, Nestle, realme, Tefal, Mr DIY, Enfagrow, Nutox, Universal Traveller, Samsung, Watsons, Honor, HomeHuk, Photobook Malaysia, Vinda, L'Oréal and Unilever will be offering irresistible deals throughout the campaign period.
Also making a debut this 11.11 Big Sale is popular F&B chain, KFC with exclusive discounts of up to 52% valid only on 11 November. Top banks such as CIMB, Citibank, HSBC, RHB, Standard Chartered and UOB have also hopped on the bandwagon with special discounts for their cardholders with upsized vouchers on 11 November. Users of the Boost e-wallet can also purchase Shopee cash vouchers at 10% off to score better savings.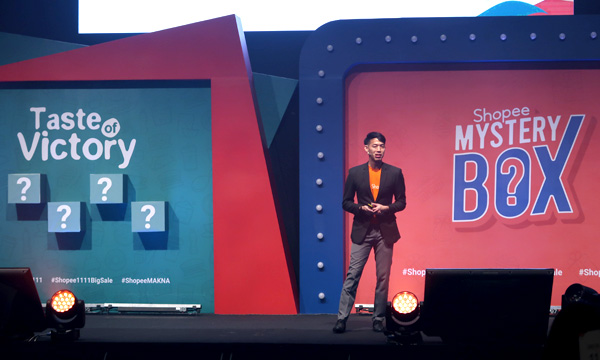 In line with Shopee's vision to make online shopping an engaging and social experience that connects people across the region, 11.11 Big Sale will feature fun in-app games like Shopee Catch, Shopee Strike, Voucher Together-Gether, Shopee Lucky Egg and Shopee Quiz on the App, all with Shopee Coins and vouchers to be won.
A total of 11 million orders were recorded on 11 November last year, signifying a 24 times increase from Shopee's first 11.11 Big Sale campaign back in 2016. With the introduction of new features, games and tech enhancements and along with new local and international brands that have on boarded the platform over the past year, Shopee expects this 11.11 Big Sale to be its biggest one yet.
Seeing as how this annual mega shopping event records a huge surge in customer traffic to the platform, Shopee is taking this opportunity to go one step further and call on Malaysians to join the fight against cancer with its first-ever charity campaign, the #ShopeeMAKNA 11.11 Charity Challenge. The campaign aims to raise funds for the National Cancer Council Malaysia (MAKNA). Proceeds will go to underprivileged patients for treatment, as well as research and support services by MAKNA in its continuous quest to find a cure. Malaysians can donate through the ShopeeMAKNA Official Store on Shopee where they can select their preferred amount from as low as RM5. Those donating are eligible for a tax exemption receipt from MAKNA.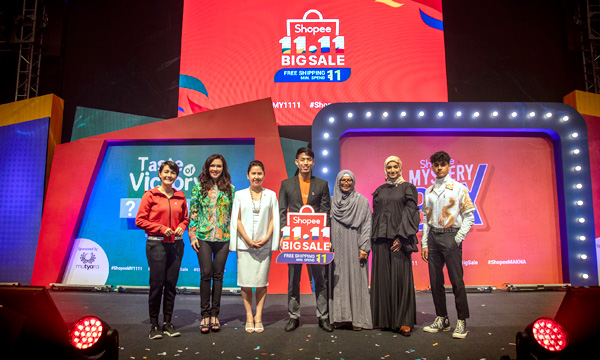 A study by the World Health Organisation (WHO) confirmed that early diagnosis of cancer not only saves lives but also cuts treatment costs. Seeing as cancer is no respecter of person, apart from raising funds, Shopee is also working with a leading healthcare provider, Sunway Medical Centre to encourage Malaysians to get themselves checked for cancer. Sunway Medical Centre will be providing the first 300 donors who donate RM100 with a complimentary blood test worth RM100 and
the first 50 donors who donate RM250 with a complimentary 3D mammogram package worth RM430 via the ShopeeMAKNA Official Store. Also, as part of this campaign, Sunway Medical Centre will be donating RM20,000 to MAKNA.
Also supporting the #ShopeeMAKNA 11.11 Charity Challenge are personalities Che Puan Sarimah Ibrahim, Elyana, Diana Danielle, Farahanim Razak, Rita Dato' Sosilawati, Lia Natalia, As'ad Motawh, Yasmin Hani, Liyana Jasmay and Sarah Hildebrand as well as the country's national gymnasts Izzah Amzan, Koi Sie Yan, Jeremiah Loo and 2018 Olympian of the Year Amy Kwan. To inject an engaging element to this initiative, users can  donate and watch these personalities live as they take part in various funny, scary and mildly dangerous acts. Shopee users can dictate the act by voting for their challenge of choice on the Shopee App from now till 10 November. The show will be airing on Shopee Live, Astro Prima SD (channel 105) and Prima HD (channel 121) at 9pm on 11 November.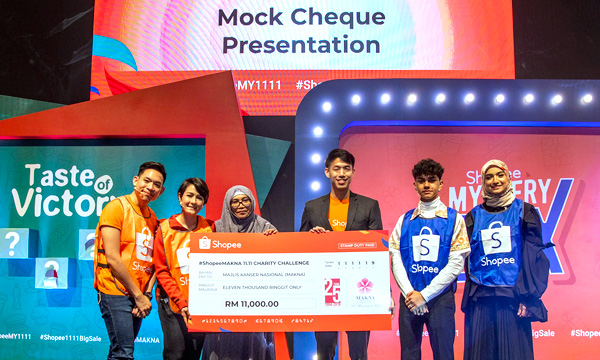 Farahida Mohd Farid, General Manager, MAKNA said, "Approximately 37,000 new cancer cases are diagnosed yearly in Malaysia; this figure is estimated to increase to more than 55,000 by 2030. Cancer is growing at an alarming rate, and the onus is on us to find ways to raise more funds to conduct research and provide financial assistance to the underprivileged cancer patients in this country. At this point, every help counts. We are happy to know that one can do so much more than just online shopping with an e-commerce platform like Shopee as now, people can even donate via the platform. This makes it easier for those who want to help but do not know how to, or doubt the credibility of the fundraiser."
To walk the talk, Shopee and its partners donated a total of RM33,000 to MAKNA during the launch held at W Kuala Lumpur. Ian Ho, Regional Managing Director, Shopee said, ​"We are constantly looking for ways to impact the local communities in significant ways. Cancer is a silent killer which affects anyone directly or indirectly no matter the age, gender, social status, and race. Using our greatest asset – the sheer amount of traffic to our platform during the 11.11 Big Sale, we decided to run #ShopeeMAKNA 11.11 Charity Challenge to assign the campaign with more meaning other than just shopping. To further raise awareness, we are also making the entire fundraising activity fun and engaging with a star-studded Shopee Live show. We also thank our partner Sunway Medical Centre for providing donors with complimentary cancer screening packages. With this, we not only hope that Malaysians will enjoy the deals and discounts we have lined-up  this 11.11 Big Sale, but will also join us in this effort to help those in need."
Find out more about Shopee 11.11 Big Sale at shopee.com.my/1111.
To donate to MAKNA, visit shopee.com.my/shopeemakna. Photo Journalist
Gadgets, Photography, Automobile, Lifestyle
1111appcampaigncharitydonationmaknamarketplaceonlinesalesshopeeshopping