GSCinemas brings Virtual Reality to Life
Golden Screen Cinemas (GSC), Malaysia's leading cinema exhibitor, unveiled the first VAR BOX virtual gaming experience at its brand-new GSC EkoCheras cinema. Announced in June, the strategic partnership with leading virtual reality (VR) entertainment provider, VAR LIVE, will enable GSC to introduce the latter's proprietary VAR BOXes at its sites as part of creating enriching cinematic experiences that customers can enjoy beyond the silver screen.
EkoCheras was chosen as one of the first cinemas to receive these new VAR BOXes, following its recent opening in late July 2019.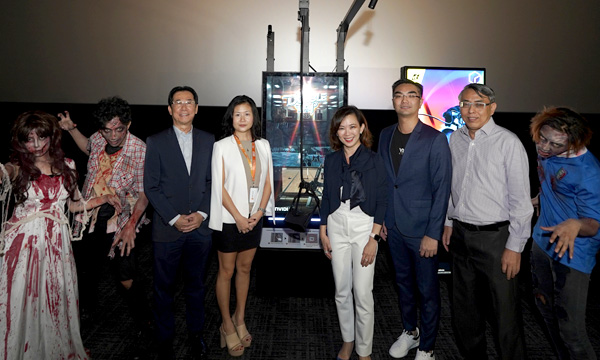 "As part of our commitment to innovate and enhance the movie experience, we're delighted to return to Cheras with a new, modern eight-screen cinema that will give audiences in the neighbourhood a wider choice of movies and leisurely activities. Our customers will be pleased to discover that GSC EkoCheras comes with a variety of enhancements and upgrades that will make the cinema a total entertainment destination for movie-goers. With these VAR BOXes, we are providing a new avenue for customers to indulge their senses outside of the movies," said Ms. Koh Mei Lee, Chief Executive Officer of Golden Screen Cinemas.
"We are very excited to work alongside GSC to offer the immersive virtual reality experience to the public with the VAR BOX; the first state-of-the-art virtual reality console in Malaysia. As one of the pioneers in VR gaming, we look forward to witnessing the growth of Malaysia's e-Sports and VR gaming scene with the launch of the VAR BOX in GSC," said Mr. Y.L Lee, Executive Director of VAR LIVE Malaysia.
Movie-goers can test their shooting skills with Double Tap, an interactive shooter game with leaderboards and online multiplayer capabilities. Players can choose from six mini-game modes in Double Tap including Battle Arena, Zombie Street 1, Zombie Street 2, Extreme Challenge, Hostage Rescue, and Shooting Range. At the moment, credits for the VAR BOXes can only be purchased via the e-kiosk.
GSC's VAR BOXes will be available in GSC EkoCheras, GSC Melawati Mall, and GSC SetiaCity Mall first, followed by eight other locations across the nation in the coming months. This includes GSC MyTOWN, and GSC 1 Utama in the Klang Valley; GSC Southkey JB and GSC Sunway Big Box in Johor Bahru; GSC Gurney Plaza in Penang; and GSC Suria Sabah in East Malaysia. GSC is the only cinema chain in the country where VAR BOXes is available exclusively.
Besides the VAR BOXes, GSC EkoCheras offers enhanced comfort with open social spaces that give visitors a space to rest, socialise, and enjoy their food and beverage. Part of its offerings also includes a Costa Express self-serve machine, where customers can get freshly brewed coffee and other hot and cold beverages at the touch of a button. Movie-goers can even take their favourite drinks into the hall, so they can enjoy it in comfort while watching a movie.
Connected to various highways with easy access to public transportation including buses and the MRT, GSC EkoCheras is conveniently accessible for movie-goers who live in Cheras and beyond. GSC EkoCheras features eight stunning new halls with a total seating capacity of 1,161 seats, ensuring that audiences will have plenty of cinematic options to choose from when they're catching their favourite movies with friends or family.
For more news and updates on VAR BOX at GSC EkoCheras, follow GSCinemas on Facebook, Twitter, or Instagram or visit the website at www.gsc.com.my.
ekocherasentertainmentgolden screen cinemasgscmovievarvar livevirtua realityvrzombie