OPPO introduces the Brand New A Series 2020 in Malaysia
World-leading smartphone brand, OPPO, proudly launched the new OPPO A Series 2020 in Malaysia today. The OPPO A Series 2020, which includes the OPPO A9 2020 and OPPO A5 2020, the brand's latest offering for the mid-level smartphone market. Combining high-quality with affordability along with superb photography features, powerful performance and a long-lasting battery. The A series will be an essential smartphone suitable for everyone especially the digital generation.
"We are happy to introduce the A Series 2020 in Malaysia today. We've named our smartphones in the OPPO A Series 2020 in celebration of the beginning of a new decade and also to commemorate the success of A series over the past ten years," said Nikki Chen, Branding Director of OPPO Malaysia. "This new name also reflects our vision for the next ten years. It highlights the brand's latest technologies, stunning design, amazing photography, powerful performance and perfect tuning to the needs of the current market and time of which we live in." she added.
With these two latest smartphones, the OPPO A Series 2020 offers more possibilities than ever before! Tailor-made and well equipped, The OPPO A Series 2020 is an exciting smartphone for consumers who are eager to connect with the world, discover new experiences and explore their curiosity. Its impressively versatile camera technology broadens users' creative horizons, and the whole smartphone offers an immersive entertainment experience with powerful performance.
Ken Ng, Product Manager of OPPO Malaysia also said, "The OPPO A Series 2020 features 48MP Quad Camera, improving the creative possibilities of what the camera can do., With its all-purpose 48MP quad camera that pushes the bounds of creativity, 8GB RAM +128GB ROM that stores memory in high capacity and an additional 256 GB extension memory from availability of three-card slot. It provides entertainment, smooth running programs and massive storage for users, helping them ease the stress of daily life, while inspiring them to be more positive and explore more of life's possibilities."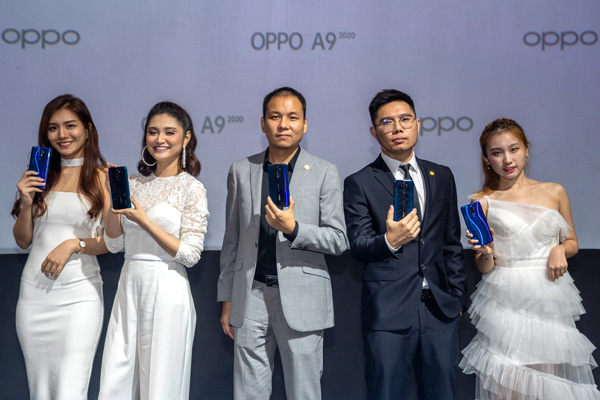 Versatile Camera Tech Brings Users Even More Photography Options
The OPPO A9 2020 comes with a multipurpose Quad Camera setup, including a 48MP Main Camera + 8MP Ultra-Wide Lens + 2MP Mono Lens + 2MP Portrait Lens, while the OPPO A5 2020 also comes with a multipurpose Quad Camera setup with an essential 12MP Main Camera. These offer all-around use that can satisfy users' needs for all shooting angles and scenarios, including the Ultra Night Mode 2.0 and a whole host of artistic portrait styles.
The 48MP primary lens improves image clarity with higher resolution, helping capture more detail and take clearer pictures.  The 8MP 119° ultra-wide-angle lens brings more diversity in terms of picture composition and expression, making it easier to capture larger shots in small spaces. The Mono lens and Portrait Lens allows users to add retro, grainy and atmospheric filters to portrait shots, creating more personalized images for users, offering new styles unique to what other smartphone brands are currently offering.
Ultra Night Mode 2.0 ensures efficient noise reduction, while HDR and Multi-Frame Technology provide users with night scene pictures that exceed the brightness and detail that the human eye can perceive, because people are processed separately from their environment, faces appear bright and detailed, while background light flare is greatly diminished. In summary, images stay bright and clear whether capturing bright city lights or dim country nights. Now, Ultra Night Mode 2.0 also works while taking Ultra Wide angle photos capturing more of the beautiful city night landscape.
The A9 2020 is equipped with 16MP selfie camera while A5 2020 with 8MP selfie camera, both using AI Beautification technology for tailor-made selfies to better cater to different markets and beauty trends. This technology automatically identifies skin tone, age, gender, and skin color. It differentiates users for customized beautification. An all-new algorithm for smoothing out blemishes on the skin and sharper features create a make-up free look, allowing users to embrace a better version of themselves.
OPPO's latest stabilization technology also meets consumers' growing demand for high-quality action videos, with a built-in gyroscope on these two smartphones. This creates more stable shooting while running, walking, cycling and more, along with improved video filters that allow users to create their own movies with the press of a button, ideal for creating eye-catching content in the era of short video apps.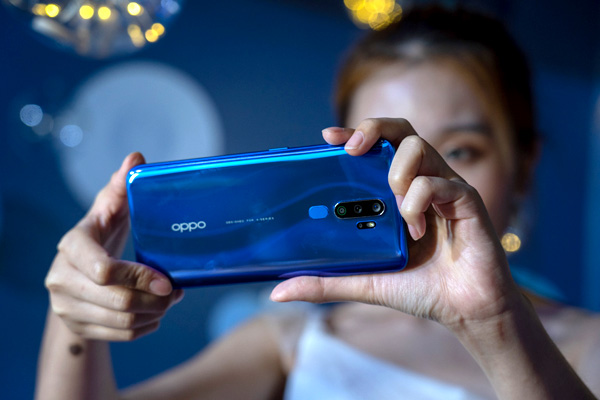 Intelligent Design That's Both Attractive and User-Friendly
The OPPO A Series 2020 also comes equipped with a more compact Waterdrop screen, with a 31.4% decrease in overall area compared to the previous generation, for a better look and user experience. A 6.5" full screen has an 89% screen-to-body ratio, which also uses toughened Corning® Gorilla® Glass 3+ that is twice harder than the third generation and offers better resistance to scratches. A Sunlight Screen improves screen readability under strong direct light and ensures true colors shine through in dim or dark environments, while a blue light filter relieves eye fatigue and better protects users' eyesight in low light.
The OPPO A9 2020 also features 3D gradient designs for a more vibrant, eye-catching look, with each of the device made from four curved 3D sheets, which looks thinner and fits comfortably into the hand. These feature Nano-scale patterns that create multi-toned, radiant coloring from different angles and under different lighting.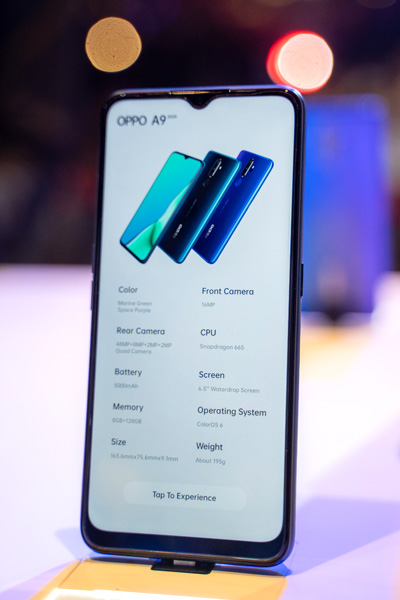 Outstanding Hardware and Software for Exceptional Experience and Performance
A large capacity 5000mAh battery enables all-day use, capable of supporting 19 hours of continuous operation. The battery is also able to handle reverse charging, freeing active, on-the-go users from the worries of rapid battery drain.
In terms of audio, the OPPO A Series 2020 come with dual stereo speakers that offer higher volumes and improved sound quality, even at high volumes. The sound feels full-bodied and clearer, with an immersive surround sound effect. Dolby Atmos® sound effects are used for the most immersive, thrilling sounds, videos and gaming experiences anytime, anywhere. It's also received Hi-Res Audio certification, ensuring superb sound quality, as well as directional technologies that create a more thrilling, realistic and immersive audio experience.
On top of that, the OPPO A Series 2020 packs an ultra-powerful performance, thanks to the Qualcomm Snapdragon 665 platform, with an 8-core 64-bit processor. Compared to the previous A7 using Snapdragon 450, the A9 2020's CPU is improved by 40%, while its GPU has improved by more than 100%. Game Boost 2.0 accelerator technology offers improved Frame Boost and Touch Boost, which both provide lightning-fast game play response, by reducing touch screen latency and lag, delivering an overall better user experience. Frame Boost provides real-time monitoring of the phone's operations to resolve latency and game lag, while also allocating resources to avoid the phone overheating or using too much power. Touch Boost makes special adjustments to the responsiveness of the touchscreen while gaming, and also ups the sensitivity of the touchscreen while running applications so the phone feels faster and more responsive.
The OPPO A Series 2020 is running on ColorOS 6, based on Android 9.0, providing a fresh visual experience that's more sleek, refined and comfortable even after prolonged use. As well as offering fingerprint and facial unlock features, this operating system comes with a whole host of smart functions such as Smart Assistant, Riding Mode, Music Party and Gesture Navigation which improve user convenience, safety and the phone's overall versatility.
What's more, the series also has high capacity and versatile memory options providing more space to record more beautiful moments, such as a 128GB/64GB high memory capacity and a three-card (Dual Sim + MicroSD) slot that can support up to 256GB of memory.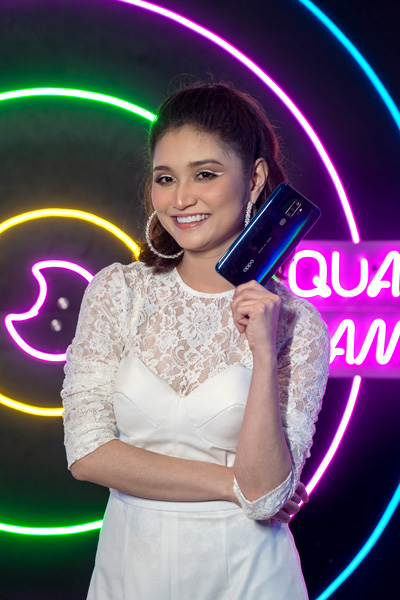 Well-rounded After Sales service
OPPO always pays close attention to users'needs, it begins from creating a new product from scratch to taking care of after-sales service until the end of the customer journey, OPPO values every customer like a VIP delivering quality premium user experience and customer service satisfaction. To date, OPPO has 1,191 authorized Service Centers around the world and 20 Service Centers in Malaysia nationwide. No matter which continent consumers travel to, they can still enjoy OPPO's premium customer care service.
OPPO always believes in the importance of after-sales service and as a step of improvement, OPPO Malaysia has recently announced its 1-Hour Flash Fix Service for all OPPO devices in order to provide a better after-sales service and quality user experience. With the 1-Hour Flash Fix Service in place, customers can get their OPPO smartphones examined and repaired by OPPO-certified technicians all within an hour without charging any repairing fees.
OPPO will also launch the OPPO Service APP soon which is a service repair tracker that is convenient and user-friendly for customers. The OPPO Service APP consists of a user manual, warranty status, repair status tracking, diagnose, service centers location, arrange repair booking, spare parts and prices as well as the latest announcement of upcoming promotions or events.
The price of OPPO A9 2020 is RM1,199 while the price of OPPO A5 2020 will be RM699. Consumers may start pre-order them untill 27th September at every OPPO Concept Store, OPPO Official dealer stores or online at OPPO Official Website, e-commerce partners' store at Lazada or Shopee and OPPO Chainstore partners Senheng, senQ, DirectD and ThunderMatch.
OPPO A2020 series will go on sale on 28th September at every OPPO Concept Store, OPPO Official dealer stores or online at OPPO Official Website, e-commerce partners' store at Lazada or Shopee; and with the smartphone's telco partners, namely Celcom. It will soon available in Digi, Maxis and U Mobile as well. Photo Journalist
Gadgets, Photography, Automobile, Lifestyle