New Nokia phones introduce class-defining experiences across segments
HMD Global, the home of Nokia phones, have announced four new devices that will be made available in Malaysia. Two smartphones: the Nokia 7.2, a class-defining smartphone with a powerful 48MP triple camera featuring ZEISS Optics, and the Nokia 6.2, where the breath-taking PureDisplay meets an advanced triple camera setup powered by AI experiences, all in one accessible smartphone.
The company also expanded its feature phone portfolio to address new network and market categories. The Nokia 2720 Flip is compact and tactile but transformed in usability thanks to integrated AI technology, making it an ideal phone for consumers with accessibility needs or those looking for a digital detox. Lastly, the Nokia 110 is all about entertainment in an extremely affordable package.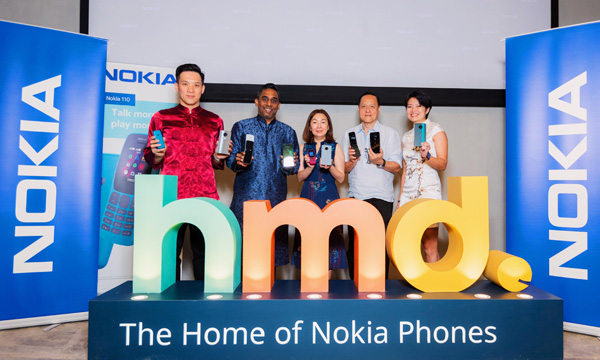 "Malaysia has always been a special market for us. There is an extremely loyal following in this country, who inspire us to deliver better performance and user experiences every day throughout our feature phone and smartphone device portfolio," said Ravi Kunwar, Head of Pan Asia, HMD Global.
"Staying true to our promise of delivering pure, secure and up-to-date software, our phones will continue to receive 2 years of OS updates and 3 years of monthly security patches for an experience that just keeps getting better. It is with great joy, that we launch the Nokia 7.2, the Nokia 6.2, the Nokia 2720 and Nokia 110 in Malaysia today," Kunwar further added.
Echoing Kunwar's sentiment, Vijay Thangavelu, Country Manager for Malaysia and Myanmar, HMD Global, was also quoted saying, "Malaysia is a very interesting market. The consumers here are smart buyers who look out for technology innovations, new features and most of all security assurance in their devices. We at HMD Global uphold our principles in introducing quality, durability, innovation and most of all, smartphones that place security as their top focus. In line with our value proposition of "It Just Keeps Getting Better", our strong partnership with Google will ensure all our Android One and Android Go devices will continue to be amongst the first to get monthly security updates and guaranteed OS upgrades for 2 years. The new Nokia 7.2 and Nokia 6.2 will continue to deliver that value proposition for us."
Adding to that, Thangavelu also said that, "Our feature phones which run on 2G network are still widely used in Malaysia and the Nokia branded feature phones are top in their category. Thus, we are adding new enhancements and upgrades to our current feature phone portfolio to make them even better and 4G capable. With this in mind, we are proud to introduce the all new Nokia 2720 flip which supports 4G network and comes pre-loaded with WhatsApp, Facebook as well as hygiene apps such as Google Maps, Google Assistant and Gmail. This is a hybrid device perfect for smartphone adopters and feature phone lovers alike.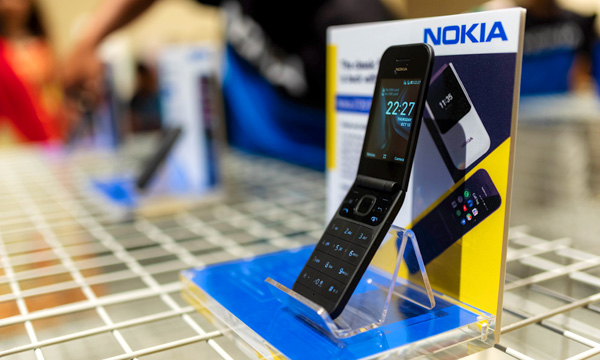 Heralding the next phase for Nokia phones
HMD Global also shared its vision for the Nokia phones of the future. Continuing with the belief that technology and innovation must move people forward – and not be limited to certain price points – the company has identified key strategic investment areas for the future. These investments will be aimed to drive even deeper differentiation for Nokia phones in the areas of imaging and security, as well as design and materials innovation. Bringing the benefits of new network technology to a wider audience, HMD Global also announced its commitment to deliver an affordable yet premium grade 5G experience in 2020.
Two new Android™ smartphones elevate the mid-segment portfolio for Nokia phones
In a strong renewal of the mid-segment, HMD Global today announced two new Nokia smartphones – Nokia 7.2 and Nokia 6.2 – both delivering segment leading experiences to fans in both display and imaging. In addition, both Nokia 7.2 and Nokia 6.2 take a leap forward in craftsmanship and materials exploration bringing premium Nordic designs to the mid-segment.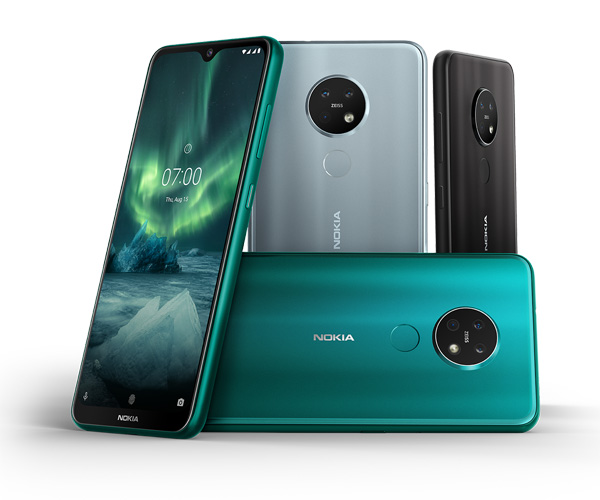 Nokia 7.2 – Elevating the mid-segment
Nokia 7.2 features a powerful 48MP triple camera with Quad Pixel technology and ZEISS Optics. Premiering many exclusive imaging experiences, the new Nokia 7.2 delivers on Nokia phones' legacy of bringing unique imaging technologies and features. In an industry first integration of DSLR level pro-bokeh styles into a smartphone, Nokia 7.2 comes with unique ZEISS bokeh styles available in portrait mode to give you stunning shots and exceptional image quality anytime of the day. These bokeh styles recreate the way legendary ZEISS lenses produce high visual impact and signature blur. Giving fans the creative freedom, Nokia 7.2 also allows for both foreground and background blur to mimic the natural optical bokeh. Nokia 7.2 also brings advanced low-light imaging with night mode by using AI low light image fusion technology in combination with the highly sensitive 48MP main camera. Building on the strengths of its predecessor, Nokia 7.2 combines a two-day battery life, stunning PureDisplay technology and always-on HDR, with timeless Nordic design to redefine what fans should expect from this smartphone segment.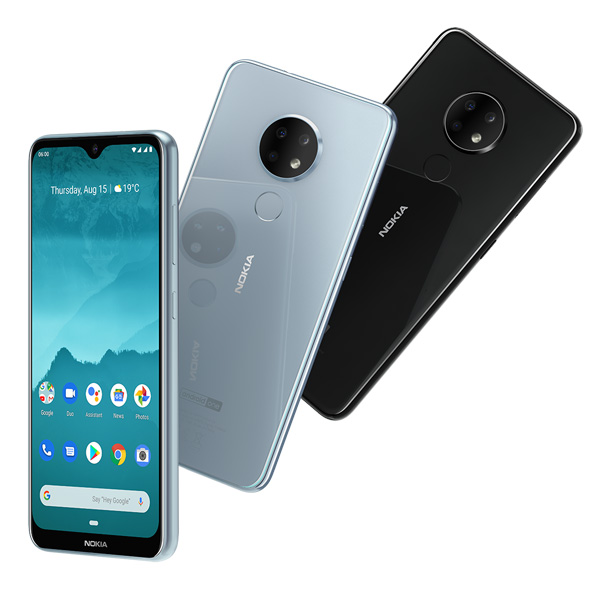 Nokia 6.2 – Breath-taking display and advanced triple camera
The first series 6 Nokia smartphone to premiere a triple camera and PureDisplay technology, Nokia 6.2 offers fans breath-taking visual experiences and advanced imaging in an accessible package. Nokia 6.2 brings always-on HDR to a new smartphone segment, featuring PureDisplay technology powered by a dedicated visual processor that delivers up to one billion shades of colour. With a combination of AI-features and a powerful triple sensor camera, the Nokia 6.2 lets fans take detailed photos, bokeh portraits and stunning wide-angle shots that capture more. And with its signature two-day battery life, fans will be able to do more of what they like without any battery anxiety. Nokia 6.2 stays true to its Nordic heritage, joining timeless craftsmanship and cutting-edge materials to deliver a unique and seamless finish.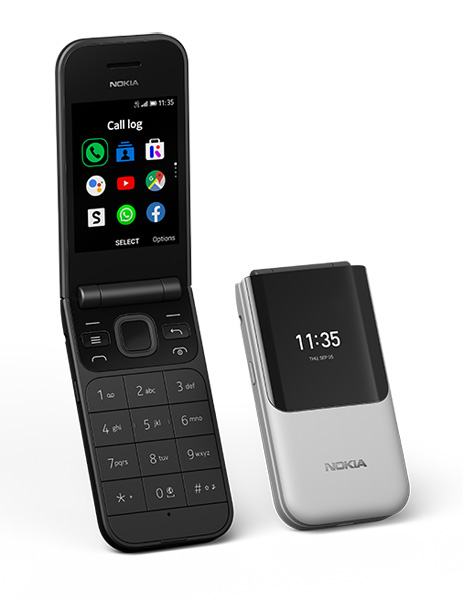 Nokia 2720 Flip – Reimagined with 4G
Nokia 2720 Flip is a classic flip phone reimagined for today's user – compact and tactile but transformed in usability thanks to the integrated AI technology. Nokia 2720 Flip features a familiar flip-phone design, combining simplicity and reliability in a durable device. Bringing modern features to fans, Nokia 2720 Flip comes with WhatsApp and Facebook to make sure you're connected to what matters. And with The Google Assistant just a button-push away, fans can get more done with just their voice. In case the unexpected happens, Nokia 2720 Flip comes with an emergency button as well as an ICE (In Case of Emergency) information menu – a perfect phone for the ones you love. Nokia 2720 Flip is not only an ideal companion for when you are looking for a digital detox, but it can be the perfect phone for keeping your loved ones with accessibility needs connected.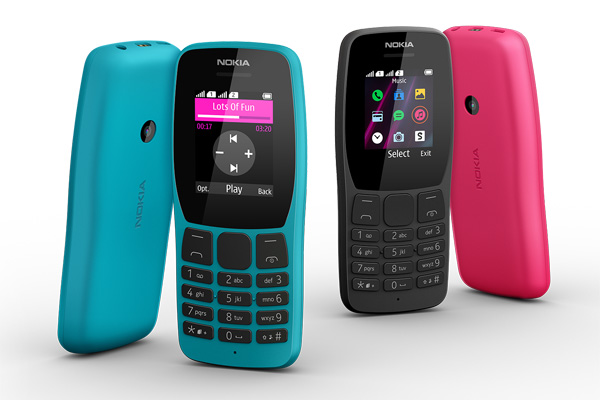 Nokia 110 – Entertainment in your pocket
A brand-new addition to our feature phone range Nokia 110 comes with everything you need to be entertained on the go; an MP3 player for your music collection, built-in camera and an FM radio. The Nokia 110 also comes with your favourite games, like the classic Snake, and a battery that lets you talk from sunrise to sunset on a single charge. The Nokia 110 builds on the successful Nokia 105 formula by adding a camera, music and games to deliver more entertainment at a very similar price point.
Availability and pricing:
The Nokia 7.2 will be available on 20th September 2019 at RM1,299 and comes in Charcoal, Cyan Green, Ice in 6GB/128GB memory variant. Every purchase of the Nokia 7.2 from an Authorised Nokia Retailer will come with free backpack and 16GB SD card, while stocks lasts.
The Nokia 6.2 will be available from early October priced at RM899 available at Nokia Malaysia's flagship store at Lazada. Comes in ceramic black in two memory variant of 4GB/64GB
The Nokia 2720 Flip will be available on 20th September 2019 priced at RM359 and it comes in Black
The Nokia 110 will be made available early October, priced at RM120 and comes in Ocean Blue, Black and Pink.