Mah Sing partners RinggitPlus to introduce Malaysia's First Educational Home Loan Application Processing Chat-Bot
Leading property developer Mah Sing Group Berhad (Mah Sing) in collaboration with RinggitPlus today launched 'Madam Loan', the first of its kind artificial-intelligence-enabled chatbot for a Malaysian property developer. Madam Loan is an educational platform which also facilitates home loan applications. Potential home buyers can now get answers on home loan related questions and apply for their home loans at any time of the day via Madam Loan on www.madamloan.com.my, which will go live today.
The development of this technology product was sparked by a series of feedback received by Mah Sing from home seekers over the last several years. Potential home seekers would usually get confused about home loan-related issues before or during the purchase of a property and did not have an automated service centre to reach out to. To address this issue, Madam Loan emerged as a chatbot to help empower potential home buyers, at no cost, with basic financial knowledge required to own a property.
Madam Loan offers a bespoke service; it will show its users mortgage products and applicable Mah Sing properties after it assesses their financial circumstances. Customers can also use Madam Loan to apply for four banking mortgages.  The chatbot will provide users with the indicative loan amount that they can get from banks through the loan eligibility calculator, which has been programmed using the latest formulations and debt-service-ratio (DSR) limits from banksIn addition, they would also have the option to view relevant Mah Sing properties based on the loan amount that they are eligible for.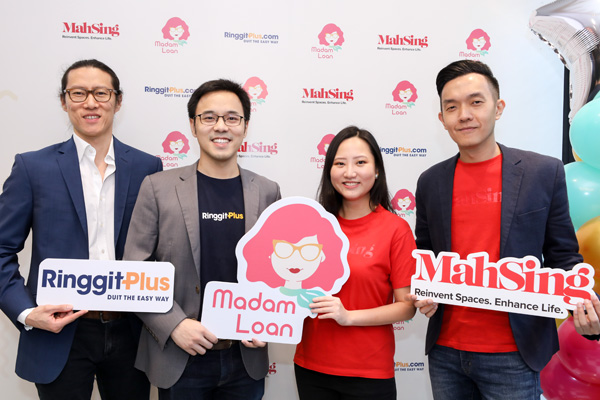 "With Madam Loan, we can empower our customers to engage with us in the way that they want, and connect with us on their own terms. We are honoured to partner with Ringgitplus to bring the best of technology to our customers. Madam Loan is powered by Ringgitplus' natural language processing engine, which enables users to perform financial inquiries by employing conversational AI. She is also equipped with extensive financial knowledge, thereby relieving our customers from the hassle of navigating through multiple web pages." said Rachel Leong, Mah Sing Group's Director of Group Strategy & Operations.
Rachel further added, "Recognizing that chatbots would be game changers in property development, we have started our automation journey with certain company processes and service touchpoints. Madam Loan aims to elevate our customer service by personalizing interactions and reducing the time-of-first response. This helps customers interact with us in new, more efficient and scalable ways."
Madam Loan is catered mainly to first-time home buyers, deal seekers and financially constrained buyers. First-time home buyers usually have no experience in buying a property and Madam Loan will empower them with the financial knowledge and bring them one step closer to acquiring their dream home. On the other hand, deal
seekers will be able to take advantage of the features in Madam Loan to make well-informed financing and investment decisions. Lastly, financially constrained buyers who have limited cash flow ability will be able to obtain recommendations from Madam Loan on selected government schemes amongst Mah Sing projects that better suit their needs.
Liew Ooi Hann, Chief Executive Officer (CEO) of RinggitPlus said: "By combining Mah Sing's 25 years of experience in property development along with our expertise in banking and technology as a fintech company, we are able to now provide a 24/7 conversational experience and end-to-end home loan enquiry and application service with four banks in Malaysia along with recommendations on properties in the Mah Sing portfolio which matches the affordability of every customer. We believe that Madam Loan will be able to help out most buyers, particularly new home buyers to understand the processes involved when buying a property so that they are able to purchase their dream homes. We hope that more companies will take the opportunity to innovate their offerings because we highly believe that digitalisation is the next revolution that will shape future businesses in the time to come."
Find out how you can own your dream home using Madam Loan
Madam Loan is a one-stop resource centre powered by a chatbot mechanism where potential home buyers can get their home loan related questions answered. Besides the home loan Q&A feature, Madam Loan also offers value-added services to potential home buyers such as the automated application process to multiple banks, the home loan eligibility calculator, government financing scheme recommendations and even property recommendations from various projects under Mah Sing.
For more information, please visit www.madamloan.com.my. Madam Loan will be up and running today onwards for a period of 3 months until 30 November 2019. Photo Journalist
Gadgets, Photography, Automobile, Lifestyle
aibankchatbotfiancefinancehome loanmadam loanmah singmortgagepurchaseringgitplus