Jabra PanaCast, the World's First AI-Enabled Panoramic Plug & Play Video Solution
Jabra, the leader in audio and sound solutions, today announces Jabra PanaCast, engineered to be the world's first smart Panoramic-4K Plug-and-Play video solution.
The solution addresses the pain points of conventional platforms, which can leave two out of five participants in a video conference call out of the picture, translating to a 40% wastage of space and human capital resources.
In contrast, Jabra PanaCast's immersive intelligent vision system offers 180-degree panoramic vision, which ensures everyone in the room is seen. All participants are given equal representation, fostering healthy discussion and true collaboration – even if they are remotely based.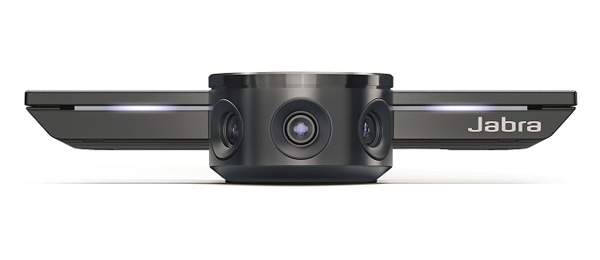 Anatomy of innovation
Jabra PanaCast incorporates three 13-megapixel cameras, working together as one via core technology embedded in an integrated Vision Processor. These elements work together with Jabra's leading-edge microphones, fourth-generation stitching technology and Intelligent Vision software to ensure optimal performance.
This includes addressing the scalar distortion common in conventional platforms, which results in participants farther away from the camera appearing smaller in video calls. With Jabra PanaCast, each participant is rendered equally, ensuring parity in communication.
Javed Tufail, Director of International Sales and Business Development, Jabra, said: "Jabra PanaCast is not a webcam, but an industry-first multi-camera array intelligent video solution.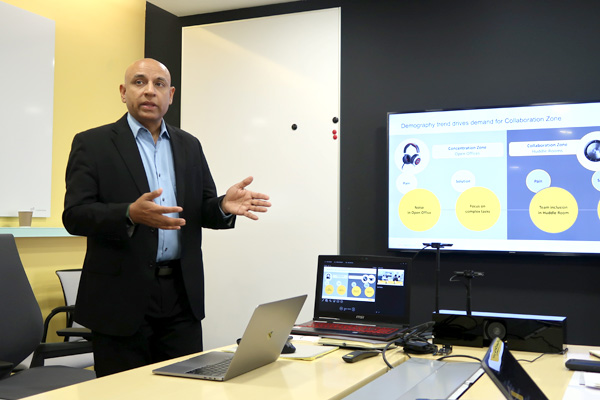 "It provides a unique 180-degree plug-and-play video and connected experience combined with real-time movement detection and learning, and has already made its mark with over 1,600 companies – including 200 universities globally."
"When it comes to conventional solutions, traditional single lens camera with their limited field of view are not able to include everyone present in a room. That results in some participants being excluded from the video, leading to unproductive meetings since 55% of communication is body language.
"If you are not able to fully see remote participants, you are not able to have a meaningful and productive meeting. Additionally, with Jabra PanaCast, you don't have to worry about friction points such as bandwidth utilisation, required protocols, security port access and so on. It is supported on all platforms with driverless installation."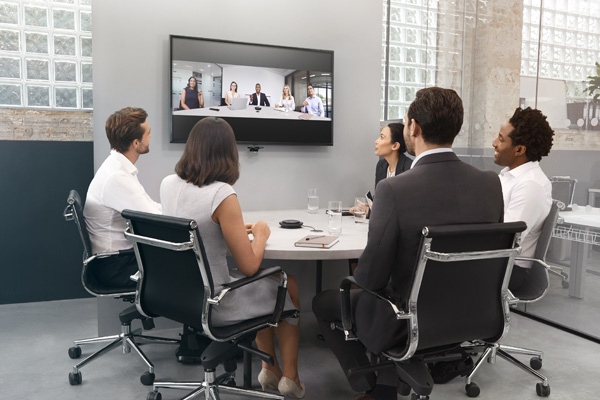 Bringing the best to market
Complementing its video conferencing capabilities, Jabra PanaCast is set to offer system-wide business intelligence through its integrated built-in people detection technologies.
Leveraging on the upcoming Jabra PanaCast API, this functionality will allow each Jabra PanaCast unit to capture real-time room usage and occupancy information in its field of view up to 12m away, using its Convolutional Neural Network (CNN).
With this data, businesses can maximise facilities management with fully informed decisions, optimising in areas such as calendar scheduling, power management and equipment utilisation. The Jabra PanaCast API is designed for Windows platforms and can be used for large spaces such as classrooms and auditoriums.
The solution can also be integrated with Jabra's leading conference "Speak" speakerphones, which incorporate omni-directional microphones to provide 360-degree sound coverage from any angle.
By pairing Speak's HD voice capabilities with Jabra PanaCast, users can hold meetings wherever they may be without having to compromise on clear audio quality.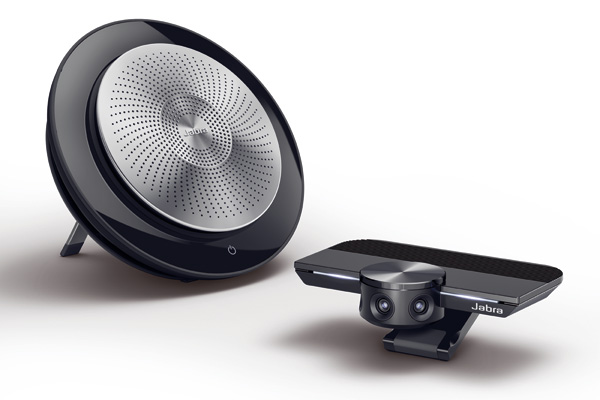 Jabra PanaCast is certified for use with Microsoft Teams, and is also compatible with popular cloud-based conferencing suites such as Skype, Zoom, Cisco WebEx, Slack, Google Hangouts, GoToMeeting, Unify Circuit, BlueJeans and more. Users can plug-and-play in seconds with their existing collaboration services by simply plugging the device into an available USB port.
The launch of the solution follows Jabra's recent acquisition of California-based surround videoconferencing specialist Altia Systems. The move complements the group's 150-year expertise in sound with industry-first video technology to deliver the most collaborative huddle room experience to date.
"Offices today are moving from collections of siloed cubicles to open spaces with more focus on collaborations and interactions between teams. As companies become more geographically dispersed, real estate costs are increasing, putting more emphasis on maximising available space.
"We have seen a growth in huddle rooms from two million spaces in 2012 to as much as 50 million spaces last year globally. Jabra PanaCast is ideally positioned to assist businesses in moving with these changes and maximising their real estate with a full 180-degree field of view," said Tufail.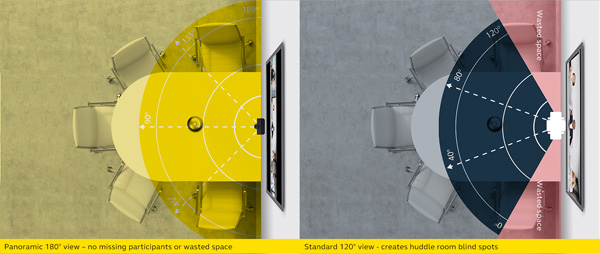 Key features and specifications:
Simple plug-and-play operation with no software required via a single USB cable
180-degree panoramic view seamlessly integrates video from three cameras with real-time dynamic stitching embedded in the onboard Jabra PanaCast Vision Processor
Naturally inclusive and immersive experience gives everyone equal participation
Crystal clear sound that picks up every voice in the room w. Jabra Speak series
0% wasted space with industry-first multi-camera array system
Intelligent Vision (AI) products sense, anticipate and adjust automatically so people can focus on their meeting and discussion
Industry-first Intelligent Zoom autonomously and continuously optimises the field of view to include everyone in the conversation
Jabra PanaCast Vivid 2.0 automatically adjusts the video properties to optimise the video experience under varying light conditions
The upcoming open and standards-based API provides data for companies and ecosystem partners to build value added services that can help optimise workflows, automate room/calendar management, enable green energy initiatives like automatically turning off unused equipment (smart building capabilities enablement)
For more information, please go to www.jabra.com/panacast.
180 degreecamerahurdle roomjabrameetingpanacastvideovideo conferencingwide angle