Introducing the FUJIFILM X-A7 mirrorless digital camera
FUJIFILM Malaysia is pleased to announce the launch of the FUJIFILM X-A7 (hereinafter "X-A7") which will be available end September 2019. It is an entry-level model for the X Series mirrorless cameras, known for compact, lightweight design and outstanding image quality.
The X-A7 carries a newly developed 24.2MP APS-C image sensor. The sensor uses copper wiring for high-speed data readout and phase-detection pixels across the entire sensor. This gives the camera very fast, accurate AF capable of quickly detecting and tracking eyes and faces even in low light. The X-A7 also features smooth 4K, high speed video and advanced high-ISO capabilities never before seen in this class of camera. Such advanced features are packed into the compact camera body that weighs just 320g, making it a great choice as a true 'go-anywhere' camera producing stunning still images and high-end movies for content creators and vloggers.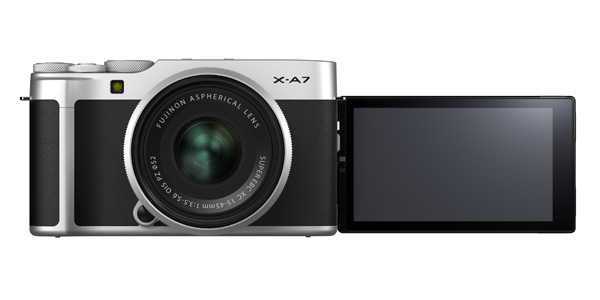 The rear of the camera features a 3.5" 16:9 touchscreen LCD with the maximum luminous intensity of approx. 1,000 candelas, which allows creators to clearly see the live view even in strong daylight. The use of the vari-angle structure, the first time in a X Series camera, means the monitor can be rotated in various angles freely. The Portrait Enhancer mode, in combination with the Face / Eye AF, boosts the quality and operability of taking self-portraits, achieving beautiful focus and skin tones with ease. Furthermore, the newly-designed "Smart Menu" facilitates intuitive touchscreen operation so that even beginners can produce high-quality images easily.
Main new features introduced with the X-A7
(1) New 24.2MP APS-C CMOS image sensor uses copper wiring construction to achieve premium image quality and advanced AF performance
The sensor features 8.5 times more phase detection pixels across its surface than previous sensors. This has delivered a dramatic improvement in performance for Face/Eye Detection, when tracking moving subjects, and when focusing in low light .
The use of copper wiring reduces digital noise, providing approximately one stop improvement in image quality at high ISO levels compared to previous sensors.
A significant improvement in data readout speed enables a smooth frame rate of 30fps when recording 4K video, substantially reducing the rolling shutter effect, which typically occurs when recording fast -moving subjects.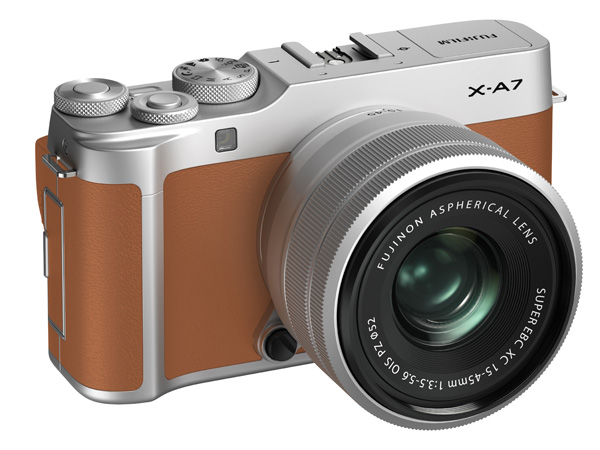 (2) Large 3.5" 16:9 wide touchscreen LCD
The camera features a large 3.5" 16:9 touchscreen LCD with brightness equivalent to most smartphones, enabling a clear view on the display even when using it in bright daylight.
The display uses a new "Smart Menu", allowing shooting settings to be changed easily and intuitively.  Quickly adjust settings such as brightness, degree of background blur, Film Simulations and aspect ratios with a tap on the LCD, while being able to see what the effect will be on screen in real time.
The display has the touch response performance equivalent to smartphones, in order to change menu items instinctively and simply.
The vari-angle display accommodates a wide range of shooting positions including high-angle, low-angle and self-portrait.
The aspect ratios supported include 3:2, 16:9, 1:1 and 4:3, newly-adopted in the X-A7.
(3) Compact and lightweight design weighing only 320g
Despite featuring a large 3.5" touchscreen LCD, the X-A7 weighs only 455g with the kit lens (XC15-45mmF3.5-5.6 OIS) attached.
The X-A7 can shoot approx. 440 pictures per charge facilitating long-term use without worrying about the battery.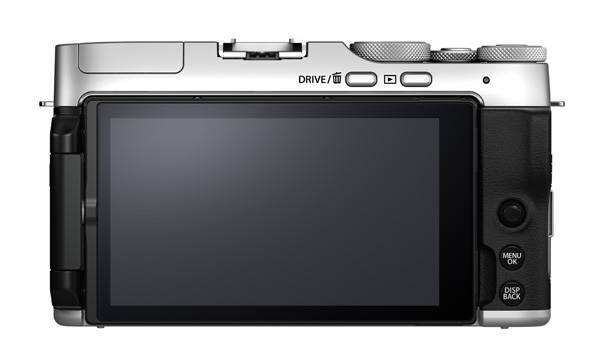 (4) Advanced video performance and functions that cater to the growing demands for movie shooting
The image sensor produces 4K (3820×2150) footage using data equal to 6K (6000×3376), which results in high resolution video quality with lower noise, and delivering smooth 4K video at up to 30fps with no crop. Create movies in Full HD or HD, at up to 60p in full-screen 16:9 aspect ratio or the popular 1:1 square format for easy live-story posting on social media.
"Countdown Video" mode has been added, which is helpful when uploading videos to social media. Videos are filmed for a pre-selected duration: 15, 30 or 60 seconds, with the remaining time for the clip appearing on the screen.
HD high-speed video capture at up to 4x speed easily produces epic slow-motion results of action.
(5) Diverse shooting modes that help produce photography with a creative flair
A new [Bright Mode] feature has been added to the [Advanced SR Auto] function, letting the camera configure ideal settings to produce HDR and other options that create brighter and more vivid images in a single, one-touch operation.
The [Light Trail] mode, added to the [Scene Position] selection, can be used to capture light trails of car headlights, for example, while checking the effect on the LCD in real time.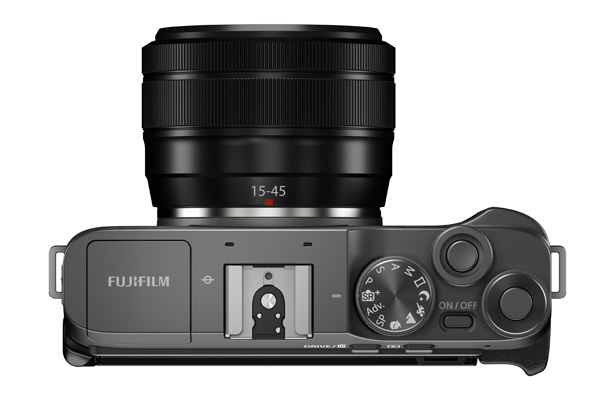 (6) Enhanced connectivity for easy link to smartphones and tablets
The use of FUJIFILM Camera Remote (free app for smartphones and tablet devices) and improvements incorporated into the X-A7 have improved the connectivity and stability in wireless communications.
The X-A7 also supports wired communications with smartphones and tablet devices, useful when transferring large data, e.g. video, to such devices. Data is transferred approx. 8 times faster compared to wireless communications.
The X-A7 is priced at RM3,098 with lens XC15-45mm F3.5-5.6 OIS PZ, in Dark Silver, Silver and Camel (Brown) color options. For more information, log on to www.fujifilm.com.my.
4Kaps-ccameracmoscompactfujifilmfujinonmirrorlessx seriesx-a7