Third Time Amazing: The Annual Volkswagen Fest is Back
The annual Volkswagen Fest returns for the third year running and promises to be power-packed with the best deals and thrills from Volkswagen Passenger Cars Malaysia (VPCM).
Taking place from 30th August till 1st September 2019 at Setia City Convention Centre in Setia Alam, this year's highlight will be the launch of Volkswagen's very own Certified Pre-Owned, "Das Welt Auto". The highly-anticipated all-new Arteon will also be on display at the event.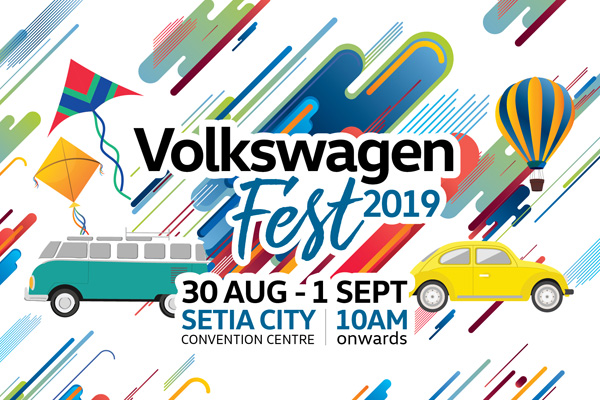 Visitors can expect the opportunity to test drive a variety of Volkswagen models, and enjoy rebates and amazing deals on brand-new and pre-owned cars. Amazing deals include the ongoing Merdeka Voucher of RM1,000 rebate for all bookings made at the event and "Starbuys" such as the Passat Comfortline 1.8TSI priced at RM114,888. There is also the ongoing promotion on the Tiguan and Passat range, which currently comes with an extension of the three-year free maintenance up to five-year free maintenance with a low interest rate of 1.88% per annum for new car buyers before 31st December 2019.
There will be three dedicated areas on the festival grounds for guests to enjoy. The Volks Auto area is where visitors should go to find out more and test drive Volkswagen models, and for the added convenience to those wanting to sell off their current vehicles for a Volkswagen, there will be a free car evaluation and quick loan checks by a partner bank to assist in their hire purchase applications. There are also free Volkswagen inspection checks at the Aftersales area for owners who had signed up online, and for owners to learn more about attractive Aftersales promotions and services.
Volks Lawn will be filled with current and classic Volkswagen cars on display, a hot air balloon ride, several Instagram-able art installations and interactive game stations that is sure to be a hit with families, while Volks Park is the perfect spot for visitors to feast on the variety of food truck offerings. There will also be a Kombi Bazaar area and busker performances, making it the perfect area to relax and chill.
With all this and more, visitors can be sure that Volkswagen Fest is the place to be for all things Volkswagen.
Volkswagen Fest 2019 will take place from the 30th August till 1st September at Setia City Convention Centre in Shah Alam.
Festival hours are:
10am – 10pm (Friday)
10am – 10pm (Saturday)
10am – 8pm (Sunday)
For more information, visit www.volkswagen.com.my. Photo Journalist
Gadgets, Photography, Automobile, Lifestyle
carnivalcarsfestpassatstarbuyvolks lawnvolks parkvolkswagenvpcmvwvw fest