Packtica Sdn Bhd, a Malaysia security printing company specialised in providing high technology security printing solutions to clients based on unique originations, is set to provide its full range of comprehensive solutions to local companies and also clients in the region with its latest co-operation with a mainland China partner.
Packtica founder and managing director Bryant Kooh said: "We deliver robust and valuable services to our clients with continuous in-house research & development integrated with advanced technology from our network of partners in leading countries for improvements and ever-changing security printing technology.
"Our customisable products and services have high efficiency and can be used by all market segments, especially on product protection & authentication, traceability, identifying fraudulent activities such as counterfeit, parallel import and price dumping.
"We have produced more than 30 million pieces of QR code labels and high security labels to ensure consumers are using genuine products. Our products gain high satisfaction and are highly valued by our past and current clients as Packtica truly aids them by increasing their sales & profit, brand equity, and most importantly, customer loyalty," he said.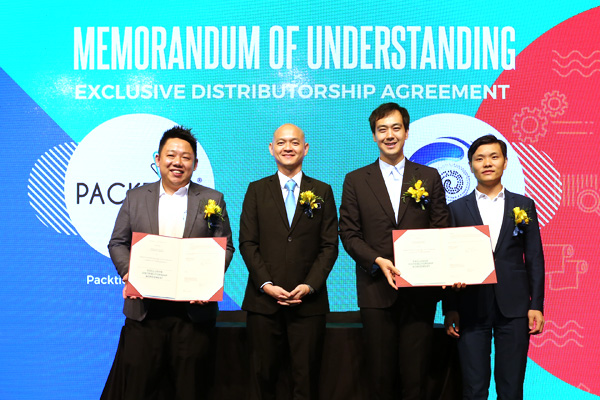 Since its inception, Packtica has grown from strength to strength and expanded its business operations to Thailand and the Philippines. There are on-going discussions to set up office in Indonesia and soon will be Vietnam.
"Packtica works with partners to provide comprehensive solutions and one of our key partners is Shenzhen Qianhai Quantum Cloud Code Technology Co, Ltd with whom we have signed an important Memorandum of Understanding (MoU) for the Southeast Asia dealership of its QDots products and for technology transfer.
"We are delighted that its key representative, Chief Executive Officer John Jiang is here for this landmark event witnessed by Yang Berhormat Dr Ong Kian Ming, Deputy Minister of International Trade and Industry," he said.
With this MoU, Packtica is poised to expand its customer base through its other two products namely the SecurePack of security packaging and CheckNow featuring online QR authentication platform. QDots, the latest security enhancement technology, completes its range of applications to determine authenticity, identity and traceability.