Drive and Derive Benefits with your SOCAR Dream Team
Want to get rewarded for using SOCAR, Malaysia's number #1 car-sharing app? Gather your SOCAR Dream Team and start driving from now until 31 August 2019 to unlock rewards for all. You can earn 50% of the total combined hours driven by your team – with rewards divided equally amongst team members.
Teams that drive a combined total of 48, 60 or 72 hours will be rewarded with 24, 30 or 36 complimentary hours respectively, with each team member receiving an equal portion of the free hours*. The Top 3 teams will the highest total of hours driven will also receive a bonus of an additional 24 hours free for each team member**.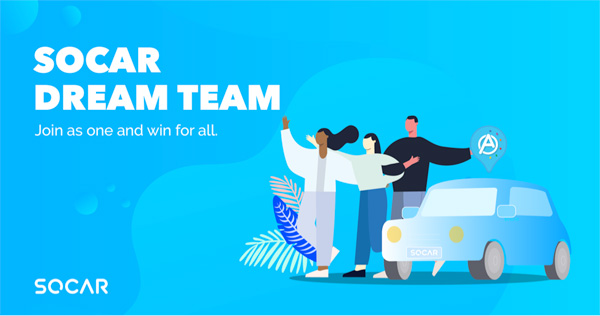 How to participate
To begin driving towards more benefits, visit assemble.socar.my to create your Dream Team and add the members you want, with a maximum of six members per team. You'll be able to collectively earn rewards for your team, even while driving separate cars! Make sure to begin and end each SOCAR journey at one of the SOCAR Dream Team zones and ensure that each team member makes at least one reservation of a minimum 6 hours.
It's so easy to drive with SOCAR! Book a car by the hour, day or week all through the mobile app. No more complicated car rental forms. Just tap, unlock via the SmartKey within the SOCAR app and drive, 24/7. To see the SOCAR Dream Team zones, simply download the SOCAR app via the Google Play Store or Apple's App Store. View the full terms and conditions for the SOCAR Dream Team campaign at assemble.socar.my. For more information on SOCAR, please visit socar.my.
* Standard reward hours are not eligible for BMW cars.
** The winning team is eligible to redeem bonus hours for all car models, while the 2nd placed team is not eligible to redeem bonus hours for BMW cars and the 3rd place team is not eligible to redeem bonus hours for MINI and BMW cars.