Axiata Game Hero announces Strategic Partnership with Boost in Malaysia
In conjunction with the upcoming Merdeka and Malaysia Day, Axiata Group Berhad ("Axiata") welcomes Boost, Malaysia's preferred lifestyle e-wallet, as the new official partner and payment channel for Axiata Game Hero in Malaysia.
This partnership will open-up Axiata Game Hero to more Malaysians in line with the spirit of inclusiveness and solidarity that exemplifies Merdeka and Malaysia Day.
"As we commemorate 62 years of our nation's independence, we are excited have Boost as our official partner as it will enable more Malaysians to participate in Axiata Game Hero, regardless of their service provider," said Peggie Lim, Head of Product Innovation and Partnerships at Axiata.
Lim explains that Malaysian players seeking to enter Axiata Game Hero can do so via the Boost app which is available on both the Apple App Store and Google Play.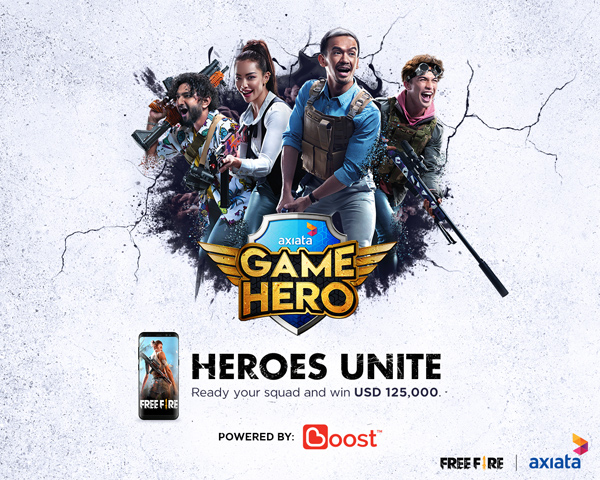 With a user base of over 4.5 million, Boost handles a variety of transactions from 'scan and pay' and money transfers, to bill and even street parking payments. Gamers could also get on Boost to buy gaming credit and now to include eSports into its repertoire of features is a natural step forward.
"We are constantly looking for avenues that can enhance the experience of our users and complement their lifestyle. With Axiata Game Hero, we are confident that we can support our partner and customers to create new value and drive interest in eSports", said Mohd Khairil Abdullah, chief executive officer of Axiata Digital Services, parent company of Boost.
"A majority of Boost users are from the younger, digital savvy demographic who are avid gamers and entertainment buffs. We strive to be relevant to all our users – some of our users are aspiring tournament champions, others just like to watch the excitement as the action unfolds so we wanted to bring these two types of people together through Axiata Game Hero which is a fantastic regional gaming tournament that is both challenging to win and great to spectate as well," Khairil added.
Axiata Game Hero is being touted as the first mobile gaming tournament of its kind in the region and involves the participation of Axiata's operating companies from other countries across Asia, namely: Smart Axiata (Cambodia), XL Axiata (Indonesia) and Robi Axiata (Bangladesh).
The tournament trials have begun and participants will compete from now until 31 October 2019 to be the top three squads from each country. Country winners will then be flown to Kuala Lumpur, Malaysia, for the Axiata Game Hero Final Grand Championship, where they stand a chance to win a share of MYR500,000 in prize money.
The Axiata Game Hero tournament is open to all Malaysians with a one-time fee of MYR10.00. Interested participants may register via www.gamehero.asia and verify a Free Fire account using a valid Free Fire nickname and ID, or simply sign up through Boost. All payment fee for Axiata Game Hero is powered by Boost.
For more information, visit www.gamehero.asia.