Leapfroglobal Product Launch 2019
Armaggeddon debuts Latest Gaming Monitors
Armaggeddon launched their first ever gaming monitor series "PIXXEL+" on the 22nd of June 2019 at TAGCC fair in PWTC. This impressive line includes curved gaming monitors, namely the Pro PF22HD, Pro PF24HD, Pro PC27HD, EFX27UHD SWITX, XTREME XC24HD, XTREME X27HD, XTREME XC30HD, XTREME XC32HD and, XTREME XC39HD.
PIXXEL+ monitors aren't just for gamers – these monitors have zero tolerance for pixel flaws, making them highly attractive to high-performance users as well; artists and creators will appreciate these beauties for photography, design work, and 3D animations.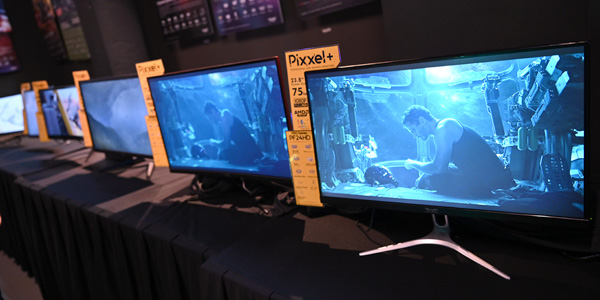 PIXXEL+ monitors are designed to have a huge screen-to-body ratio to maximise on-screen real estate most models have an infinity edge / zero bezel, which is a move away from the traditional thick framed monitors. This is a step towards creating a new baseline standard for monitor aesthetics in the gaming industry. The slim form factor, re-enforced with a hard back panel equipped with ambient LED arrays, help you set the right mood to enhance your gaming experience.
PIXXEL+ monitors are also equipped with new and innovative gaming features such as a high refresh rate of up to 165 Hz with AMD free-sync technology to reduce tearing and stuttering caused by misalignment, providing the most sustainable combination of unparalleled picture quality and speed for an intense gaming experience.
User wellbeing is also a priority for Armaggeddon – they have included some safety features in their monitors such as "Anti-Blue Ray" and "Flicker Free". This reduces eye strain as gamers and designers tend clock the highest number of hours in front of their computers which may lead to vision impairment. The models showcase Armaggeddon's strength at offering a high quality in tandem with affordability.
PIXXEL+ XTREME XC39HD, XC32HD, XC27HD
The PIXXEL+ XTREME series is focused on delivering a truly EXTRAORDINARY experience. The PIXXEL+ XTREME comes in various sizes from 24" up to 39" and all comes with innovative curved displays with the latest graphics technologies to immerse users like never before. Apart from having a thin and small body, this monitor is curved to perfection and able to perform outstandingly with a stunning refresh rate of 165Hz and an ultrafast response time of 1ms. This PIXXEL+ XTREME has an infinity bezel, thus minimising the bezel and maximizing your screen space.
The PIXXEL+ XTREME XC30HD is equipped with WHD resolution that could support up to 2560 x 1080p with a 21:9 screen to body ratio which makes it the perfect monitor to enjoy gaming and watch a HDR movie in an ultra-wide screen. This monitor also comes with built-in ambient RGB backlights to modify the mood of your gaming space.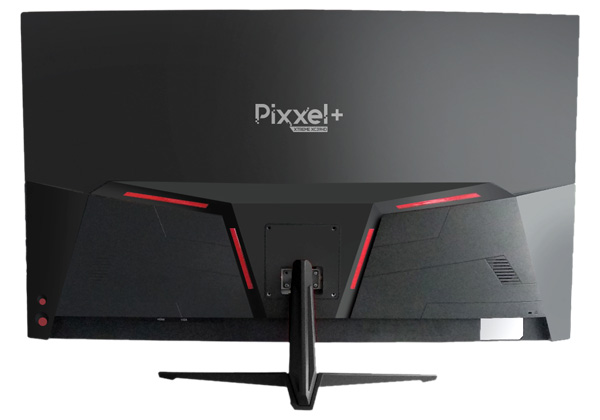 PIXXEL+ EFX 27UHD SWITX
Armaggeddon has married work and play with the PIXXEL+ EFX 27UHD SWITX. It is the one you've been searching for in a gaming monitor that pleases everyone. This is because it has the ability to switch effortlessly between 4K resolution at 75Hz, 2k resolution at 144Hz and the EFX 27UHD SWITX is proven to deliver the perfect performance as you choose. It is engineered to suit your needs anytime, effortlessly.
Armaggeddon has provided the professionals with top of the line features to be included in this exclusive gaming monitor so you don't have to keep upgrading your monitor. To achieve best-in-class colour representation, 99%RGB colour accuracy paired with an Ultra HD 4K resolution ensures users to capture and maximize the potential of every pixel. This makes it the most powerful tool for professionals in the world of videography and photography editing. Bored of work? Switched it up to Gaming mode to 2K resolution with 144Hz and instantly jump into a world of effortlessly smooth graphics, perfect for intense gaming. Clear and highly responsive, it guarantees optimized performance that makes full use of the gaming power from your PC and it is lag-free visuals.
While many monitors in the market often compromise performance for style or vice versa, Armaggeddon has leveraged its gaming expertise to deliver enhanced computing performance and usability for everyday users. The large screen size coupled with LED backlights enhance the look of your workstation altogether.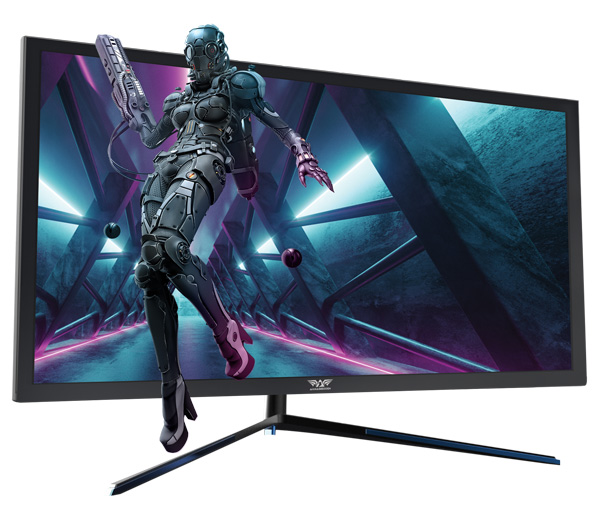 PIXXEL+ PRO PC27HD, PF24HD and PF22HD
The PIXXEL+ PRO series is Armaggeddon's entry level display for gamers and designers. The Pro series does not only stand out among other entry level display monitors with its bezel-less sleek design, it gets the job done with stunning picture quality; brightness 220cd/m2 compared with 200cd/m2 of most branded monitors, while also delivering a better contrast of 3000:1. Apart from that, the PRO PC27HD is designed with a curved display embedded inside the case with a viewing angle of 178" along with a magnificent infinity display. This elegant gamer-designer base monitor allows users to enjoy a modern and minimalist style and high performance at the same time. With 75Hz and fast response time of 5ms it truly stands tall amongst entry level monitors.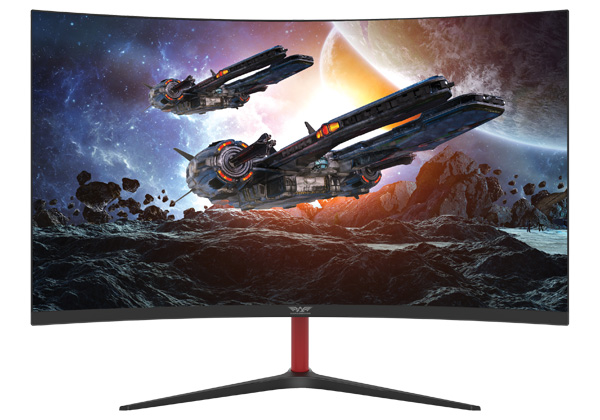 Armaggeddon breaks New Ground with Souped Up Gaming Rigs
Armaggeddon also unveils its latest pro gaming rigs and is now practically the only gaming brand to offer a complete solution for all your gaming needs. All Armaggeddon desktops and laptops are a potent combination of components that work in sync to bring you the ultimate gaming experience at any specification level of your choice. If first timers are not sure of what they want, they can pick a signature rig that has been optimised for performance. For gaming fanatics who enjoy pushing their systems to the limits, customisation is available so that every gaming rig is personalized – all through the newly revamped Armaggeddon website. You won't have to settle for mass-produced specifications and drab looks anymore – the power to create your dream rig is now just a few clicks away.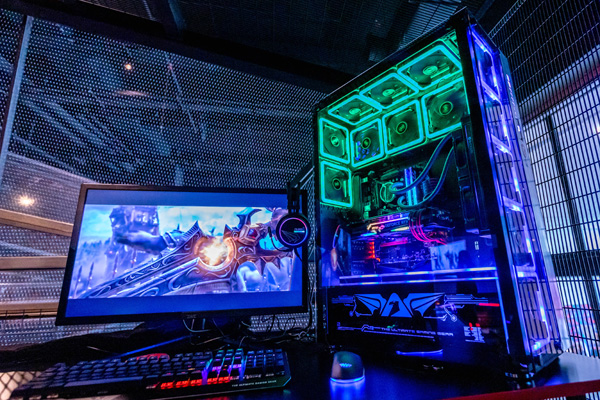 Armaggeddon understands that while desktop rigs provide the best performance, mobility is still a key factor for gamers who need to be on the go – hence the birth of their new gaming laptop range, slated to be released by the end of 2019. With chassis designs that promise sleeker builds and even cooler looks, the Armaggeddon laptops are expected to be fierce contenders in the arena of gaming laptops. Think luxuriously large screens. Think 1080p high definition. Think ambient RGB lighting from your backlit keyboard. The key factors of a portable yet immersive virtual experience are now becoming a reality.
Also in the 2019 pipeline are next-gen RGB mousemats, opto-mechanical low-profile keyboards, ergonomic gaming chairs and adjustable gaming desks to complete your arsenal.
There's no doubt that Armaggeddon's foray into these new categories will propel its status from Asia's highly trusted gaming brand to becoming an undisputed top player on an international scale.
Armaggeddon Dominates Gaming Arena With New Line Of Streetwear
Ultimate Gaming Comfort and Style
This is a long-awaited new collection of streetwear for fans who want more than just hardware from Asia's renowned gaming gear manufacturer.
Now you can smash your competition with the ultimate gaming gear, wearing Armaggeddon's ultimate streetwear. Blending slick street style with superior comfort, every Armaggeddon t-shirt is made of 100% special cotton for a breathable and soft fit, while the prints chameleon into different colours when exposed to sunlight.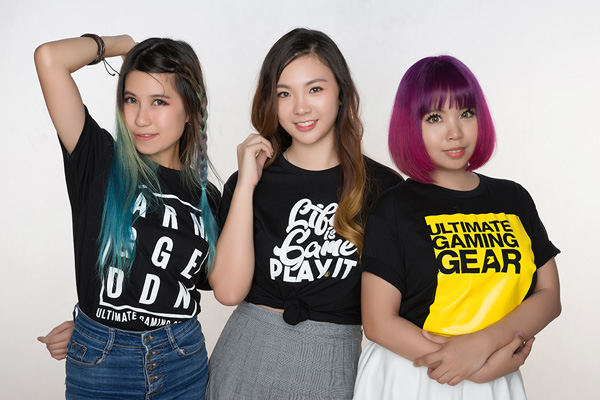 The new collection of hoodies boast unique and relatable designs, representing the collaboration between Armaggeddon and other brands and e-sports gaming teams, making it one of the most exclusive merchandise that a diehard fan could get their hands on. The hoodies are made of plush fabrics that vary in density so you can find one that fits every season of the year. Besides that, they have also introduced snapback caps to complete the look.
All Armaggeddon streetwear will soon be made available on their online store, which ships throughout Southeast Asia. All merchandise are designed to be gender neutral and inclusive.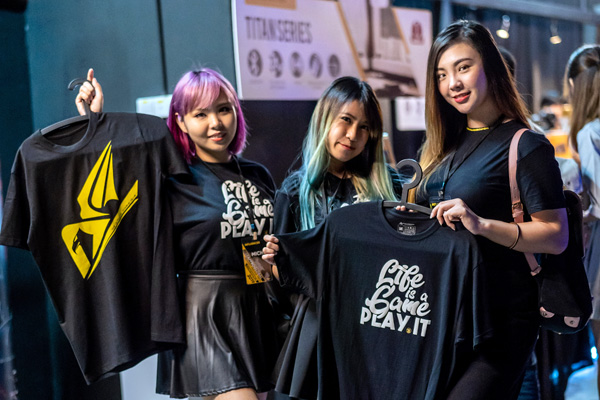 Game On: Armaggeddon is Now on Shopee
Gaming fans can now get their hands on their favourite Armaggeddon products as the leading gaming peripherals company in Malaysia, LeapfroGlobal Group, launched the Armaggeddon Official Store on Shopee. Armaggeddon fans will be thrilled to discover irresistible deals and an exclusive merchandise collaboration between Armaggeddon and leading e-sports team Shopee Bosskurr which are available only on Shopee.
In collaboration with the professional gaming team, Shopee Bosskurr, Armaggeddon has also launched an exclusive Armaggeddon x Shopee Bosskurr range of gaming products on Shopee which includes Armaggeddon x Shopee Bosskurr Special Hoodie, Armaggeddon x Shopee Bosskurr WASP-5 Gaming Earphones with Dual Driver & Microphone that comes with a complimentary power bank as well as Armaggeddon x Shopee Bosskurr AK300x and Scorpion 3 Gaming Keyboard Mouse which comes with a complimentary mouse mat & USB hub. Shopee Bosskurr fans will have to act fast as the Armaggeddon x Shopee Bosskurr gaming products are limited, while stocks last.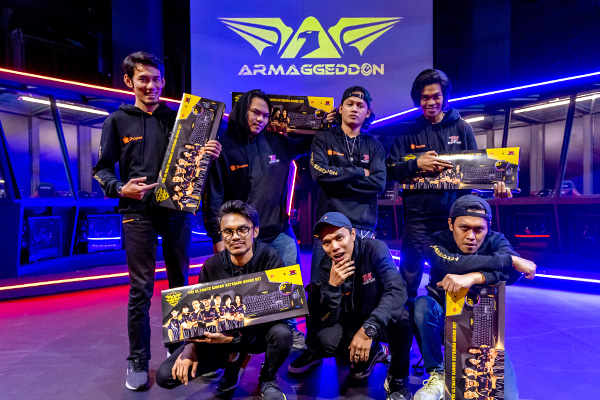 To commemorate the launch of the official store on Shopee, Armaggeddon is offering Pixxel+ Elite EFX 27UHD at an irresistible promo price of RM1199, and the first 80 buyers will also walk home with a limited edition Audiobox U150 Sound Bar worth RM49.90. From 26 July to 2 August 2019, stretch your Ringgit further and enjoy more savings when you apply ARMA05 to receive a RM5 rebate with a minimum spend of RM90 or apply ARMA10 to receive a RM10 rebate with a minimum spend of RM150. Stay tuned for the special Shopee live streaming session happening on 2 Aug 2019 at 8pm where team Shopee Bosskurr will be on set to bring you through the new products and entice you with mysterious prizes to be won.
For more promo and deals on Armaggeddon products, please visit here.
Fresh New Looks for SonicGear's Latest Home Audio Series
SonicGear has revamped its long-running hit series of 2.1 speaker systems and launched a new line-up of modern lifestyle home audio. You can expect a noticeable step up in sound quality and new features like ambient lighting to enhance your personal desktop and home theatre experience. Here are some of the highlights of their latest product updates: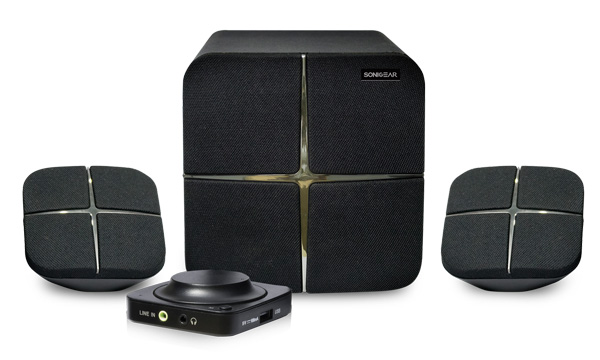 The new MORRO X5, X7 & X9 are elegantly designed 2.1 stereo systems with a sleek, minimalist aesthetic that blends seamlessly into the modern desktop. However, you'll be mistaken if you think subtle looks equate to subtle sound – these speakers pack a punch both in power and clarity, with a range of 76W up to 120W of total system power.
EVO 9, one of the bestselling models in Malaysia, has evolved with a major upgrade on its performance and a brand new look. After some serious hardware upgrades and careful and rigorous audio tuning by SonicGear Lab in Singapore, the 2019 edition of the EVO 9 now has a booming 6.5" super bass driver has proven itself to be one of the best stereo systems out there for movie enthusiasts.
TITAN 9 is a feature rich complete home audio solution, with Bluetooth audio streaming, line-in audio, built-in radio and a media card reader. Expect loud and clear audio from its 120W of system power – you can even use if for at-home KTV sessions as it comes equipped with 2 microphone jacks. Coupled with a cool lighting effects and digital display interface, this is simply a house party waiting to happen.
Want a 2.1 speaker system AND a soundbar? TITAN 11 is your perfect answer. Beyond a fresh look, it now comes with satellite speakers that can be positioned vertically or horizontally, you can configure the layout of this audio system to your liking.
Soundbar enthusiasts will be thrilled with the all-new BT5500 SONICBAR AIRBASS. This new soundbar features a wireless subwoofer, surround sound, and an optical digital audio cable connection for the highest audio transmission possible. The ultra-low bass frequencies the BT5500 can hit will complete your movie experience without compromise.
For more details, check out the SonicGear website www.mysonicgear.com as each model is released into the market.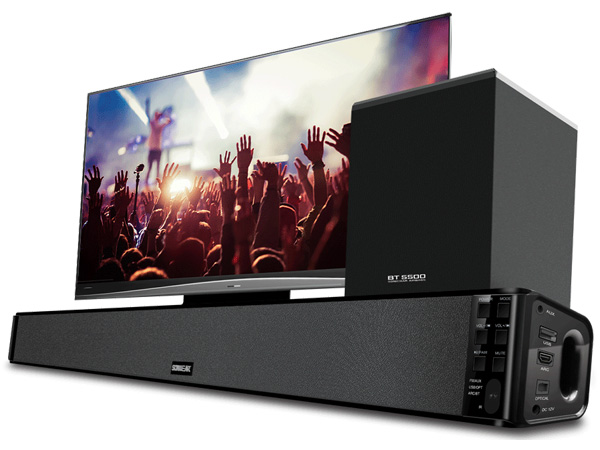 Active Noise Cancellation that still delivers Immersive Audio Experience
SonicGear joins top tier manufacturers in the active noise cancellation (ANC) headphone market as more and more people seek out this feature which provides them relief from environmental noise pollution – something that frequent flyers and commuters would be familiar with.
It is known that active noise cancellation often reduces audio quality. In the bid to create the perfect balance between active noise cancellations while maintaining a pleasing audio experience, SonicGear has launched the ANC2000 and ANC3000 under its established Airphone series of Bluetooth headphones with built-in rechargeable batteries for people on the go.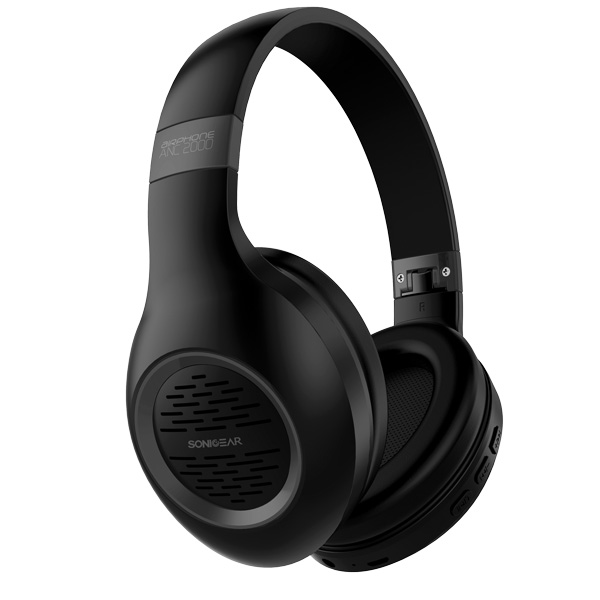 The ANC2000 and ANC3000 are both designed for long-wearing comfort and lots of playback time so you can enjoy uninterrupted quiet time and movies without hunting for a charging point midway. The ANC feature effectively cancels out low rumbling background noise from bus and plane engines, as well as office chatter and the whirring of computers and fans, making it a versatile companion for work and travel. When it is time to tap in to the surroundings, users can do so with a simple push of a button.
THE ANC series come with a 400mAh built-in rechargeable battery which allows you to play your music and movies for up to 24 hours. Its latest Bluetooth 5.0+EDR chipset capability ensures smooth streaming and transmission over longer distances, while consuming less energy than its predecessors. The uniquely designed hinges allows the headphones to be folded for convenience of storage and the rotation of the earcups on the ANC3000 are ergonomically designed to allow for micro-adjustments for maximum wearing comfort.
armaggeddonaudiobosskurrgamingheadphoneheadsetleapfroglobalmonitormouseperipheralpixxelshopeesonicgearspeakerstreetwear