GoPayz increases Payment Acceptance Globally in Partnership with UnionPay International
U Mobile and UnionPay International have signed an agreement that will enable its standalone GoPayz e-wallet users to perform local and cross-border payments. With this partnership, users of GoPayz will be able to make payments at close to 10 million UnionPay QR code merchants in 29 countries including Australia, China, Japan, Korea, Singapore, Thailand and USA.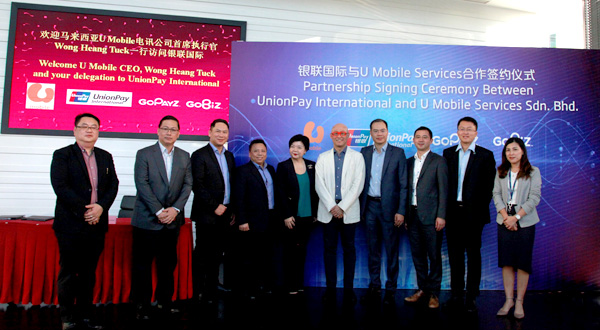 Wong Heang Tuck, CEO of U Mobile said "U Mobile believes in building a fintech ecosystem that is accessible to all and yet well-positioned for current and future needs."
He added "We are delighted to be able to partner with UnionPay International as they are critical in enabling GoPayz customers to use the e-wallet locally and globally. We believe customers will appreciate the flexibility just like how they will enjoy all the other digital financial services that are coupled with the GoPayz app."
Wenhui Yang, General Manager, UnionPay International Southeast Asia said, "As a global payment brand that connects businesses, consumers and financial institutions through digital payments across 174 countries and regions, UnionPay is delighted to extend our collaboration with U Mobile to enable seamless cross-border QR code payments for GoPayz e-wallet users. We are committed to continuing rolling out more innovative payment services like QR Code for payments, bringing more convenience and enhancing the payment experience for consumers. GoPayz users can look forward to using their e-wallet to make seamless and secure QR Code payments overseas without the hassle of exchanging foreign currencies. They can also enjoy the exciting UnionPay offers and privileges locally and at their favourite travel destinations, giving them more reasons to use their GoPayz e-wallets."
For more information, visit www.gopayz.com.my.
Businesse-walletglobalgopayzpartnershippaymentU Mobileunionpay