Canon's New Stylish Instant Camera Printers arrives to Capture Instant Fun
Canon Marketing Malaysia introduces two new stylish and compact iNSPiC instant camera printers, making it fun for all. The iNSPiC instant camera printers, iNSPiC [S] and iNSPiC [C] are new additions to the Mini Photo Printer range alongside with the rebranding of its Mini Photo Printer to iNSPiC [P].
iNSPiC stands for 'Inspiring Pictures,' arrives at the party as a portable and pocket-sized instant camera printer that combines printing and sharing on the go with digital camera capability. The iNSPiC [S] and iNSPiC [C] promise to capture instant fun and spontaneous moments. Designed to bring back the joy of sharing printed photos instantly; the iNSPiC series unlocks precious moments captured on the device by printing and sharing it with friends and family in a matter of seconds. The iNSPiC can also reprint the same photos by syncing your smartphone via Bluetooth.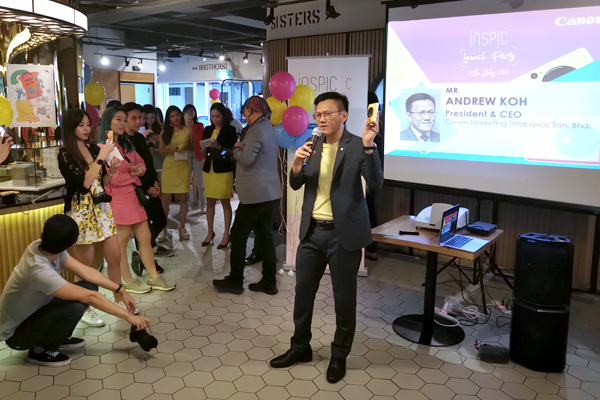 "The iNSPiC series marks a milestone for Canon in producing its very first instant camera printers that complement our extensive range of photo printers. Both cameras pack a punch above its weight and the top of the range iNSPiC [S] features a built-in LED ring light and swanky ideograms such as stickers, cool frames and fancy text available via Canon Mini Print mobile app, enhancing creativity and spontaneity with users on the go," said Sandy Lee, Head of Consumer System Products (CSP) Division of Canon Marketing Malaysia.
"Canon encourages visual storytelling for which we are continuously innovating and launching exciting imaging solutions that will enhance the overall experience in capturing moments that matter. The new addition to the Mini Photo Printer range continues this tradition and we are confident it will inspire endless fun and creativity to bring vibrant and colourful photos to life," she continued.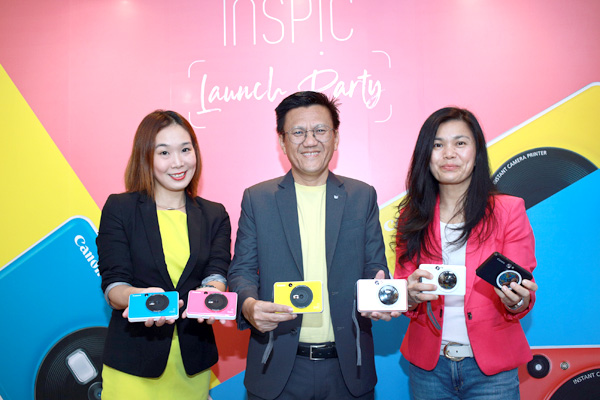 iNSPiC [C] CV-123A
The iNSPiC [C] series accompanies the [S] series dressed in a palette of pop colour design options such as Bubble Gum Pink, Bumble Bee Yellow and Seaside Blue making a bold fashion statement to stand out.
With a built-in 5-megapixel camera and a selfie mirror next to the camera lens makes selfie-shooting easy, while a one-touch reprint button ensures no one leaves the party without first receiving a photo print of that one precious moment.

iNSPiC [S] ZV-123A
Available in three colours, Pearl White, Matte Black and Rose Gold, this instant camera printers comes thinner than most compact digital cameras.
The ultra-slim profile packs in a powerful 8-megapixel fixed focus camera, so you can shoot and print instantly from just one device without the need to perform a juggling act with a separate camera and printer.
The real crowd-pleaser comes in the form of a built-in LED ring light that circles the camera lens and activates a powerful fill light for beautiful portrait shots.
Users can also connect the device to smartphones using the Canon Mini Print mobile app to print photos stored on smartphones. A quick reprint button makes it easy to get multiple reprints off the instant camera printer, while the app also receives a useful update to include a virtual shutter button for remote shooting with even more stickers for decorating photos before print.
The iNSPiC [S] also comes with a Micro SD slot that supports card capacities of up to 256GB.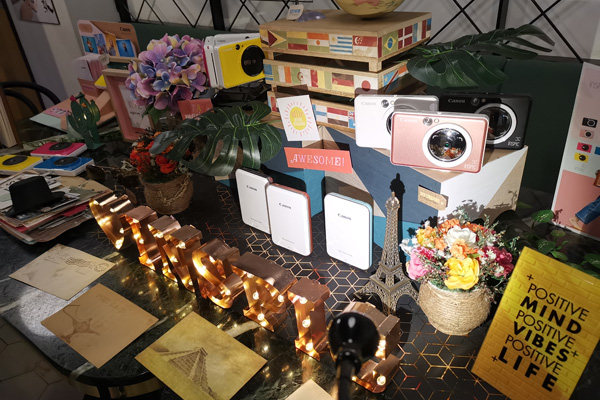 Printing Technology and Media
The Canon Mini Photo printer harnesses ZINK Zero Ink™ Technology from ZINK™, a revolutionary dry-printing technology that enables printing in colour without the use of ink cartridges. It delivers 2×3-inch glossy photo prints that are smudge-proof and scratch-resistant, with a peel-and-stick reverse side that adheres effortlessly to the back of smartphones, laptops, tabletops, wall mirrors, or just about any smooth surface.
For more information, visit my.canon, or follow the Official Facebook page at www.fb.com/CanonMalaysia and the Official Instagram page @canonmalaysia.