Siemens Digital Industries Software (SDISW) launches its first and only South East Asian Technical Competency Hub in Penang. Measuring up to 1,400 square metres, this facility will host the latest innovations in smart manufacturing that include Manufacturing Operations Management (MOM) software portfolio which provides a holistic solution to improve manufacturing operations performance, Additive Manufacturing (3D Printing), Product Simulation and Testing, Plant Simulation and Automation and solutions for Digitalisation. This hub will function as an offshore development centre for global projects delivery as well as performing research and development, industry-specific project consultancy and project implementation.
For Siemens, the decision to set up its Technical Competency Hub in the state goes beyond merely strategic business factors. Recognising Penang's role as the country's thriving industrial hub for the last four decades and its administration's ambitious push for smart manufacturing, Siemens' latest investment in the state is part of its continuous effort to support Malaysia's Fourth Industrial Revolution (Industry 4.0) aspirations.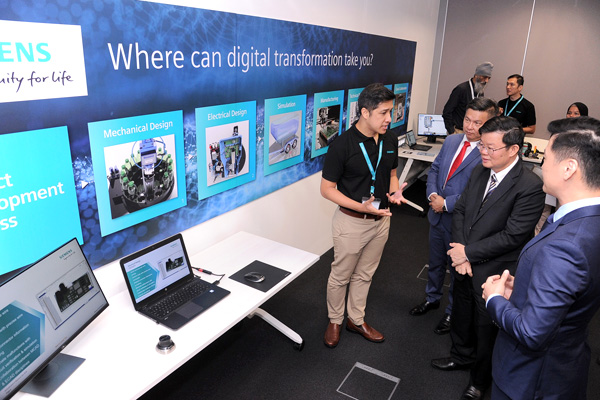 The hub will also serve as a platform for Siemens to help companies, especially SMEs, begin their digitalisation journey in order to meet the needs of the new economy. Siemens will also continue to work closely with governments of all levels – local, state, and federal – to nurture the right pool of talent and technical capabilities. This will enable a wider range of Malaysian manufacturers to take advantage of the benefits of digital transformation and expand their client and customer base beyond local and digital shores.
As Siemens only Technical Competency Hub in the region, the facility reinforces its commitment to drive digital transformation across all phases of businesses. Siemens Digital Enterprise Suite is the most complete integrated portfolio of enterprise software and industrial automation solutions to smart innovate in Malaysia and the South East Asia. Serving over 140,000 customers worldwide, Siemens Digital Industries Software works with companies of all sizes to transform the way ideas come to life, the way products are realized, and the way products and assets in operation are used and understood, the hub is set to help Malaysia become a smart manufacturing leader, in ASEAN and beyond.
For more information on Siemens Digital Industries Software products and services, visit www.siemens.com/plm.