ASUS Republic of Gamers (ROG) Malaysia announced a top-to-bottom update of its entire gaming family solutions for Q3 2019 onwards.
The line-up splits along chassis lines, with powerful desktop replacements, lithe ultra-portables, and evolved expressions of a more traditional laptop form factor. There are different levels to match performance requirements and the appetite for more engaging gaming experiences. S-class laptops offer a premium experience fit for professionals, while M-tier designs scale back slightly to find the sweet spot for savvy users. The new G series focuses on core essentials to improve affordability and welcome more gamers into the brand. Esports-specific models have special requirements that are treated differently, as are top‑end desktop replacements available only with high‑performance hardware under the hood. Regardless of the chassis or target audience, ROG gaming laptops guided by an Intelligent Cooling philosophy – combines the right thermal hardware with smart software to ensure optimal performance and acoustics for what is happening in the moment.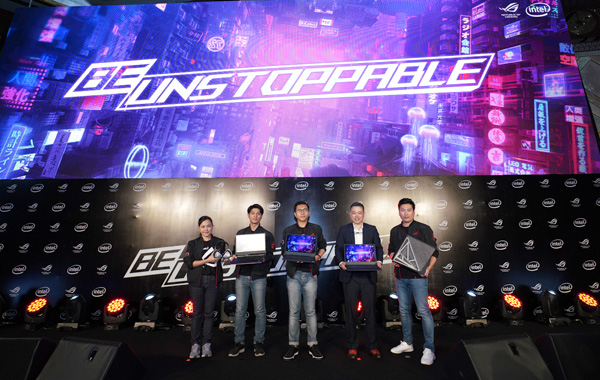 Meet ROG Mothership GZ700GX: the future of desktop replacement
Conventional clamshells limit cooling and lock into a fixed position in order to fit a form factor that can sit on a lap. That is a good compromise for many laptops, but desktop replacements are too heavy to sit comfortably, so ROG reimagined the form factor to improve the experience. Instead of lying flat on a desk, ROG Mothership stands tall to give the cooling system unrestricted access to airflow at the back. The keyboard separates and folds for maximum flexibility, giving freedom to position it for the perfect stance, and connecting wired or wirelessly depending on the scenario. Detaching the keyboard reveals a row of four speakers that aimed directly at the user, creating an effective sound bar right beneath the display.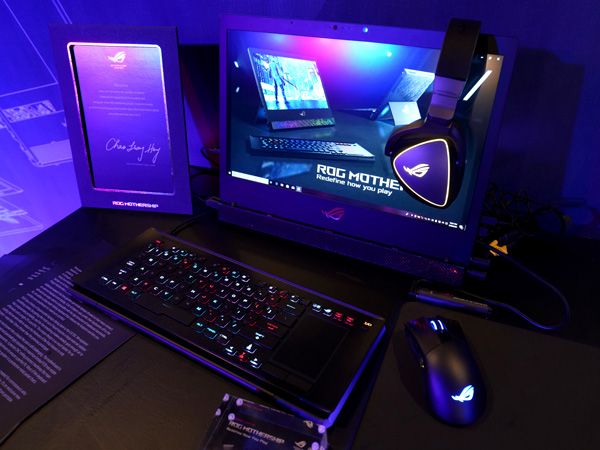 The improved airflow from the upright design lets ROG shave down the chassis without sacrificing speed. At 29.9mm, ROG Mothership is surprisingly slim for the power it provides. Some of the credit goes to the CNC-machined body, which milled with precision for a perfect fit. It takes nearly 20 hours to carve all the pieces from solid blocks of aluminum, resulting in chiseled lines and precisely formed pieces that reflect the care and attention to detail during the manufacturing process.
ROG Mothership has display options for both hardcore gamers and serious content creators. An ultrafast FHD panel refreshes at 144Hz with a 3ms response time to satiate gamers who want to experience true triple-digit FPS for fast-paced play.
Glacier Blue: inspired by the focus on Intelligent Cooling
The latest ROG laptops now available with a new color option named Glacier Blue, inspired by this season's focus on Intelligent Cooling. The frosty shade looks and feels lighter, bringing new energy to gaming laptops. Glacier Blue will be available on Zephyrus S GX502 and Strix G G531 this year for Malaysia.
Gaming laptops are also formidable machines whose power to be reflected by their appearance. To retain a sense of boldness and hint at the hardware within, sleepier shades bypassed in favor of high-energy blues inspired by science fiction.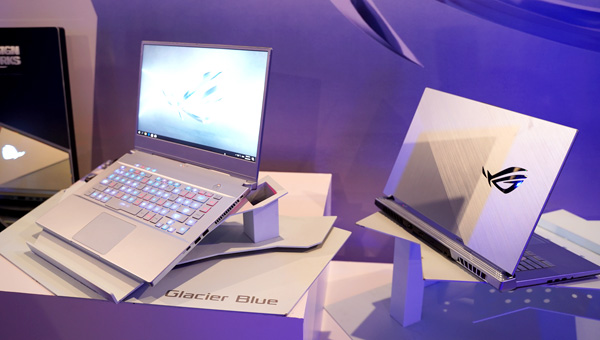 Glacier Blue unifies these concepts with a wintery look at first glance that becomes surprisingly saturated upon closer inspection. This specific shade has a silvery sheen in the light, making it appear paler and more polished from a distance. The brighter appearance helps mask fingerprints and blemishes while also blending in with more mainstream and professional laptops. Bolder blue tones jump out when up close or in darker environments, providing a shot of color along with more contrast for RGB lighting.
ROG Huracan G21: Compact 13-liter chassis gaming desktop
ROG Huracan G21 has a unique magnetically secured side cover that sets it apart from other gaming desktops. Opening the side cover increases airflow into the system for better cooling, and triggers internal sensors to boost CPU and GPU performance by 11% and 8% respectively. The sensors also activate the integrated Aura lighting effects. The extra airflow provides the cooling needed for its high-performance components, so gamers can play the latest games at their highest settings.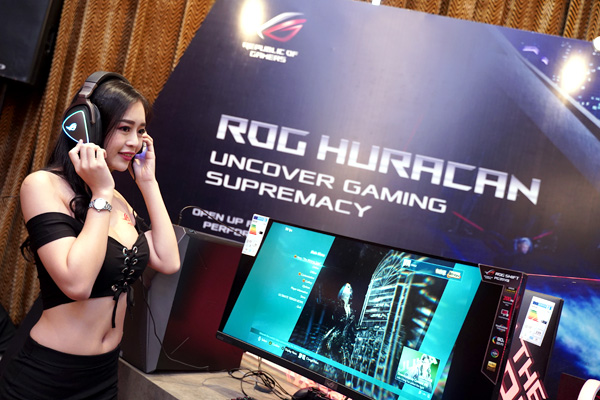 To ensure the very best gaming performance, Huracan is powered by up to the latest 9th Generation Intel Core i9 processor with up to 32GB of DDR4 2666MHz memory, and NVIDIA GeForce RTX 2080, 8GB graphics. It comes with up to a 512GB M.2 NVMe PCIe 3.0 x4 SSD and a 2TB HDD; a 2TB HDD with Intel Optane Memory technology is also available. Intel Optane enables SSD-like performance from a large HDD, accelerating overall system performance and improving responsiveness for a blazing-fast computing experience.
The compact 13-liter chassis of Huracan incorporates elements inspired by cyber-warrior and cyberpunk themes, resulting in an aggressive, angular design with sharp creases to symbolize a warrior's battle scars. Sliding side panels make it easy to maintain and upgrade key components, allowing gamers to upgrade to faster and larger capacity storage drives, graphics card, and memory to keep Huracan up to date. In addition, Huracan has a hot-swap 2.5-inch SSD bay that allows the user to take out and replace the drive in seconds.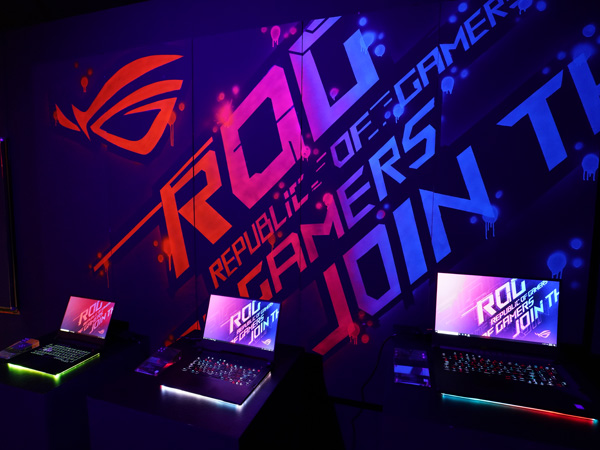 Availability & Pricing
Fresh form factors and new hardware help the second half 2019 collection of ROG gaming laptops and desktops cater to a wide range of gamers, creators, and power users with different needs and budgets. Most models are available for sale or pre-order starting today, with others following in the coming weeks.
Series
ROG Mothership
ROG Zephrus S
ROG Strix G
Model Name
GZ700G-XEV017T
GX502G-WAZ074T
G531G-TAL236T
Colour
ROG Aluminium Black
ROG Glacier Blue
ROG Glacier Blue
CPU
Intel® Core™ i9-9980HK
Intel® Core™ i7-9750H
Intel® Core™ i5-9300H
Memory
16GB DDR4 2666Mhz*4
16GB DDR4 2666Mhz*1 (On Board)
4GB DDR4 2666Mhz*1
Total Ram Slot
4
1+1
2
Storage
PCIE G3x4 NVME 512GB M.2 SSD *3 (Raid 0 )
PCIE NVME 512GB M.2 SSD
PCIE NVME 512GB M.2 SSD
(Extra SATA Slot: 1)
(Extra SATA Slot: 1)
LCD Size
17.3″ FHD//IPS Panel//144hz//3ms//Anti-glare//Gsync
15.6″ FHD//IPS Panel//240hz//3ms//Anti-glare//Gsync
15.6″ FHD//IPS Panel//120hz//25ms//Anti-glare
GPU
NVIDIA GeForce RTX2080
NVIDIA GeForce RTX2070
NVIDIA GeForce GTX1650
VRAM
GDDR6 8GB
GDDR6 8GB
GDDR5 4GB
Optical Drive
No ODD
No ODD
No ODD
WiFi
802.11ac 2×2 Wave 2 WLAN + Bluetooth 5.0
802.11ac 2×2 Wave 2 WLAN + Bluetooth 5.0
802.11ac 2×2 Wave 2 WLAN + Bluetooth 5.0
KB
Per Key RGB keyboard
Per Key RGB keyboard
ALL Zone RGB keyboard
OS
Windows 10 Home
Windows 10 Home
Windows 10 Home
Battery
76WHrs, 3S2P, 6-cell Li-ion
76WHrs, 4S1P, 4-cell Li-ion
66WHrs, 4S1P, 4-cell Li-ion
Warranty
2 Years Global Warranty
2 Years Global Warranty
2 Years Global Warranty
Accessories
ROG BackPack. ROG Gladius Mouse. ROG Headset
ROG BackPack, ROG Impact Mouse
ROG BackPack
Price
RM26,999.00
RM8,899.00
RM3,899.00
Availability
Mid July
End August
End August
Series
ROG Huracan G21
ROG Huracan G21
Model Name
G21C-XMY003T
G21C-NDMY003T
Colour
Iron Grey
Iron Grey
CPU
Intel® Core™ i9-9900K
Intel® Core™ i5-9400
Chipset
Intel® Z390
Intel® H370
Memory
16GB DDR4 2666Mhz*2
16GB DDR4 2666Mhz*1
Total Ram Slot
2
2
Storage
3.5″ 2T HDD + PCIEG3x4 NVME 512G M.2 SSD
3.5″ 2T HDD + PCIEG3x4 NVME 256G M.2 SSD
Expansion Slot
1 x PCIE x16
1 x M.2 Connector for WiFi
1 x M.2 Connector for SSD
2 x DDR4 SO-DIMM SLOT
1 x PCIE x16
1 x M.2 Connector for WiFi
1 x M.2 Connector for SSD
2 x DDR4 SO-DIMM SLOT
GPU
NVIDIA® GeForce RTX™ 2080 8GB (1HDMI, 2DP, 1USB Type-C)
NVIDIA® GeForce RTX™ 2060 6GB (2HDMI, 2DP)
VRAM
GDDR6 8GB
GDDR6 6GB
Optical Drive
SuperMulti DVD RW
No ODD
WiFi
802.11ac 2×2 Wave 2 WLAN + Bluetooth 5.0
802.11ac 2×2 Wave 2 WLAN + Bluetooth 5.0
Front I/O Port
2x USB2.0
2x USB3.1 Gen 1
1x SD Card Reader
1x Headphone
1x Microphone
1x USB3.1 Gen 1 (Type C)
2x USB3.1 Gen 2 (Type A)
Rear I/O Port
1x Mic-in
1x Center / Sub-Woofer
1x Front Speaker Out (Line Out)
1x Rear Speaker Out
1x Line-in
1x S/PDIF-Out
1x RJ45 LAN
2x USB2.0
4x USB3.1 Gen 1
2x USB3.1 Gen 2 (Type A)
1x Kensington Lock
1x Rear Speaker Out
1x Line-in
1x S/PDIF-Out
1x RJ45 LAN
2x DC Power Jack
4x USB3.1 Gen 1
OS
Windows 10 Home
Windows 10 Home
Adapter
280W+280W ADAPTER
230W+180W ADAPTER
Warranty
3 Years On Site Warranty
3 Years On Site Warranty
Accessories
ROG Strix Flare K/B and ROG Gladius II Mouse
ROG Strix Flare K/B and ROG Gladius II Mouse
Price
RM11,999.00
RM6,299.00
Availability
August
August