MYTHEO: Digital Investment Management Reimagined
Silverlake Digital INX Sdn Bhd, a member of Silverlake Group, and Japanese Money Design Co., Ltd. announced the launch of their Malaysian offering, MYTHEO, a Digital Investment Management service through a joint-venture company, GAX MD Sdn. Bhd.
The Malaysian market which displays an openness to innovation, holds great potential for the fintech industry. MYTHEO aims to promote financial literacy and inclusiveness especially in the millennial segment, thanks to its user-friendly process and affordability.
"While they maximise every precious moment at work and play, this digital solution provides ease of mind by helping users manage the nitty-gritties of investment in a data-driven manner. Hence MYTHEO's value proposition, 'Invest In A Moment' is poised to change the way Malaysians think about investing and life savings," said Ronnie Tan, Chief Executive Officer of GAX MD Sdn Bhd at the launch.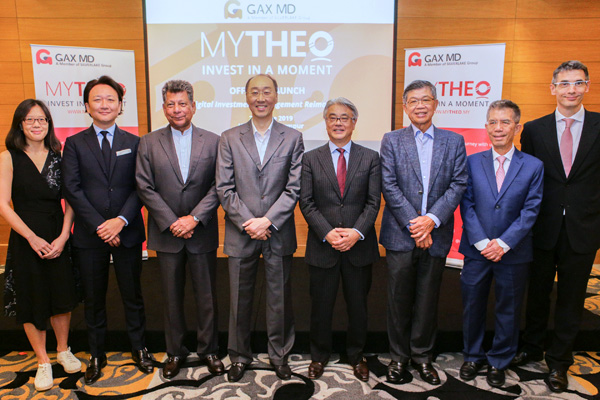 Tomoyoshi Hirose, Co-founder and Vice Chairman of Money Design Co., Ltd.; Goh Peng Ooi, Founder and Chairman of Silverlake Group and Tan Sri Dato' Dr. Mohd Munir bin Abdul Majid, Chairman of GAX MD Sdn Bhd were also present to grace the launch.
MYTHEO offers those in Malaysia, a personalised and professional digital investment management service via their web and mobile platforms with a starting commitment of RM500. This fintech service uses a proprietary algorithm developed by Money Design with Kyoto University, Japan which generates optimised portfolios of each investor based on their profile, individual income and risk appetite.
In 2016, Money Design pioneered the very first robo-advisory service – 'THEO' in Japan, under the regulation of the Japan Financial Services Agency. Money Design was founded by experienced investment professionals (formerly from BlackRock, Nomura and other financial MNCs). "Today, over 60,000 Japanese investors benefit from this service, which manages more than USD300 million in total assets," shared Tomoyoshi Hirose.
The Silverlake Group, one of the largest and most successful IT solutions providers in Asia, is recognised as a digital innovation leader with over 30 years of experience and significant contributions to solution innovations for their clients in the financial, capital market, fund management, digital payment and digital economy.
GAX MD's goal is to provide users with global diversification and investment management services with MYTHEO, while making it widely available to local retail investors. This fintech drive resonates with two of the new pillars championed by the government in the mid-term review of the 11th Malaysia Plan, namely 'Enhancing Inclusive Development and Wellbeing' and 'Strengthening Economic Growth'. Malaysia is an attractive market with a relatively young and tech-savvy population. Those aged between 22-40 make up 29% of the nation's population.
The simplicity of MYTHEO starts from analysing the needs of the client and then works backwards to build the optimal portfolio. MYTHEO has been developed to be a customer-centric service – a personalised portfolio can be created for the user through the answers to five questions in the span of 3-4 minutes. The innovative technology includes a seamless digital customer on boarding experience, e-payment capabilities, biometric recognition, voice activation commands, chatbot and big data analysis.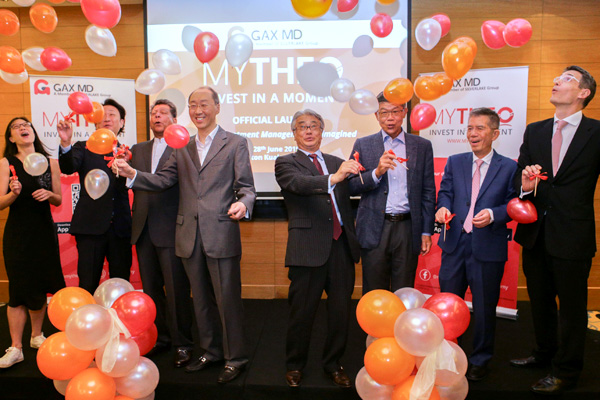 "Upon analysing the needs of the client, a personalised investment strategy basing on three functional portfolios of Growth, Income, Inflation Hedge is automatically created. By combining these functional portfolios, MYTHEO can develop an optimised portfolio consisting of multiple exchange-traded funds (ETFs) with global exposures and multiple asset classes that are listed in U.S. stock exchanges. Users can even customise their own portfolio if they choose to," added Ronnie Tan.
Using 'AI Assist', the algorithm analyses market sentiments from global news and market data towards sound investment risk control and solutions. MYTHEO will also automatically rebalance and optimise the users' investment portfolio through a proprietary algorithm developed with cutting edge financial technology. To ensure customer's protection, security and minimise service disruption, the digital investment platform infrastructure is hosted in a highly secured Tier 3 verified Data-centre.
The investors' money and assets are held by its custodian, Malaysian Trustees Berhad (a subsidiary of RHB Bank Bhd. and an independent trustee licensed by the Securities Commission Malaysia) who is responsible for the custody services.
For more information, please email [email protected] or visit www.mytheo.my and www.gaxmd.com.
ai assistBusinessdigitaleconomygax mdinvestmentmanagementmytheo